Cooking the Books: Coconut Layer Cake Murder by Joanne Fluke
It's so hard for me to explain how invested I am in the Hannah Swensen mystery series. It's certainly not just because I've read (and cooked my way through!) all 25 books to date, with each volume containing enough recipes to fill out a small cookbook. While the recipes have been consistently good—with only a few misses for me that could easily be put down to personal preference—the quality of the murder mysteries themselves has been far more variable. The plots often meander, and it is entirely ridiculous that Hannah is still stuck in the love triangle that began in Book One. But I love each and every one of these novels and gobble them up as soon as I can because I genuinely care for Hannah, her family, and her friends. Joanne Fluke has done something special with her writing, creating characters I can't help rooting for (even if Hannah needs to just stop lusting after Mike and marry Norman already!).
Before we can get too much further with decisions regarding Hannah's romantic future, however, there is the cliffhanger ending of the previous book in the series, Chocolate Cream Pie Murder, to grapple with. Let's just say that shortly after Coconut Layer Cake Murder opens, Hannah is placed on a flight to California for some much-needed rest and relaxation—though given that her traveling companion is her demanding mother, Delores, I'm not sure how much R&R Hannah can reasonably look forward to. Her vacation in the sun is cut short by a different family member, though, when she receives an urgent summons home to Minnesota from her beloved baby sister, Michelle.
Lonnie, Michelle's boyfriend, is a police officer in the sheriff's department and an overall good guy, so it comes as a shock to everyone when he's accused of murder. Half of Lake Eden's small detective force, Mike included, has to recuse themselves from the investigation for both personal and professional reasons. Michelle doesn't have a whole lot of confidence in the rookie investigator left on the case (or in her brother-in-law, the sheriff, but that's a whole other story). Since she'd rather her boyfriend's name be cleared sooner rather than later, she calls for Hannah to come home and help speed up solving the mystery.
There's some great scenario-setting here as Hannah obliges, but the real highlight of this book was the steps it shows her taking to finally move forward with her life! I'm not gonna lie, I was initially thrilled when Ross Barton showed up several books ago and shook her out of her rut. That didn't turn out so well, though, and I'm only hoping that the ending of this book points to a happy and healthy way forward for one of my favorite culinary cozy heroines. Plus, her thoughts on salted butter are 100% similar to mine.
There were a fitting 25 recipes included in this book, but my interest zoomed immediately to this one, lightly edited here for space:
Corned Beef and Pepper Jack Quiche
*Preheat the oven to 350°F, rack in the middle position.
The Quiche Shell:
You can mix up your favorite piecrust recipe and line a 10-inch deep-dish pie pan. Alternatively, you can buy pre-made, frozen pie crusts at the grocery store. (If you do decide to buy the frozen pie shells, make sure to buy 9-inch or 10-inch deep-dish pie shells.)
The Quiche Filling:
Ingredients
5 eggs
1 and ½ cups whipping cream
5 ounces Pepper Jack cheese, shredded (approximately 2 cups–measure AFTER grating)
1 can (15 ounces by weight) corned beef hash
¼ cup finely chopped onion (measure AFTER chopping)
Hot sauce to taste
½ teaspoon salt
¼ teaspoon freshly ground black pepper
¼ teaspoon ground nutmeg
Instructions
Combine the eggs with the whipping cream and whisk them (or beat them at MEDIUM speed) until they're a uniform color. When they're thoroughly mixed, pour them into a pitcher and set it in the refrigerator.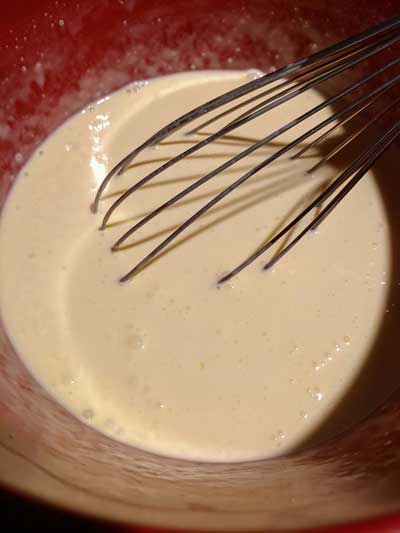 Sprinkle the grated cheese in the bottom of your cooled pie shell.
Open the can of corned beef hash and spread it over the top of the cheese.
Sprinkle on the onion, and add as many drops of hot sauce as your family would like.
Sprinkle the salt on top.
Sprinkle the ground black pepper over the salt.
Sprinkle the ground nutmeg over the pepper.
Put a drip pan under your pie pan.
Take the egg and cream mixture out of the refrigerator and give it a good stir with a whisk or a mixing spoon.
Pour the mixture over the top of your Corned Beef and Pepper Jack Quiche until about half of the filling is covered.
Open your oven, pull out the rack, and set your pie tin and drip pan on it. Pour in more custard mixture, stopping a quarter-inch short of the rim. Carefully push in the rack, and shut the oven door.
Bake your Corned Beef and Pepper Jack Quiche at 350°F. for 60 minutes, or until the top is golden brown and a table knife inserted one inch from the center comes out clean.
When your quiche tests as done, remove it from the oven and set it, drip pan and all, on a cold stovetop burner or a wire rack. Let it cool for 15 to 30 minutes before you cut it into pie-shaped wedges and serve it.
I'm not sure if there's a Midwestern type of store-bought, deep-dish pie crust that can fully contain all the egg custard whipped up here, but the mid-Atlantic version I had certainly could not. I had about half of the mix left over by the time the quiche was finally in the oven, which was a good thing because it meant I could make a whole new quiche after we devoured the entire thing in one evening, a rarity in my family even with the help of my lovely assistant Karin.
Since Karin doesn't eat spicy foods, we made the first quiche with half pepper jack and half Monterey Jack, and both sides came out tasting amazingly delicious. The nutmeg really does pair well with the corned beef hash, as do the hot sauce and egg custard in the second, fully pepper jacked quiche I baked. Oh gosh, I honestly want to go make this dish again now just thinking about it. I will definitely be using it to stave off the cravings I will inevitably have for the next book in the Hannah Swensen series!
Next week, we head to the East Coast to bake a cake that we fortunately won't find a body in, unlike the unfortunate heroine of our next culinary cozy read. Do join me!