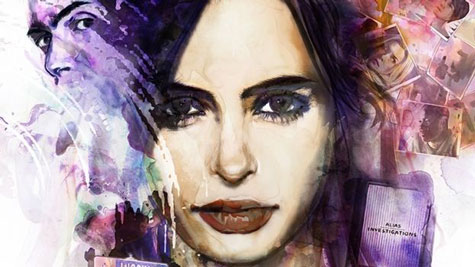 Hello! Welcome back to my final look at what will hopefully be the inaugural season of Marvel's Jessica Jones from my perspective as a fan of the Marvel Comics that inspired the series. Today we'll be looking at Episode 11 "AKA I've got the Blues," Episode 12 "AKA Take a Bloody Number," and Episode 13, the season finale, "AKA Smile"
A lot went down in these climactic episodes. We had explosive action, secret revelations, and choices and consequences that set many of our characters on new paths. So let's take a look at these episodes, and what they mean for both future adventures of Jessica and the next Marvel Netflix show, Luke Cage.
Let's start off with Jessica (Krysten Ritter). Last time, I speculated that getting to know such an optimistic and caring person like her foster sister, Trish Walker (Rachael Taylor), is what set Jessica on a heroic path. I think that's what helps keep her on it, but that's not what made her a hero.
In Episode 11, we're taken back to Jessica's first big, super-heroic moment; when she decides she can't stand listening to Dorothy Walker (Rebecca De Mornay) torture her child and does something about it. That's a conscious choice Jessica makes, in spite of the grief and pain she's experiencing from the death of her family, and it changes both Trish's life and her own. It bonds them, and it leads Trish down the path to becoming the positive person she is today.
I think Jessica still has that want-to-help instinct. We see it in the small things she does unconsciously. At the end of Episode 13 though, she talks about how if she works long and hard, maybe she can fool herself into believing she's a hero.
I think she feels that way because she's made another conscious choice; to not forgive herself over what happened to her family—and to a certain extent can you blame her? How do you let something like that go? Forget being able to bench press Luke Cage (Mike Colter) with ease, like we saw her do in Episode 12, the real test of Jessica's strength will come when she's forced to confront the guilt and self-loathing she feels.
Those feelings lead to fear, poor choices, and heartbreak for both her and us viewers. We get a bunch of that in Episodes 12 and 13 as Luke Cage comes back into her life and she deals with the fallout from that.
Once again, Krysten Ritter and Mike Colter are so great together in their scenes! I can't help but hope that, like their comic book counterparts, their characters will eventually get together. It was so moving to see them back in each other's arms—especially in Episode 13 when Jessica confesses her feelings to a comatose Luke. I think m
y room may have been a bit dusty when I was watching that scene, because I certainly wasn't crying… nope. No way!
Of course, David Tennant's Kilgrave, like the awful human being he is (AKA fantastic villain), had to go and ruin that. When we find out in Episode 12 that Kilgrave was responsible for Luke telling Jessica that he would tell her he forgives her for everything and would say that every day for as long she needed to hear it? I was pissed. It was like he poisoned a sweet and beautiful moment. So, I was happy when Jessica finally ended Kilgrave in Episode 13 by snapping his neck.
I loved that final dockside confrontation, too. I thought it was really well done. It also featured what appears to be another Easter egg style homage to Jessica
's co-creator, writer Brian Michael Bendis. The ship Kilgrave was looking to make his escape on was called the Goldfish, and one of Bendis's early comic works is the acclaimed crime series "AKA Goldfish."
Even if Kilgrave hadn't put complications in their way, things still would have been tough for Jessica and Luke, as we saw in Episodes 12 and 13. In those episodes, Luke appears to be very reluctant to have the cops looking for him. I imagine we'll find out more about that when his own Netflix show premiers, but it looks to me that the Marvel Cinematic Luke and the Luke from the comics are going to have very similar origins.
In the comics, Luke is sent to prison for a crime he did not commit. While he's there, he agrees to take part in an experiment that gives him his superhuman strength and unbreakable skin, but it also breaks him free from jail. He decides to use his new abilities as a "Hero for Hire" and creates a new identity for himself as sort of a super heroic private detective. Eventually he clears his name.
It seems to me that might be the direction they go with the Luke Cage show. In Episode 12, Jessica comments on how Luke is bucking for a PI job after he hands her the lead that takes them to Kilgrave's club. Perhaps the Luke Cage show will even find him earning an opportunity to clear his name and maybe put him on the path to reuniting with Jessica?
Some other burning questions that might get answered in the Luke Cage series:
Who performed the experiment on Luke that gave him his power and why did they do it?
Why did Reva (Parisa Fitz-Henley) have the yellow flash drive of all these different experiments being performed on people, including a young Kilgrave?
Was this meant to be her leverage to protect Luke?
Did the people she was trying to protect him from alert Kilgrave to the fact that she had evidence on him and cause her death?
It will be interesting to see what role Rosario Dawson's Claire Temple plays in the Luke Cage series. Some set photos that were released as I'm writing this show her and Mike Colter together in a few scenes, which is interesting considering the comic book Claire Temple actually makes her debut in Luke's comic. In fact, she was involved with him romantically for quite a while.
It was great to see Claire Temple again in Episode 13, too. Dawson had such great chemistry with all the actors she interacted with, especially Krysten Ritter and Eka Darville. In fact, one big complaint I'll make about the show is that they waited until the very last episode to bring Claire in. I would have liked to have seen more scenes with her.
I like how comfortable Claire has gotten with helping people with powers. I also like that she gave Malcolm (Eka Darville) a sort of pep talk. I'm glad he's sticking around. In these last couple of episodes, both Claire and Jess point out to him that he may not have super human abilities, but he does have something that can change the world—the drive and the willingness to help people.
It also seems like Jeri Hogarth (Carrie-Anne Moss) will be sticking around. In Episode 13, Jess points out that Jeri is a piece of shit, but an incredibly useful one, and she uses her to get both herself and Justin Bodin (Colin Moss—the man whose penthouse apartment Kilgrave hid in) acquitted from murder charges. I'm still not convinced Jeri has changed, and I'm a little scared of her, but maybe she'll earn a second chance. Either way, I'm glad Carrie-Anne Moss will have a chance to reprise her character. Jeri may be a big, scary, legal shark, but she's a fascinating one.
Jeri wasn't the only one getting a second chance either. At the end of Episode 13, we see that Trish has taken her mom up on her offer to look over the IGH papers and perhaps give her a second chance as a parent. I'm not sure Dorothy deserves it, but I do like that Trish is diving into her own investigation. Maybe it will lead to her finally becoming Hellcat?
It will be interesting to see what turns up, since I don't believe they delved much into the source of Jessica's powers in the comics. Again, it begs the question of who is behind Jessica getting her powers and what were they trying to do? When you add that to Luke being experimented on, what was being done with Simpson (Wil Tarval), and the other mysterious experiments in the yellow flash drive, you have something very strange and sinister going on in the Marvel Cinematic Universe.
One of the major plot points in the Marvel Comics, especially their recently cancelled Ultimate line of books, was the idea that the creation of Captain America lead to a global, super-powered arms race.
Is that what we have going on here? Are various governments and shadowy groups racing to create super soldiers?
I'm guessing we'll get answers to that in what I hope will be Season 2 of Jessica Jones or perhaps The Defenders series that will team Jessica with Luke, Daredevil, and the title character of the upcoming Iron Fist show.
Since we know he's in IGH's clutches, it will be interesting to see if Simpson comes back looking even more like his comic book counterpart Nuke with perhaps a signature face tattoo? Also, is Trish putting a target on herself by pursuing IGH like this?
There are a lot of intriguing, burning questions left at the end of this first season. I, for one, hope the cast and crew gets to come back to answer them, because Jessica Jones was well done on so many different levels. I've praised the actors a number of times, but I should also comment on the great job that showrunner Melissa Rosenberg and her writing staff did in giving the cast material to work with. The crew also did a fantastic job providing the show with its signature feel that blended gritty, hardboiled crime with the super powers of the Marvel Universe. It made for an exciting, moving, and haunting combination.
---