Q&A with Louise Doughty, Writer of the Crossfire Mini-Series on Britbox
Crossfire is a gripping new series of survival and resilience, where Jo's holiday with her family in the Canary Islands gets turned upside down when shots ring out across the complex and everyone is suddenly forced to make life-or-death decisions as armed gunmen turn a slice of paradise into a heartbreaking hell. Writer Louise Doughty sits down with Criminal Element to discuss!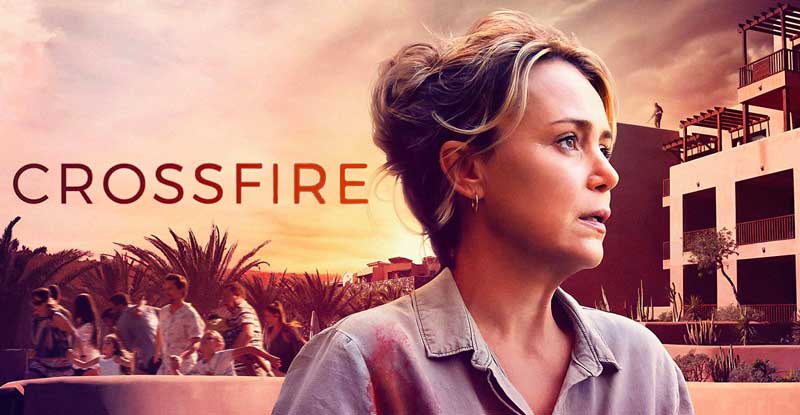 Thanks so much for joining us! First, can you tell us a little about your new series, Crossfire, on Britbox?

 
Crossfire is a series about three families who are staying in a holiday resort on a Spanish island when gunmen come into the premises and begin to shoot. All the families are separated in different parts of the resort, and the lead character, Jo, has to make split-second, life-or-death decisions about who she runs to and who she tries to save. It's really about a group of ordinary people put under extraordinary pressure. 
What drew you into or inspired the idea for this story?

 
Many years ago, as a young commuter in London, I was at the London Bridge railway station when it was bombed. I wasn't physically injured, but some people around me were. The experience stayed with me and formed the basis of my first novel, Crazy Paving, which was published in 1995. But I never stopped wondering: did I do the right thing? Would I behave differently now that I'm older? How we behave in unexpectedly stressful or traumatic situations is an endlessly rich seam for an author to mine. 
This isn't the first time your work has been adapted for the screen. Your novel Apple Tree Yard was adapted into a TV mini-series, though you didn't write the screenplay/teleplay for it. You did write the episodes for Crossfire, though. How did it compare writing directly for the screen for Crossfire?

 
I learned an immense amount from watching Apple Tree Yard adapted. The screenplay was written by one of our top screenwriters in the UK, Amanda Coe. And my ninth novel, Platform Seven, has recently been adapted by another, the fabulous Paula Milne. I owe both of those women so much because knowing the story of my own novels, I was able to watch how they used the nuts and bolts of screenwriting, taking the plots apart and putting them back together again in a way that worked on the screen. That said, I still found Crossfire incredibly hard to write. Even though I'm such an experienced writer in so many fields, nothing prepares you for how complex it is to construct several hours of television. The first thing you realize is that it eats plot—you need so much story. With a novel, you can pause for a bit for some beautiful description or a moment of realization. On the screen, every single scene has to earn its keep. 
After writing mystery novels and now writing for the screen, do you have a preferred format? And are there any notable advantages or disadvantages to writing in one format as opposed to the other?

 
I'm definitely a novelist at heart. I will do more screen work, but there is no part of me that wants to give up writing books and dedicate myself to the screen. There's a freedom you have books that just can't be replicated in any other format; I can't see myself giving that up any time soon. 
Do you have a favorite character from Crossfire?

 
I'm very attached to Amara, Jo's daughter, played by the terrific actor, Shalisha James-Davis. The scene where she has to talk to one of the gunmen for her life is probably one of my favorite scenes in the whole series, and the actor who played the gunman had never acted professionally before. Seeing these two young people giving it all they have got so brilliantly was a great thrill. 
Is there anything else we should know when we watch Crossfire?

 
I suppose, for me, the most interesting element was what happens in the immediate aftermath of such an attack. Most dramas end when the gunmen are killed, but Crossfire goes on to look at the consequences for the surviving characters. My one regret is that we didn't have enough time or money to film scenes where the characters have to get themselves home afterward; that re-entry into ordinary life must feel so bizarre. I kept thinking, how can we honor the experience of people who have been through something like this? How can we make it real and sensitive? The fact that we address the aftermath is very important.
Are you working on any other exciting projects?

 
Platform Seven is being filmed as we speak, so that's very exciting. It will be broadcast on ITV sometime next year. I've just delivered a new novel, my 10th, to my publisher in the UK, Faber & Faber. There are still some edits to do, but it's great to be at this stage. I have various irons in the fire with other screen projects, but you never really know whether they will come off or not, so you can't invest emotionally too much in any one project. I've always got too much on the go, but I wouldn't have it any other way; I like to be busy.
We can't wait to see all of your projects as they're developed. Thank you so much for your time, Louise, and we'll be tuning in to Crossfire on Britbox immediately.
Crossfire is available to stream on Britbox now. Watch the trailer here!