Criminal Element Book Club, Week 4: Q&A with Olen Steinhauer, author of The Tourist
Welcome back to the Criminal Element Book Club featuring The Tourist by Olen Steinhauer. We want to hear from you! We're opening up for a Q&A with the author, and read on to find out how you can get a chance to snag an early copy of Olen's upcoming Milo Weaver novel, The Last Tourist.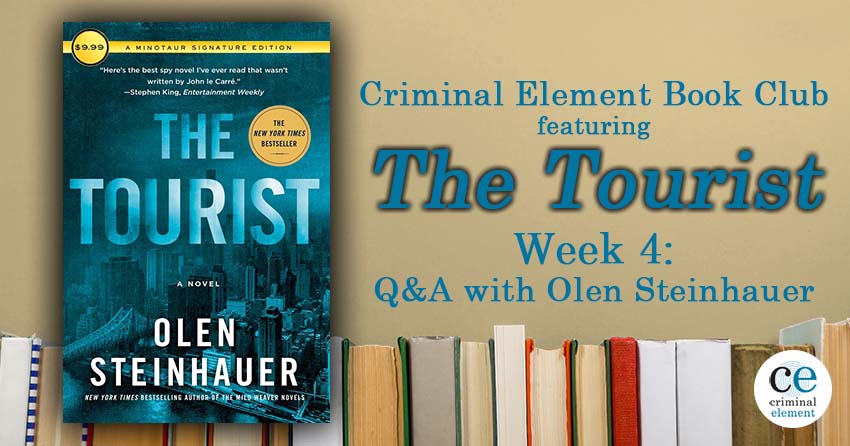 Now that you've had a chance to begin reading (or finish) The Tourist, this week we wanted to give you a chance to ask some questions. We're opening up the floor to book club participants for an exclusive Q&A with Olen Steinhauer.
Here's how it will work:
Submit your questions about The Tourist or the Milo Weaver series directly in the comments section of this post.

Make sure to log-in to your Criminal Element account before you comment.

Criminal Element moderators will choose a select number of questions from the comments section which Olen Steinhauer will answer on the site in a few weeks.
The best questions will help contribute to the book club conversation around The Tourist, so be thoughtful, and feel free to submit more than one question.
If your question is selected to be answered by Olen Steinhauer in his post to follow, we'll contact you and send you an early copy of the newest book in the Milo Weaver series, The Last Tourist.
With that in mind, please fire away with your questions in the comments below! Please join us again next week when we'll be following up with a new guest post from Olen Steinhauer.
Only discovering the Criminal Element Book Club now?
Check out these posts to catch up:
---

About The Last Tourist by Olen Steinhauer:
In Olen Steinhauer's bestseller An American Spy, reluctant CIA agent Milo Weaver thought he had finally put "Tourists"―CIA-trained assassins―to bed.
A decade later, Milo is hiding out in Western Sahara when a young CIA analyst arrives to question him about a series of suspicious deaths and terrorist chatter linked to him.
Their conversation is soon interrupted by a new breed of Tourists intent on killing them both, forcing them to run.
As he tells his story, Milo is joined by colleagues and enemies from his long history in the world of intelligence, and the young analyst wonders what to believe. He wonders, too, if he'll survive this encounter.
After three standalone novels, Olen Steinhauer returns to the series that made him a New York Times bestseller.
---