Cooking the Books: Two Parts Sugar, One Part Murder by Valerie Burns
Madison Montgomery is fleeing the social (media) disaster of her doctor fiancé leaving her at the live-streamed altar by flying to New Bison, a small town in Michigan. Her recently deceased grand Aunt Octavia has willed her a house, a bakery, and a dog, and Madison is more than happy to take a break from the humiliation of her everyday life in balmy California to go settle her affairs in the midwestern cold instead. The trouble is Aunt Octavia has specified that if Madison wants to keep any part of her inheritance, she'll have to hang on to those three important bestowals for at least a year before selling.
Baby, Aunt Octavia's 200-pound English mastiff, swiftly endears himself to Maddy, who is somewhat surprised to find herself also quite taken with Aunt Octavia's lakefront home and cozy bakery. And while she quickly makes friends among the locals, she's somewhat nonplussed to find herself wooed by various parties who want to buy out her inheritances. The longer Madison stays though, the more reluctant she is to sell out and leave—to the horror of her domineering father. Admiral Jefferson Augustus Montgomery is quick to remind her that she has no experience either baking or running a business and that she needs to get back to California and continue her search for a man who'll provide for her the way he always has.
For once, Maddy refuses to do as her dad orders. Part of her desire to stay stems from a series of mysterious occurrences around town as well as cryptic video messages recorded by Aunt Octavia before she died. Sherlock Holmes-loving Aunt Octavia was convinced that something nefarious was going on in New Bison and had assembled her own group of Baker Street Irregulars to investigate. With their leader's passing, they're now looking to Maddy to guide them.
While Maddy is flattered to be needed for her brains for a change, she isn't entirely sure how seriously to take Aunt Octavia and her Irregulars until a dead body is found in her bakery. This confirms their certainty that there's a murderer running around town, one whose plans might have something to do with Aunt Octavia's investigations. Will Maddy be able to figure out who this is without risking her own life and those of her newfound friends in the process?
This was the freshest, liveliest culinary cozy novel I've read so far this year! The social media-obsessed Maddy is a girl after my own heart; I found so much of her life deeply relatable. The diversity throughout the novel was a delightful bonus. 
I'm also pretty certain that the mystery isn't over and that I know who the mastermind behind the shady doings in New Bison really is, despite the (one) murderer being apprehended in the closing chapters of the book. I'm very much looking forward to reading future installments of the series to see if my theory is correct!
There were three delicious baked-good recipes included here, and I had to try the first one—if only to get a few more servings of vegetables into my kids' lives.
Lemon Zucchini Bread
Ingredients
1 ½ cup all-purpose flour
½ teaspoon baking soda
½ teaspoon baking powder
¼ teaspoon salt
¾ cup sugar
1 cup finely shredded unpeeled zucchini (don't squeeze or dry)
¼ cup cooking oil
1 egg
2 tablespoons freshly squeezed lemon juice
2 tablespoons lemon zest
For the glaze (optional, but why wouldn't you?)
½ cup powdered sugar
1 tablespoon freshly squeezed lemon juice
1 teaspoon lemon zest
Instructions
Combine flour, baking soda, baking powder, and salt in a medium-sized mixing bowl and set aside.
Combine sugar, zucchini, cooking oil, egg, lemon juice, and lemon zest in a separate bowl and mix.
Add the dry ingredients to the zucchini mixture and stir until just combined.
Pour batter into a greased loaf pan.
Bake at 350 degrees F for 45-50 minutes or until golden brown.
Cool on a wire rack for 15 minutes, and then remove from the pan and cool completely.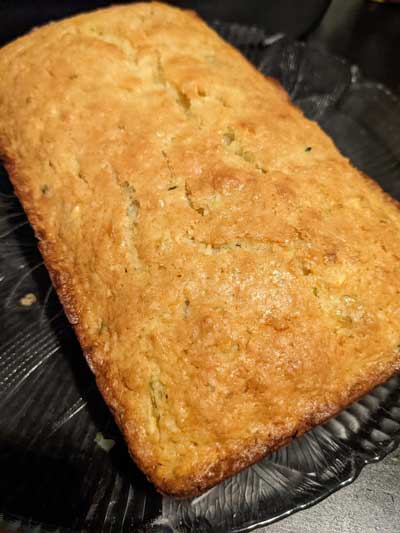 Optional
Combine ingredients for glaze and drizzle over bread. If the bread isn't cool, the glaze will soak into the bread and be even more lemony.
This was one of the fastest treats I've ever baked to disappear into my family's tummies, which is saying a lot given how many things I've made for them and how picky my kids ordinarily are! I loved how the grated zucchini adds both moistness and necessary nutrients and vitamins to the lemon quick bread, making for a treat that is as healthy as it is delicious. And while I would absolutely make a glaze to spread on top, I ran out of powdered sugar: the loaf was still very delicious without it.
Next week, we bake up a seasonal specialty as we head east and look into a murder that hits way too close to home for our heroine. Do join me!