Cooking the Books: Murder Spills the Tea by Vicki Delany
Baker Lily Roberts is perfectly happy with the progress that her months-old tea room, Tea by the Sea, is making in establishing itself as a neighborhood institution in North Augusta, Cape Cod. So when her grandmother Rose and best friend, Bernie, nominate her for America Bakes!—a reality TV show that pits bakeries and similar establishments against one another—she's absolutely aghast at the idea. The last thing she needs is a disruption to the careful cultivation of her business, especially in its busiest season. But when Tea by the Sea is selected for the show, she decides to grin and bear it; the publicity can be nothing but good in the long run, after all, both for her tea room and for the adjacent bed and breakfast run by Rose.
And there's a lot to bear, as Lily deals with the show's imperious crew and downright offensive cast. One of the main draws of America Bakes! is their bad-boy celebrity judge, Tommy Greene, who's known for his volatile temper. When he blows up on camera at Marybeth, one of Lily's servers, Lily has to step in, but not before Marybeth's mother, Cheryl, is filmed flinging several choice words in Tommy's direction.
Unfortunately, this means that after Tommy is found dead the next day in Lily's kitchen, suspicion immediately falls on Cheryl for his murder. Lily is shocked to discover that her hard-working waitress has a reputation for being a wild child in her youth, despite being a doting grandmother in the present day. Detective Chuck Williams, who has a history with Cheryl, is practically salivating at the chance to arrest her. Having only recently moved to the area, Lily is uncomfortably reminded of her outsider status and ignorance of local gossip at every turn.
Being a relative newcomer, however, means she's also more inclined to ensure that Cheryl is given a fair shake, despite the overwhelming if circumstantial evidence against an employee she's never known to be anything but honest and dependable. If this means Lily will have to investigate the rest of the America Bakes! staff herself, then so be it. But the more Lily finds out, the more danger she runs into, as a ruthless killer is prepared to do anything to get away with Tommy's murder.
This was a fun mystery that was very subtly plotted. I was convinced someone else entirely was the killer until the big reveal! The killer's identity made more sense than my theory though, so kudos to Vicki Delany for writing such a smart mystery. It was also nice to see the romantic relationships develop in a slow-burning way that adds a delightful tension to the proceedings.
There were three recipes included here, and after two weeks of baking, I definitely wanted to try something else. Regular readers know that I also can't resist a tea sandwich.
Herbed Cucumber Sandwiches
Makes 24 teatime-sized sandwiches
Ingredients
52 thin slices of cucumber
½ cup mayonnaise
2 Tbsp minced fresh chives
2 Tbsp minced fresh dill
2 Tbsp minced fresh parsley
1 tsp fresh lemon juice
½ tsp finely grated lemon zest
½ tsp salt
½ tsp ground black pepper
12 slices white sandwich bread, crusts trimmed off
Instructions
Place the cucumber slices on a plate lined with paper towels to absorb the excess moisture and set aside.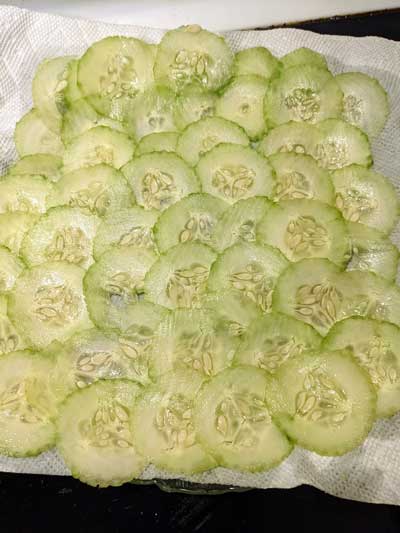 In a small bowl stir together the mayonnaise, chives, dill, parsley, lemon juice and zest, salt, and pepper until well combined.
Spread a layer of the herbed mayonnaise on each slice of bread. Arrange 9 cucumber slices on each of 6 bread slices, making sure that the cucumber slices do not overlap. Top each of the cucumber-laden bread slices with the reserved bread slices, mayonnaise side down, to form 6 sandwiches.
Next, cut each sandwich into four triangles and arrange the triangles on a platter or individual plates. Serve at once.
I loved the herb mayo blend used here, with its wonderfully fresh accents of lemon. My husband isn't a huge fan of dill but found this mix inoffensive and helped me polish off the platter with enthusiasm. While the sandwiches are best served immediately, they're also fine sitting in your fridge for a day or so if you can't finish them all at once.
I even managed to cut my crusts off nicely for a change! The white bread I used for this helped a lot, as the crusts were quite thin. The only downside was that it was impossible to place nine cucumber slices on each bread slice without overlap, but if you cut your cucumbers thin enough, a little overlap isn't a problem.
Next week, we head back to the Midwest to bake up a healthy dessert while helping a social media influencer turned baker clear her name of murder. Do join me!