Cooking the Books: See Something by Carol J. Perry
Lee Barrett has just been promoted from field reporter to program director at WICH-TV, and she has to admit that she doesn't really miss her old position. Chasing stories was fun but stressful—and occasionally dangerous. Being a director with her own office allows her to be both safer and more creative, even if she does have an entirely new set of problems to deal with as she formulates a new weekly kid's show for the station. When her reporter colleagues head off to cover the story of a John Doe washed ashore, she wishes them good luck and happily goes back to roughing out sets. Little does she know that she'll soon be involved in that story up to her eyeballs anyway, all because of a seemingly innocuous good deed.
While walking the few blocks from the TV station to the home she shares with her beloved Aunt Ibby, she sees a forlorn woman who appears to have been sitting on the same bench on the common all day. Lee goes to check on her and discovers that the woman, looking the worse for wear, has almost completely lost her memory and doesn't even know what her own name is. Lee compassionately invites this Jane Doe to her home for a meal and a chance to refresh herself. Jane is understandably reluctant to go off with a stranger, but Lee assures Jane that her boyfriend, Pete Mondello, is a police detective who'll be happy to swing by and help them sort things out.
And that's exactly what they do, not only with Pete's professional assistance but also with the aid of the supernatural visions that occasionally force their way into Lee's notice. Turns out that Jane might have been a witness to the death of the John Doe, though Pete, to Lee's indignation, won't rule out the idea that Jane was more than just a witness. Lee and Aunt Ibby have both developed a soft spot for Jane, but will their trust prove misplaced? Worse, will their kindness put them at the mercy of a dangerous killer who won't hesitate to claim more victims?
This was the first book I've read of the Witch City Mystery series, despite it being the 11th installment, but I had absolutely no trouble getting into the swing of things along with Lee as she and her friends and family team up to solve a dastardly crime. Carol J. Perry's prose is delightfully immersive, and almost all her characters feel fully fleshed out. I admit to not really understanding why the killer's ongoing witness intimidation was so brazen, but there are certain kinds of criminals that not even I, with my vast if mostly second-hand experience of them, can understand. Regardless, this was a fun and extremely readable paranormal mystery.
There were seven delicious recipes included, and I decided to try out this one:
Egg Scramble Casserole
Ingredients
2 tablespoons melted butter
2 tablespoons flour
2 cups milk
½ teaspoon salt
¼ teaspoon pepper
1 cup shredded American cheese
1 cup chopped Canadian bacon
¼ cup chopped green onion
3 tablespoons melted butter
1 dozen eggs, beaten
1 4-ounce can of mushrooms, drained
1 ½ cups buttered breadcrumbs
Dash of paprika
Instructions
Combine butter and flour, blending until smooth. Cook over low heat until bubbly. Gradually stir in milk and cook until smooth and thickened, stirring constantly. Add salt, pepper, and cheese. Heat until cheese melts, stirring constantly. Set aside.
Sauté bacon and onion in three tablespoons butter until onion is tender. Add eggs and cook until set, stirring occasionally to scramble. Fold in mushrooms and cheese sauce.
Spoon egg mixture into a lightly greased 12x7x2-inch baking dish. Top with breadcrumbs and sprinkle with paprika. Bake at 350° F. for 30 minutes.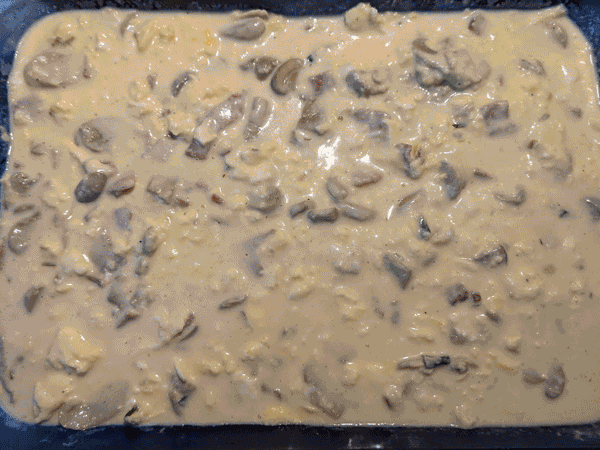 Can be prepared ahead and refrigerated until time to bake.
This was so good that I had seconds of it for two meals in a row, which set off my usually pretty mild case of lactose intolerance but was totally worth it. I did make a few tweaks, using turkey bacon instead of Canadian and cheddar cheese instead of American while throwing in twice the amount of mushrooms because I do like mushrooms, but I don't think my alterations changed the flavor profile by very much. I also sautéed my own breadcrumbs in butter over medium heat, melting 2 tablespoons of butter first, then adding 1 ½ half cups of breadcrumbs and toasting until they were a nice golden brown, stirring occasionally for even browning. Overall, the casserole was extremely delicious, both on the day of and the day after. It's a great and not too difficult dish to impress with, especially at a group brunch.
Next week, we continue on our roll of egg-based dishes while investigating another murder with paranormal help. Do join me!