Cooking the Books: Murder at Veronica's Diner by J.D. Griffo
The four intergenerational members of the Ferrara Family Detective Agency—as their unofficial sleuthing club is known—are enjoying a nice breakfast at local institution Veronica's Diner when their waitress, Teri Jo, approaches their table. Nothing out of the ordinary, despite Teri Jo having asked them earlier to deliver a package she didn't have time to send herself—until Teri Jo abruptly falls to the floor, a knife lodged in her back.
That pretty much ends breakfast for everyone in the diner, as emergency services are called and the various Ferrara women do their best to comfort the dying Teri Jo. The owner-manager, Veronica Andrews, is understandably distraught, but something she later says about her late employee doesn't quite jive with what the Ferraras know of her. After they try to deliver Teri Jo's package, only to be told in no uncertain terms "no, thank you" by another clearly scared woman, the Ferrara Family Detective Agency realizes it has a brand new case on its hands.
Comprised of elderly heiress Alberta; her sister, former nun Helen; their financier-turned-artist sister-in-law, Joyce; and Alberta's granddaughter, the up-and-coming journalist Jinx, the unofficial detective agency is a force to be reckoned with, having already gotten to the bottom of several twisty murders. In order to solve the case of Teri Jo's shocking death, however, they'll have to rely on all their many and diverse resources in a journey that will take them to places as vastly different from their tranquil New Jersey home as Texas and Riker's Island. But most of all, they'll have to rely on the strong family bond that sustains them through thick and thin as they find themselves facing down at least one ruthless killer in their pursuit of the truth.
This was another delightful installment of the Ferrara Family Detective Agency series. Aside from exploring a tangled plot of intrigue and murder involving Teri Jo and her mysterious family, Murder at Veronica's Diner explores our main characters' own secrets and innermost feelings. Perhaps most excitingly, we finally find out why Helen decided to leave holy orders. Series fans definitely shouldn't miss out on this latest novel, as J.D. Griffo continues to go from strength to strength with these books.
As always, there were recipes included, with gluten-free and vegetarian options as well! Of the four listed here, I decided to try out this one, lightly edited for space:
Helen's Favorite Jersey-Style Disco Fries
Ingredients
2 pounds seasoned crinkle fries–from a package
8 ounces shredded mozzarella cheese
Brown gravy
Parsley
For the gravy
3 cups beef stock
1 small shallot, minced
1 garlic clove, minced
4 tablespoons unsalted butter
¼ cup flour (Use gluten-free flour if someone like Jinx is sharing your food with you.)
2 teaspoons Worcestershire sauce
Sea salt and pepper
Instructions
Preheat the oven to 425°.
Spread the fries in one single layer on a large parchment-lined baking sheet.
Cook the fries according to the package instructions, but remember sometimes those instructions are wrong, so keep an eye on the fries and take them out when they're golden and crispy.
While the fries are cooking, make the gravy.
Melt the butter in a saucepan and add the shallot and garlic
Season with sea salt and pepper.
Cook until the shallot and garlic are softened and then sprinkle in the flour and cook for another 3 minutes.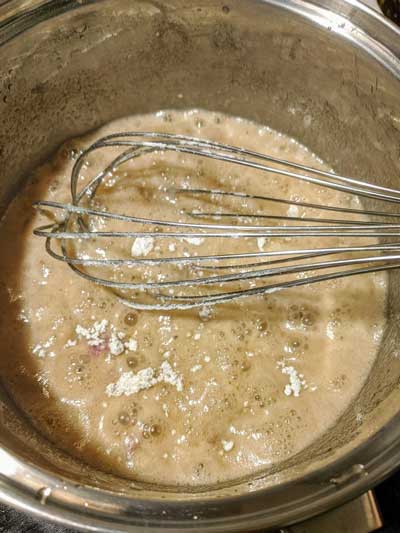 Whisk in the beef stock, but keep stirring to avoid lumps.
Add the Worcestershire sauce.
Bring the gravy to a boil and simmer 5-7 minutes until thickened.
When the fries are done, take them out of the oven and sprinkle them with the shredded mozz. Put the tray back into the oven for 2-3 minutes until the cheese is melted.
Pour the warm gravy on top and buon appetito!
I served this as a side for a holiday dinner, and it was a huge hit with my family! This is easily one of the best and simplest gravy recipes I've ever made, with such a delicious result. I love pouring gravy over fries and cheese, and with a gravy this excellent, the entire dish was a surefire success, satisfying even my picky eaters. I'm definitely adding this recipe to my repertoire of quick, easy, and delicious potato sides that taste like I spent far more time in the kitchen than I actually did.
And that's all for this year, loyal readers! We're taking a break for the rest of the holidays and look forward to seeing you again in the new year, as we travel to the coldest part of the country to sort out deaths and disappearances while getting started with some healthy eating, if that's a resolution for some of you. Do join me!