Cooking the Books: Murder at the Beacon Bakeshop by Darci Hannah
Wall Street whiz Lindsey Bakewell has abandoned her entire life in New York City following the discovery of her now-ex-fiancé, hot-shot restaurateur Jeffrey Plank, cheating on her with his pastry chef, Mia Long. In a moment of drunken self-pity, she decides to buy a dilapidated lighthouse in a Michigan town she has fond memories of visiting as a girl, with a view towards converting the structure into a bakeshop and cafe where she can follow her life-long dream of running a bakery.
Not everyone is thrilled by her plans, however. Notorious local rabble-rouser Fiona Dickel is upset at anyone rehabbing the historic lighthouse, never mind that it would have been torn down for luxury condos if Lindsey hadn't intervened. So it isn't a huge surprise when Fiona brings a group of protestors to mar the Beacon Bakeshop's grand opening. What is a surprise is the sudden appearance of Jeffrey and Mia all the way from New York City, the latter of whom especially causes a huge commotion. Lindsey is determined to grit her teeth and see the day through, but the Bakeshop is forced to shut down after all when Mia suddenly chokes on a donut mid-protest and keels over.
After Mia's death is found to have been caused not by an accidentally restricted airway but by a deliberate dose of cyanide, Lindsey becomes the prime suspect in her murder. Worse, the Bakeshop must stay closed indefinitely while she and the premises are investigated. Determined to clear her name, Lindsey recruits her influencer best friend, Kennedy Kapoor, as well as Wellington, her gentle giant of a Newfoundland, to help her solve the case.
I loved Darci Hannah's Very Cherry Mystery series, so I was all set to fall in love with her new cast of quirky city-types converging on a lovely Michigan lakeside town. While I didn't find them quite as charming as I'd expected given my prior experience with Ms. Hannah's writing, Wellington—or Wellie, for short—exceeded expectations as a delightful canine companion. Most importantly, the mystery was intriguingly layered. I also really enjoyed the food and baking descriptions and thought the inclusion of both the romance and the paranormal element tidily done.
Over 10 recipes were included in this volume, and since I was in the mood for a savory baked good, I decided to try out this one:
Bacon and Spinach Quiche
Prep time: 15 minutes. Cook time: 35 to 40 minutes. Makes 6 servings.
Ingredients
1 piecrust (use your favorite premade or homemade crust)
1 cup milk
5 large eggs
½ teaspoon salt
¼ teaspoon pepper
4 slices bacon, cooked and chopped into little pieces
1 cup shredded Swiss cheese
¼ cup grated Parmesan cheese
1 cup fresh baby spinach leaves, chopped
2 scallions, thinly sliced
Instructions
Preheat oven to 425 degrees. Line a 9-inch pie plate with crust and crimp the edges.
In medium bowl whisk milk, eggs, salt, and pepper and set aside.
On bottom of piecrust, layer cooked bacon, Swiss cheese, Parmesan cheese, chopped spinach, and scallions. Pour egg mixture over the top and bake 15 minutes. Then reduce the oven temperature to 325 degrees and continue to bake for another 20 to 25 minutes, or until knife inserted in the middle comes out clean.
Remove from oven and let rest 10 minutes before serving.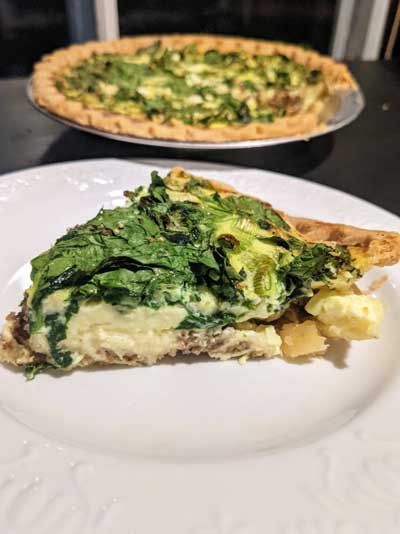 I love a good quiche, and this was no different! However, I did have trouble sourcing the types of bacon I prefer, so I decided to get a little crazy and use beef scrapple instead, which I found a perfectly adequate substitute. I wouldn't necessarily recommend that substitution unless you're a fan of offal though, as I am. I also thought I'd have to shred some sharp provolone since I couldn't find the parmesan my husband had hidden in the refrigerator, but I finally unearthed it so the rest of my cooking went as I and the recipe planned.
Until, that is, near the very end, where I found that my custard was just not setting! I had to bake it at 350 degrees for 15 more minutes to get it to set properly. Since my oven does tend to run cool, other bakers may find that they need less time; regardless, a maximum of 40 minutes does seem a little on the low end for a quiche, especially at a finishing temperature of 325 degrees. The end result was very delicious and worth the extra time though.
Next week, we head back east to solve the murder of a local curmudgeon while whipping up a sweet, multi-purpose condiment. Do join me!