Cooking the Books: Lemon Curd Killer by Laura Childs
Theodosia Browning, proprietor of the Indigo Tea Shop, is looking forward to catering a Lìmon Tea Party in an honest-to-goodness lemon grove. She's been hired by local fashion brand Lemon Squeeze Couture to serve a thematic afternoon tea to accompany the launch of their inaugural collection, in conjunction with Charleston Fashion Week.
Everything would be smooth sailing for the well-practiced Indigo crew if it weren't for the presence of their boutique owner frenemy, Delaine Dish. Delaine's younger sister Nadine has finessed her way into the position of Lemon Squeeze's creative director, having embellished her resume quite a bit in order to land the job. Her lack of experience is showing right as the models are preparing to head down the runway, causing tensions to run high among everyone connected to Lemon Squeeze. Delaine's constant criticism isn't helping matters either. As a result, Nadine is taking her nerves out on everyone she can, including Theo and her staff.
Used to the Dishes' high-strung theatrics, Theo; her tea sommelier, Drayton; and her chef, Haley, are happy to keep their heads down and focus on serving an exquisite tea. What should be a lovely day of high tea and high fashion comes to a screeching halt, however, when Theo finds Nadine dead in the venue's walk-in refrigerator, face down in the lemon curd.
Theo quickly ascertains that Nadine was shot to death, but there are so many people present that narrowing down the suspect list seems almost impossible, never mind finding a plausible motive. Sure, Nadine rubbed a lot of people the wrong way, but flubbing a fashion show hardly seems like a reason for murder. When Theo's police detective boyfriend, Pete Riley, lets her know later on that traces of cocaine were found at the crime scene, Theo begins to wonder if Nadine's death was perhaps less intentional than a by-product of other criminal enterprises.
After Nadine's daughter, Bettina, begs Theo to help find her mother's murderer, Theo realizes that she'll have to delve more deeply into the world of haute couture if she's to have any hope of tracking down a coldly professional killer. Will her efforts prevent more murders from occurring, or will they place her squarely in an assassin's sights?
Series fans will love this 25th installment of the Tea Shop Mystery books, especially as this one was even better, in my opinion, than the last few. It's always a pleasure to go on a virtual tour of Charleston with Theo and Drayton, this time with fashion (and fast cars!) as a highlight. As always with this series, there are several bonus sections, including one on getting creative with scones. The tips on hosting tea parties are also terrific, as is the recipe chapter. Lemon Curd Killer has 11 delectable recipes included, all for dishes lusciously described in the text. I decided to try out this one, which seemed remarkably easy for a treat I dearly love:
Haley's Lemon Bars
Ingredients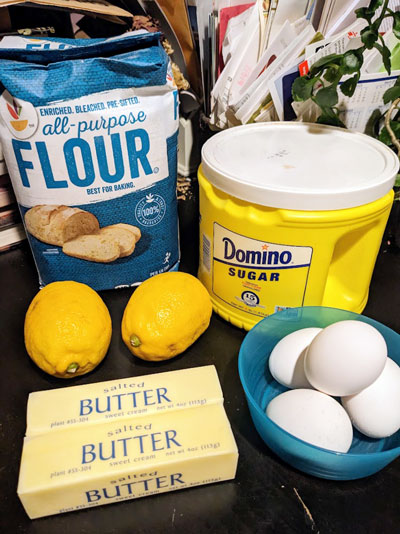 1 cup butter, softened
2 cups sugar, divided into ½ cup and 1 ½ cups
2 ½ cups cups all-purpose flour, divided into 2 cups plus one extra ½ cup
4 eggs
2 lemons, juiced
Instructions
Preheat oven to 350 degrees. In medium bowl, blend together butter, ½ cup sugar, and 2 cups flour.
Press mixture into the bottom of an ungreased 9-by-13 inch baking pan.
Bake for 15 to 18 minutes in oven or until firm and golden. In another bowl, whisk together the eggs and lemon juice, then pour over baked crust.
Bake for an additional 20 minutes and remove from oven. Bars will firm up as they cool.
Yields 12 good-sized bars.
Not only did this recipe seem remarkably easy, it actually was! I love how unfussy Laura Childs's recipes consistently are—and how they have such dependably fantastic results. These lemon bars were the perfect balance of sweet and tart, with a delicious cookie base and an almost-meringue-like texture to the thin top crust that overlaid the gooey lemon layer. I loved these bars, as did my family.
Next week, we head west to make a tasty breakfast treat while trying to deduce the identity of a killer dead set on putting a halt to the wedding of the season. Do join me!