Cooking the Books: Till Death Do Us Port by Kate Lansing
Vintner Parker Valentine isn't sure if she's relieved or otherwise that her boyfriend, Reid Wallace, won't be able to attend her cousin Emma's wedding with her. Reid has been offered an opportunity to open another restaurant out in San Francisco, so he will be scouting locations while Parker attends the Colorado wedding alone. While Parker is glad to avoid any awkward introductions between Reid and her extended family, she quickly realizes that his moral support would be invaluable in the absolute chaos leading up to the nuptials.
Emma and her fiancé, Nash, are both pretty down-to-earth people, so Parker is surprised at how oddly fussy and oddly unprepared everything is. To begin with, the hotel where they're having the wedding is under very noisy construction. Prynne, the domineering wedding planner, gets into a fight with Iris, the caterer, that Parker can't help but overhear as she brings some of her wines to the venue on the day itself. Parker is further alarmed when Prynne high-handedly fires Iris and decides that the palate cleanser crackers Parker brought with her will have to be refreshment enough. With feuding members of the bridal party and, of all things, a stubbornly reluctant cat acting as ring bearer, things are not looking great even before someone fatally clobbers Prynne over the head with a rock.
Detective Eli Fuller, Parker's climbing partner, is less than thrilled at finding Parker at the scene of yet another murder. While he's hoping that she'll be able to give him some insight into the people in attendance, she's adamant that no one in her extended family could have had anything to do with Prynne's death. He's justifiably skeptical of her claim, so Parker realizes she'll have to investigate for herself before anyone else in her family is traumatized by being unjustly accused of homicide. Will her efforts to protect her family put her at greater risk, however, when a ruthless killer decides to strike again?
This was another fun installment of the Colorado Wine Mystery series that showcased the best of the state while dealing sensitively with Parker's ongoing efforts to overcome her phobia of driving. Our main cast's interpersonal relationships were also explored—though I'll admit that I'm starting to find fandom-obsessed Sage just a little bit more twee than relatable at this point in the proceedings. I love lots of pop culture things, too, but I hopefully don't let that constitute the bulk of my personality. I did really enjoy the wine and chemistry talk as always, this time with a focus on the port of the title.
There were three vegetarian recipes included in this book, set up as a three-course meal with appropriate wine pairings. I decided to try the first one.
Roasted Red Pepper, Goat Cheese, and Balsamic Bruschetta
(Serves 4 to 6)
Ingredients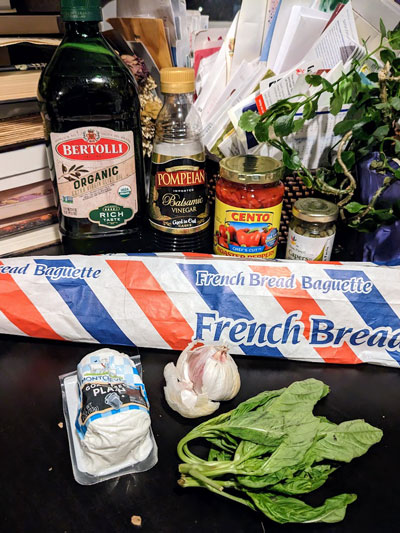 1 cup jarred roasted red peppers, medium-diced
1 tablespoon capers
2 teaspoons balsamic vinegar
1 teaspoon olive oil (plus extra for drizzling)
¼ cup fresh basil, chopped
Salt and pepper (to taste)
Good rustic bread, sliced ½-inch thick
1 garlic clove, peeled
4-ounce package of goat cheese
Instructions
Preheat oven to 425 degrees F.
Mix roasted red peppers, capers, balsamic vinegar, olive oil, basil, and salt and pepper in a bowl and set aside.
Place the bread on a sheet pan and drizzle with olive oil. Bake for 10 minutes, turning halfway, until golden brown and perfectly toasted. While bread is still hot, rub one side with whole garlic clove.
To assemble, add a generous helping of goat cheese to each slice of bread and top with a spoonful of the pepper mixture.
I love making (and eating!) bruschetta, and I am always looking for new variations on the recipes I already enjoy. This was a delightful addition to my repertoire! I used my usual French baguette staple, but I sliced it a little more thickly than the ½-inch recommendation in order to help the slices stand up better against any juices from the pepper mixture. The goat cheese helped with this as well. I also mixed up the topping while the bread was baking in order to save a little more time.
This is a very forgiving recipe if you want to go a little heavy on the red peppers or basil, as I did. I would have added more capers, too, but I ran out of those. This bruschetta is a simple and delicious first course that looks and tastes like you've spent far more time and effort making it than you actually have.
Next week, we travel southeast to investigate the intersection between high fashion and high crime while baking up another delicious treat. Do join me!