Cooking the Books: Honey Roasted by Cleo Coyle
In the 19th installment of the consistently terrific Coffeehouse Mystery series, an unexpected swarm of bees leads to coffee master roaster Clare Cosi rescuing a good friend of her beloved mother-in-law's and foiling a drug ring in the process.
When bees invade the Village Blend one chilly fall evening, the last thing Clare expects is to be able to identify the bees as belonging to Bea Hastings, a close friend of her ex-husband's mother. In her efforts to notify Bea that the swarm has mistakenly relocated itself to her building several blocks away, she realizes that someone has trashed Bea's rooftop greenhouse and hives. Worse, Bea herself is found unconscious on her balcony after a fall from said rooftop.
The detective assigned to the case writes it off as an attempted suicide, given the posts that had gone up on Bea's social media just before her fall. But Clare refuses to believe that strong-willed, feisty Bea would try to kill herself—certainly not after wrecking her own carefully tended urban farm. Clare is certain that foul play is afoot and is determined to figure out exactly who is behind all the carnage.
Complicating matters is the fact that Clare's fiancé, NYPD Detective Lieutenant Mike Quinn, has been oddly cold lately. Clare and Mike are supposed to be looking at honeymoon destinations, but Mike has grown so distant and wrapped up in his work that Clare is starting to worry that they won't even make it to their wedding. But then, Clare discovers a connection between her investigations and his latest case involving an opportunistic drug ring dumping bodies in a blighted neighborhood. Will her efforts to help solve both cases bring them closer together or destroy their relationship for good?
This was another thoroughly entertaining and informative look at life in modern New York City, with fascinating insights into topics as varied but intriguing as urban farming, honey and the NYPD's beekeeping unit, and The Hole and Black cowboys. The mystery is smart and twisty, and I continue to be a fan of Clare and her ex-husband Matt's ongoing friendly relationship. I still have pretty mixed feelings about Mike, but it was nice to see Clare take charge in their relationship and make her position and feelings clear.
As always with this series, there was a mini-cookbook of amazing recipes included here. This time, all the recipes were honey-themed, with an excellent introduction to honey included beforehand. I had a hard time picking one recipe to try but eventually settled on this one:
Joy Allegro's Honey Orange Glazed Chicken
Ingredients
2 pounds chicken thighs, skin on
1 cup orange juice (no pulp, freshly squeezed is best)
¼ cup raw apple cider vinegar
½ cup dark brown sugar, packed
½ cup orange blossom honey
1 tablespoon coriander
1 tablespoon cumin
2 cloves of peeled garlic, whole
¼ teaspoon sea salt
¼ teaspoon white pepper
2 tablespoons olive oil
Instructions
Note: To boost flavor, Joy and Clare highly recommend that you take the time to marinate your chicken before starting the recipe. Combine 1 cup orange juice, ¼ cup raw apple cider vinegar and 2 tablespoons orange blossom honey and marinate the chicken pieces for 2 to 3 hours. Discard the marinade (do not rinse chicken) and begin the recipe [below].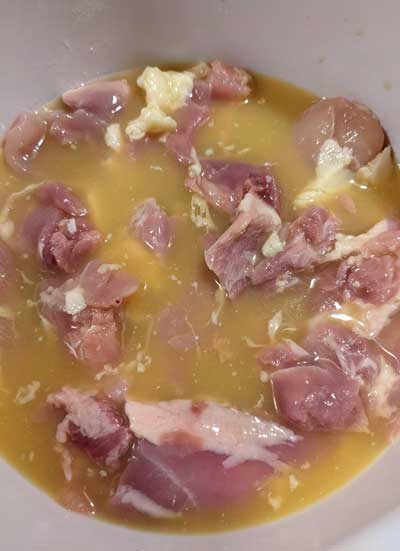 Combine orange juice, raw apple cider vinegar, dark brown sugar, honey, coriander, cumin, and garlic in a sauce pan and bring to a boil. Reduce heat and simmer for 40 minutes or until sauce has reduced to about 1 cup. Remove the garlic.
Season the chicken thighs with the salt and white pepper and let them reach room temperature, about 15 minutes. Add the olive oil to a large saucepan. (Size does matter. You don't want to crowd the chicken!) Over medium-high heat, slowly cook the thighs until 165°F in center and the skin is a nice golden brown.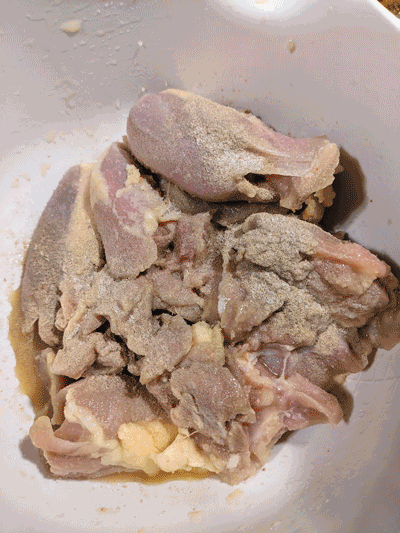 Drizzle the glaze on top and allow to simmer for 1 to 2 minutes making sure the chicken is coated well in the glaze. Serve immediately.
If you like, garnish with thin slices of orange or twists of orange peel.
There's been a bit of a chicken shortage in my area so I couldn't find skin-on thighs, but the skinless version worked almost as well and is probably healthier anyway. I marinaded and cooked the chicken as directed, but I think it might have done better slow-cooked over medium instead of medium-high, which I felt dried the chicken out a little more than intended (perhaps that was due to the lack of skin!). This dish and its delightful sauce tasted great fresh, however, served with rice and vegetables. The dryness was only really noticeable in leftovers, so gobble this up as quickly as you can.
Next week, we head south for the start of another series, investigating a brutal bludgeoning while baking up a tasty cake. Do join me!