Cooking the Books: Goodnight Moo by Mollie Cox Bryan
Brynn MacAlister thinks she's finally getting the hang of running her own dairy farm and cheesery in bucolic Shenandoah Springs, Virginia—especially with the help of her young assistant, Wes, the grandson of her beloved former neighbor, Nancy. She and Wes are even holding a cheesemaking contest in conjunction with the town's upcoming summer festival, a contest that Brynn hopes will become a tradition and further strengthen her ties with the community to which she's still very much a newcomer. But the opening of the festival is marred by a freak accident when a young man is run over by a tractor ridden by Jeff, the leader of the local Community Supported Agriculture group to which Brynn belongs.
Jeff is taken into custody, but his teenage daughter, Chelsea, seems to be unbothered—especially surprising given that the young man he killed was a guy she was dating. Then, Wes stumbles across the body of another of Chelsea's boyfriends and finds himself under suspicion for murder. Wes, a Pakistani-American from Boston, is sure the police are doing the best they can, but others in the community hold a differing view, and one of them decides to take matters into his own hands by shooting Wes in broad daylight. In the hubbub, Brynn sustains a concussion, but neither that nor the ugly racism she encounters as a white woman defending her brown friend will deter her from clearing Wes's name and finding the real killer responsible for at least two diabolical murders.
It was honestly pretty great to read a culinary cozy that acknowledges, condemns, and confronts racism head-on as part of its main narrative. The representation might not have been perfect—for example, it's okay to describe Willow as being Black or mixed-race and is far preferable to repeatedly describing her "mocha skin"—but it's far and away better than in most of the non-#OwnVoices novels I've read in the genre. Kudos to Mollie Cox Bryan for stepping up and starting a necessary conversation with her readers.
I was also a fan of the technological aspect of this story, and I enjoyed following along as Brynn and Co. unraveled the mystery. Her relationship with her sister was also really nicely depicted, and I've never wanted to hug a cow so much in my life as after reading about Brynn and her "girls," as she calls them.
This volume included 5 delicious-looking recipes, and I decided to try out this one:
Blackberry Breakfast Bread
Ingredients
2 cups all-purpose flour
½ cup sugar
1 ½ teaspoons baking powder
½ teaspoon baking soda
¼ teaspoon salt
2 eggs, lightly scrambled
1 ¼ cups milk
¼ cup butter, melted
1 tablespoon pure vanilla extract
1 cup blackberries (fresh or frozen, thawed), lightly mashed
For the topping
3 tablespoons all-purpose flour
3 tablespoons brown sugar
3 tablespoons cold butter
Instructions
Combine flour, sugar, baking powder, baking soda, and salt in a large bowl.
In a small bowl, whisk together eggs, milk, butter, and vanilla.
Pour wet ingredients into dry ingredients, and mix until just combined.
Fold in mashed blackberries.
Pour batter into lightly greased 9-by-5-inch loaf pan.
Place flour, brown sugar, and butter for the topping in a small food processor. Pulse until all ingredients are combined and mixture looks like coarse crumbs.
Evenly sprinkle topping over unbaked bread.
Bake at 400 degrees F. for 45-60 minutes, until the top is brown and a toothpick inserted in the center tests clean. Check bread after 40 minutes and loosely cover with aluminum foil if the top is getting too brown.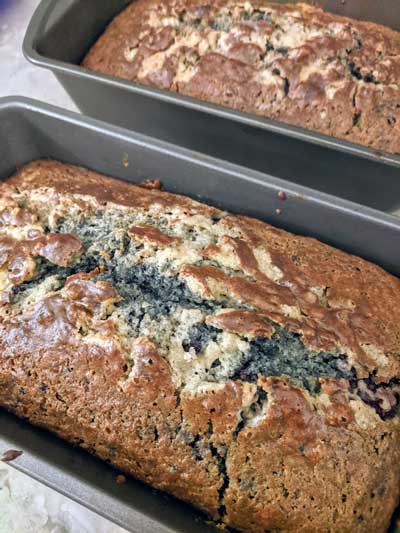 I screwed this up in so many ways that I don't even know where to begin. My most egregious mistake was in pulsing the crumb topping too hard, I'm sure, making for a buttery consistency that certainly did not bake up into anything delicious. I will have to just do that by hand the next time I make this.
To be perfectly honest, I did not at all like the blackberries here. I usually love fruit but found the blackberry seeds to be very crunchy and annoying—unsurprising given my general disdain for nuts in baked goods. I'd have to deseed them first or, perhaps, be lazy and use a berry that doesn't require all that extra work. Let me know if you have better results trying this at home, as it certainly sounds like a delicious recipe that I'm sure I just messed up somehow. Eagle-eyed readers will notice that I baked a double batch to use up all the blackberries I had, but I'm pretty sure that had nothing to do with why the recipe didn't work out for me.
Next week, we head north to check out the latest in one of my favorite culinary cozy mystery series while making an amazing traditional soup. Do join me!