Cooking the Books: Dough or Die by Winnie Archer
It's taken some persuading, but Ivy Culpeper has convinced Olaya Solis, the owner-operator of the beloved bread shop Yeast of Eden, to participate in the inaugural episode of the new reality show, America's Best Bakeries. The producers want to showcase one of Yeast of Eden's outreach programs, Bread of Life, a cooking class designed to empower low-income and immigrant women by teaching them how to bake different breads while sharing their own recipes with the community. The women in the latest session of the class are all pretty enthusiastic about the show—at least until they meet the dysfunctional crew putting it together.
While most of the people at Yeast of Eden are some degree of starstruck by either local on-camera personality Sandra Mays or by celebrity chef Mack Hebron, the tension between the two co-hosts is hard to ignore. Lead cameraman Ben Nader does his best to defuse tensions, but Sandra and Mack's squabbling is having an adverse effect on the class's nurturing environment. Everyone is determined to grit their teeth and forge ahead, though, until a hit and run driver mows Ben down right in front of Yeast of Eden.
Ivy and friends are horrified, especially since it looks like Ben was specifically targeted by the car's driver. But then, Sandra and one of the women from the Bread of Life program go missing. Ivy's investigative skills are sorely tested as she tries to track down the missing women, only to discover that the roots of this tragedy stretch further into the past than she could ever have imagined.
The fifth book in the Bread Shop Mystery series brings back all our favorite characters, though I honestly could have used a little more of the irrepressible Mrs. Branford in these pages. It was nice to see Ivy strike out independently in her investigations with the tacit approval of her best friend Sheriff Emmaline Davis, though I did find Ivy's condescension towards the women's shelter's security systems curious considering her own refusal to respect the women's boundaries there. I did, however, very much appreciate the diversity of all the women in this book. It was a delight to learn about the different breads and bread-making techniques they knew and were happy to share.
The recipe section for this book includes two of those, and while I was very curious about the Eritrean hembesha, I chickened out and went for the easier recipe instead.
Rosemary Bread
Ingredients
1 Tbsp yeast
1 Tbsp sugar
1 cup warm water
2 ½ cups flour
1 tsp salt
2 Tbsp finely chopped fresh rosemary
2 Tbsp butter
Instructions
Preheat oven to 375°F. Proof the yeast by adding to warm water and sugar. Let it rest for five or ten minutes until it becomes bubbly.
Mix in the butter, salt, and 2 cups of the flour.
Add 1 Tbsp of the rosemary to the dough.
Knead for about 10 minutes by hand (or use the dough hook on a mixer) until smooth and elastic. Add more flour, as necessary.
Oil a metal or glass bowl, or proofing basket. Place dough into the bowl and cover with a towel. Leave in a warm, draft-free place until doubled, approximately one hour.
Punch down. Divide into two equal parts and let rise for an additional fifteen minutes. Shape each piece into 2 rounded oval loaves. Sprinkle additional tablespoon of rosemary on top of the loaves and lightly press it into the dough.
Spray a baking sheet with cooking spray or oil. Place prepared loaves on the baking sheet. Let rise for an additional 45-50 minutes.
Place in hot oven and bake 20 minutes or until brown.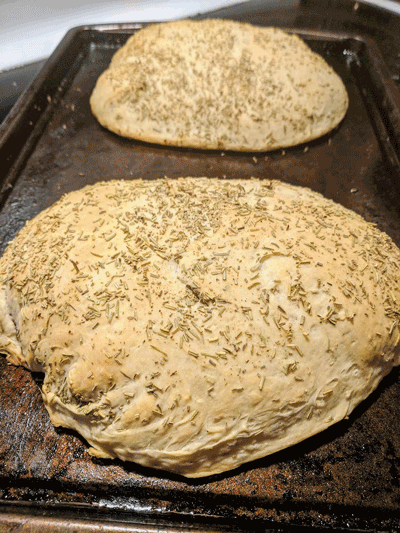 After removing from the oven, brush lightly with butter or olive oil and lightly sprinkle with salt (optional).
Given the baking craze that has swept the nation, I shouldn't have been surprised that I wasn't able to find regular yeast at the store. It was, however, a pleasant surprise to discover the joys of instant instead! I admit to not being the biggest fan of baking with yeast, so the ease of using instant really got me over a lot of my issues with regular. I did, however, accidentally add all the rosemary to the dough in my initial batch, as pictured, instead of just half before kneading it. Fortunately, this didn't ruin the bread, though it definitely gave it a much stronger rosemary taste than intended. The bread itself came out tasting light and delicious. Honestly, I enjoyed baking this so much, I've already made more and can attest to how delightfully the prescribed amount of rosemary flavors the loaves. I also found that letting the bread rise for longer than the recipe says helps make for slightly larger loaves.
Next week, we head to the Midwest to bake up a different sort of treat while investigating a Halloween murder (yes, it's definitely getting to be that time of year again!). Do join me!