Cooking the Books: The Diva Serves Forbidden Fruit by Krista Davis
I have spent many an hour wandering the streets of Old Town Alexandria where the Domestic Diva Mystery series is set, so I have such a soft spot for these books even before taking into consideration their delightful characters and intriguing plots! In this 14th installment of the series, our heroine, Sophie Winston, is in charge of a week-long DIY Festival featuring demonstrations on Market Square and plentiful vendor's booths. Of course, being in charge of a festival with vendors means having to listen to their complaints and troubleshoot their problems, no matter how trivial. Sophie is geared up for all of this but is definitely not expecting to find a corpse in the process.
Right before the discovery, Sophie was helping Paisley Eames, the stressed-out mother of six young boys whose festival tent is conveniently set up in front of her mother's OTA townhome. Paisley has been expecting said mom, Lark Bickford, to come help with the kids, so she asks Sophie to go check on Lark when she doesn't show up. Sophie has trouble finding Lark in the house—until Paisley's eldest child leads her to where his grandmother is lying in the backyard. Lark is quite dead and has apparently been so for some hours.
While Lark's corpse is arrayed in what looks like a textbook accidental death, Sophie's suspicions are raised by several incongruous aspects of the scene. After an intruder later tries to get into the house of Sophie's best friend, Nina Reid Norwood, and another woman dies in a manner that uncomfortably echoes Lark's death tableau, Sophie and Nina have to wonder if the Portugal trip the three women recently returned from has some bearing on the crimes targeting them. With the help of Sophie's ex-husband, Mars, and his best friend, Bernie, the friends are determined to unravel a complicated web of international crime in order to bring a remorseless killer to justice.
Even if I weren't enamored of the close-to-my-home setting, I'd love these books for the delightful comedy-of-manners interactions between the cast members. It's really nice to see strong adult friendships between sensible people and even between sensible people and those a little more out there, like Sophie's lifelong frenemy Natasha. In The Diva Serves Forbidden Fruit, Natasha has taken it into her head to blame Sophie's reasonableness post-divorce for setting Mars's expectations too high now that Natasha and Mars have broken up as well. Natasha is such a hoot, so quickly going from enraging to endearing and back again. The mystery also zigged and zagged cleverly, and the trademark domestic advice in each chapter header was by turns helpful and hilarious.
There were 11 recipes included, and I was definitely in the mood for something sweet, so I decided to try out this one:
Bourbon Chocolate Chip Blondies
This recipe makes a thin, chewy blondie.
8×8 pan
Ingredients
6 Tablespoons butter
⅔ cup flour
½ teaspoon baking powder
½ teaspoon salt
¾ cup dark brown sugar
1 large egg
2-3 Tablespoons Bourbon
1 teaspoon vanilla
¼ cup semisweet chocolate chips
Flaky sea salt, optional
Instructions
Preheat the oven to 350. Grease and flour an 8×8 pan and line with one piece of parchment paper cut to fit the sides, but long enough to act as handles and two sides for removing the blondies.
Melt the butter and set aside.
Mix together the flour, baking powder, and salt and set aside.
Beat the eggs with the dark brown sugar until thick and lighter in color. Beat in the bourbon.
With the mixture on low, alternate adding the flour mixture and the butter.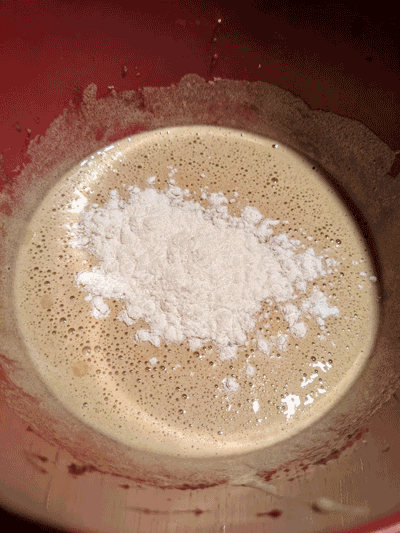 Give one quick mix to combine and pour half of it into the pan. Sprinkle the chocolate chips in a single layer and pour the remaining batter over them, spreading it out over the top. If adding flaky salt, dust the top with a pinch or two.
Bake 20 minutes. (Do not bake longer or else they won't be chewy!)
Using the edge of the parchment paper as handles, lift out of the pan and cool on a baking rack. They can be eaten warm or cold.
I really ought to have spread the batter all through the pan, but I was so worried about balancing my cool-running oven with the desired chewy texture that I erred on letting it spread by itself, which made for slightly thicker, even chewier blondies than expected. They were very good though, and you could definitely taste the bourbon! I used a honey bourbon we like to keep at home (so I dialed back the brown sugar content just a smidge), and that came out wonderfully. I felt that these were actually a little less blondie and a little more cookie, an impression that would have likely been stronger if I'd opted for that thinner layer. Which honestly sounds delicious too and might be something I try the next time I make these!
Next week, we head way, way northwest to investigate another festival-related murder while whipping up a versatile side dish. Do join me!