Cooking the Books: Death Gone A-Rye by Winnie Archer
Emmaline Davis and Billy Culpepper are getting married! No one could be happier for them than Ivy Culpepper, Emmaline's best friend and Billy's sister, who has been cheering on this union for decades. The wedding is slightly marred, however, by reports coming in of the murder of a member of Santa Sofia's school board. As Emmaline is town sheriff, the news and responsibility go straight to her, but her newly hired detective, Captain Craig York, is eager to prove himself. With the lure of her impending honeymoon combining with her professional goal of responsible delegation, Em leaves the case in Captain York's hands but pulls Ivy aside to ask her to keep her eyes and ears open just in case.
Ivy does not take her responsibilities as Em's unofficial investigator lightly, but she's happy to let Captain York take charge while she focuses on working with her beloved mentor, Olaya Solis of the famed Yeast of Eden bakery, to bake bread and pastries both for the store and for several upcoming special events. This laidback attitude changes drastically, however, when Captain York zeroes in on Ivy's boyfriend as the prime suspect. Turns out that Miguel Baptista had dated the deceased woman, Nessa Renchrik, about a decade ago. This seems like an awfully thin reason to Ivy, even if she weren't emotionally involved with Miguel, so she goes all out to investigate Nessa's life and find out who might have had a real motive to kill the school board president—a list that is surprisingly long even for a politician. Ivy soon has her hands full untangling the woman's web of secrets and lies before discovering the devastating truth.
I always enjoy spending time in Winnie Archer's Santa Sofia, with its diverse, inclusive cast of characters and awareness of modern problems. The death of a politician, even one so seemingly minor as a member of the school board, always opens up a can of worms, and Ms. Archer tackles the issues of racism and immigration, among others, with thoughtfulness and grace. It was also nice to catch up with the personal lives of all the characters as they continue to evolve and grow.
There were four recipes included, three for bread and one for a tasty-looking soup. Despite my general preference for buying bread over making it, I was intrigued enough to give the following a try, lightly edited for length.
Olaya's Hot Cross Buns
Makes 16 buns
Ingredients
For the Preferment
½ cup milk
1 teaspoon sugar
1 tablespoon instant yeast
½ cup whole wheat flour
1 stick unsalted butter
1 cup low-fat milk
½ cup brown sugar
2 eggs, room temperature and lightly beaten
1 teaspoon cinnamon
¼ teaspoon ground nutmeg
3 ½ cups all-purpose flour
¼-½ cup raisins (optional)
For the Egg Wash
1 egg
2 teaspoons milk
For the glaze
1 ½ cups confectioners' sugar
2 tablespoons milk
Instructions
Microwave milk until just warm. Add sugar, yeast, and flour. Stir and let sit at least 15 minutes until bubbly.
In mixing bowl, cream butter using the paddle attachment. Alternatively, whisk by hand.
Add milk, brown sugar, eggs, cinnamon, and nutmeg and mix until smooth.
Add flour and mix until dough sticks together.
Turn dough out onto work surface and knead, turning and adding only enough flour to form a smooth ball. Dough should not be sticky.
Add raisins to dough and knead until raisins are evenly dispersed. (Skip this step if you are not putting raisins in.)
Form dough into a ball and let rise for 1 hour in covered greased bowl. Dough should be almost doubled.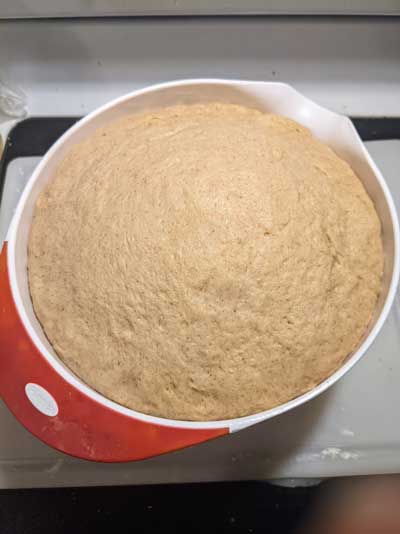 Grease two 8-inch square or round baking pans. Divide dough into two sections. Punch one of the dough balls down, and turn out onto floured surface. Roll into a 12-inch log. Divide log into 8 equal portions. Shape into balls and place in prepared pan, evenly spaced apart. Repeat with second dough ball.
Cover each pan with plastic wrap and place in the refrigerator to rise overnight.
The next morning, preheat the oven to 350° F. With a sharp knife, make a cross on the top of each bun.
Create egg wash by mixing egg and the 2 teaspoons of milk, and brush buns. Bake for 25-30 minutes.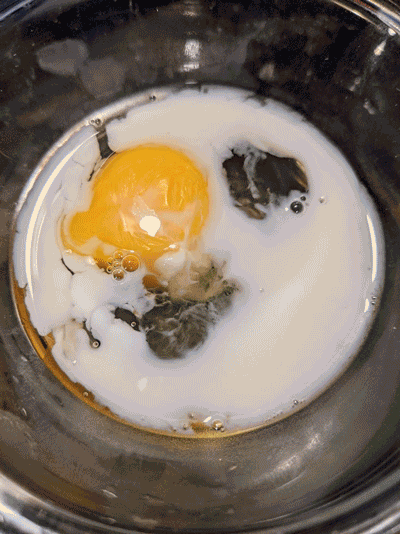 While buns are baking, make the glaze by whisking together powdered sugar with 2 tablespoons milk. Let buns cool for 5-10 minutes before drizzling glaze over top.
Serve immediately.
Unlike Ivy, I have no talent for bread baking and don't even find the kneading process therapeutic as many do. That said, this was a lovely recipe that infuses a surprisingly sweet nuttiness through the entire bun via the whole wheat preferment. I should definitely have added raisins to mine though, as the glaze made these hot cross buns quite cinnamon-roll-like.
One thing I should note: in the step after creaming the butter, I would add the dry ingredients (or at least the brown sugar) and eggs before adding the milk. Beating the milk into the butter first makes for weird, floating lumps of butter, though perhaps that is the intent? I am not experienced enough to know; feel free to tell me your opinions in the comments!
Next week, we travel to the Midwest to make a tasty soup while investigating misfortune and murder. Do join me!