Cooking the Books: Death by Bubble Tea by Jennifer J. Chow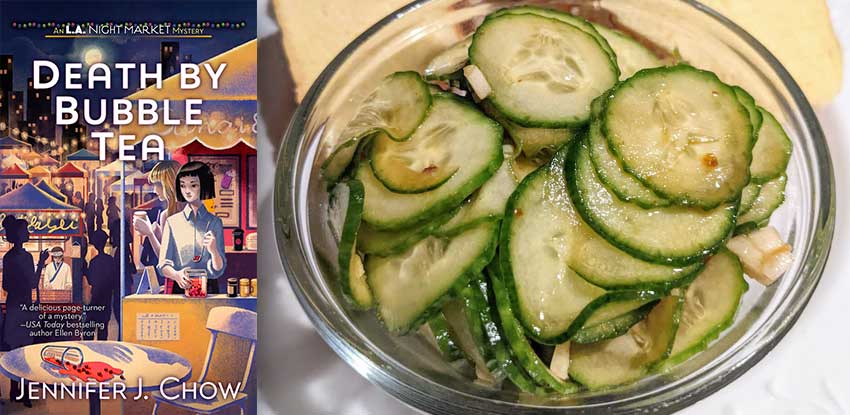 Yale Yee lives an unusual life for a modern 30-year-old. Eschewing cell phone, personal computer, or car, she works in a bookstore near where she lives and pines for the simpler days of old—at least until her bosses can no longer afford to keep employing her. With ample free time now, she reluctantly agrees to go to the airport to greet the cousin she has mixed feelings about after her father finds himself slammed with work at the dim sum restaurant he owns and is unable to go himself.
Hong Kong-native Celine Yee is just as glamorous as Yale remembers from their last meeting two decades earlier. After learning that Yale came to the airport by bus, Celine cheerily books a rideshare to her hotel, leaving Yale feeling wrong-footed, as usual, by her more outgoing cousin. But Yale's dad has an idea that will force the two to spend a lot more time together than either had originally planned.
The apartment complex where Yale lives is close to a shopping development that will be hosting an upcoming night market. Yale's dad has already rented a stall, but with work being so busy, he doesn't have the time to run it himself and thinks Yale and Celine would be the perfect team to manage it. Yale can make and serve the food and beverages, while Celine can use her professional skills as a foodstagrammer to market and sell their products.
Celine is more enthusiastic than Yale, coming up with several great ideas that even her pessimistic cousin has to agree are pretty good. The first night is a modest success, and after cleaning up, Celine takes off for her hotel, leaving Yale to wheel the rest of her supplies back to her apartment. Thus, Yale is completely alone and phoneless when she stumbles over the corpse of one of their customers from earlier in the night.
The cops, including Detective Greyson Strauss, are skeptical as to Yale's lack of phone explaining the delay in why she called them. Yale finds herself in the deeply uncomfortable position of being suspected of murder, especially since the victim was found near one of her stall's distinctive cups and was most likely poisoned—though by what remains a mystery. Yale knows that there was no way that anything she served could have killed the woman. But when she finds out that Celine made a few unauthorized changes to their menu—changes that have Detective Strauss scrutinizing them both for guilt—her family instinct kicks in to prove that no one in the Yee family was responsible for the woman's death. Will her efforts to clear their name backfire and put her in the sights of a murderer who won't hesitate to kill again?
This was a cute culinary cozy mystery that had me craving dim sum even as I cheered on Celine and Yale. I loved how they grew closer over the course of the book, as Yale stopped automatically assuming the worst of her cousin and gradually started to embrace the 21st century under Celine's warm-hearted influence. I'm also obsessed with Jane Liu's gorgeous cover art and wish there was somewhere to purchase prints I could put up in my home!
There were two recipes included, and since I'm a boba tea originalist, I decided to skip the "Grapefruit Green Tea with Boba" recipe in favor of this cold snack Yale and Celine serve at their night market stall.
Spicy Cucumber Salad
Ingredients
6 Persian cucumbers
2 cloves garlic
1 tablespoon soy sauce
1 tablespoon black vinegar
½ tablespoon sesame oil
¼ teaspoon chili (I like to use Laoganma's Spicy Chili Crisp)
Salt to taste
Instructions
Slice or use mandoline to cut cucumbers to approximately ¼ inch thickness.
Peel and mince cloves of garlic.
Place cucumbers and garlic in a bowl.
Add soy sauce, black vinegar, sesame oil, chili, and salt.
Mix together and refrigerate for at least ten minutes before serving.
I love a refreshing cucumber salad in the summer, and this is one of the best versions I've ever tasted! It was so good that I'm making another batch soon since the first one was enjoyed by not only my immediate family but also by my in-laws, who had very nice things to say about this vegan dish. It's a ridiculously easy salad to make but really packs a lot of flavor into each bite, with the coolness of the cucumbers contrasting really nicely with the heat of the chili crisp. I actually recommend putting in a little more of the chili than just a quarter teaspoon if you enjoy spiciness, as just a quarter teaspoon is pretty mild.
The black vinegar was a revelation to me personally, as I'd never known the English name of this condiment I had fond memories of using while growing up in Malaysia; I'd always assumed it was just a particular type of soy sauce. I'm glad this recipe could fix that error in my thinking and ensure that I have a supply readily available for my future cooking!
Next week, we head northeast to grill up a tasty sandwich while solving the stabbing of a vengeful shop owner. Do join me!