Cooking the Books: Bake Offed by Maya Corrigan
Val Deniston and her Cooking Codger columnist granddad Don Myer are more than happy to help out their friend Bethany O'Shay as she finds herself somewhat in over her head while organizing the Maryland Mystery Fan Fest. Val volunteers to run the mystery trivia contest and monitor discussion panels, while Granddad will serve as a charity auctioneer and—perhaps most importantly—one of the contestants in the mystery-themed bake-off. Each of the competitive chefs is to take on the role of a famed fictional cook and bake up a treat that will be judged not only on tastiness but on the entire mystery presentation.
Things start getting weird almost from registration when Granddad gets an anonymous note warning him about the suspicious behavior of one of his competitors. Cynthia Sweet seems harmless, even helpful, but is apparently super competitive and not above sabotaging her rivals in order to gain the upper hand. Granddad and Val are on alert for shenanigans, given the proximity of their hotel rooms to Cynthia's, but they mostly figure they'll be enjoying a weekend of mystery appreciation with fellow aficionados.
Alas, then, Val is woken by a strange whistling noise on the very night that they check in. She figures Cynthia must have left the travel kettle on in the adjacent room and accidentally fallen asleep, so she tries knocking first to rouse her neighbor. When she earns no response, she's forced to alert hotel security. The young security guard thinks that an older lady would be less alarmed by another woman coming into her room in the middle of the night than by a strange man, so he asks Val to accompany him. They're both horrified to discover that the reason the kettle is still going is that Cynthia is quite dead.
The police are called in—as they must be for any unattended death—and Val is surprised to find that her old acquaintance Roy Chesterfield is on the case. He's been promoted to detective and is more than willing to listen to any information Val picks up while she circulates amongst the guests. It soon becomes clear, however, that Cynthia did not die of natural causes and that her murderer is still present at the fest. Will Val be able to sort through the many strands of mystery obscuring the truth as to who wanted Cynthia dead and why before she becomes the next victim herself?
This was another meticulously plotted installment of the Five-Ingredient Mystery series, with Val's cooler head reining in some of her granddad's wilder ideas as to whodunnit, how, and why. It's clear that Maya Corrigan both knows and loves her mysteries, and I laughed out loud at some of her observations regarding the genre and those who adore it (the "anti-Christies" nickname especially tickled me). Val and I also share an antipathy to the board game Clue, which is fine for younger people but lacks too many answers to the more salient questions of "why" that are inevitably raised by any crime.
Speaking of Clue, eight recipes are included, all for dishes discussed in the text, many of them inspired by the characters of that iconic board game. The recipe I chose to try for this column was in that latter group—and not just because of the very cool new game art Hasbro recently released for it.
Mrs. White Bean Chili
This basic recipe makes a vegetarian chili. Add cooked chicken for a meat version.
Ingredients
4 cups vegetables or chicken broth
4 15-ounce cans of white beans (navy or Great Northern), drained and rinsed
2 cups salsa verde (mild, medium, or spicy, depending on your taste)
1 14.5-ounce can petite diced tomatoes
2 teaspoons adobo seasoning, or more to taste
Optional: 2 cups cooked chicken, cubed or shredded
Instructions
Combine the broth, half of the beans, and the salsa in a soup pot. Cook on medium to high heat until the mix simmers. Add the adobo seasoning.
Using an immersion blender, whirl the mixture to make it thicker, but not quite smooth. You can also blend the soup in batches in a standard blender.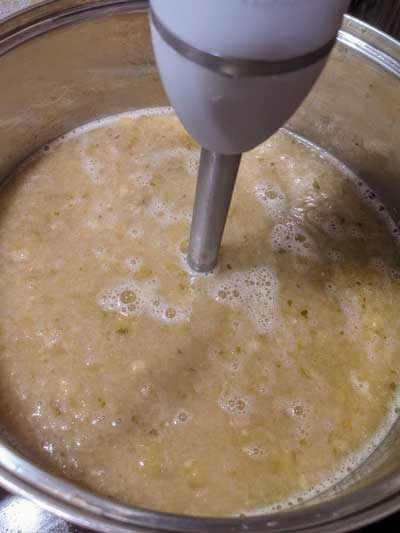 Stir in the remaining beans and the diced tomatoes. Add chicken if using. Bring the mix to a boil and turn down the heat to simmer it for 15 minutes.
Ladle the soup into bowls and garnish with your choice of toppings: shredded cheese, sour cream or yogurt, avocado chunks, tortilla chips.
Serves 6-8.
I sometimes wonder how the Codger Cook manages to pack so much flavor into recipes that only require five ingredients. This was definitely one sensational way to do it! You don't even need to add any extra seasonings to this chili; the salsa and adobo do plenty of flavorful work by themselves. I actually cooked and shredded my own chicken for this dish, using a Mexican spice blend to season the chicken, but even before I added that to the pot, this was a very rich-tasting dish. Even my picky children came back for seconds. 
This is also a surprisingly fast way to put together a lot of delicious, filling food for a small crowd. The blending proportions make for the perfect texture, too. I'd highly recommend this recipe, especially for any busy cook who wants to impress without spending too much effort or time.
Next week, we hop just a few states north from my and Val's homes in Maryland to make a smashing success of a snack while investigating the first in a long-running series I haven't yet reviewed for this column. Do join me!