Cooking the Books: Al Dente's Inferno by Stephanie Cole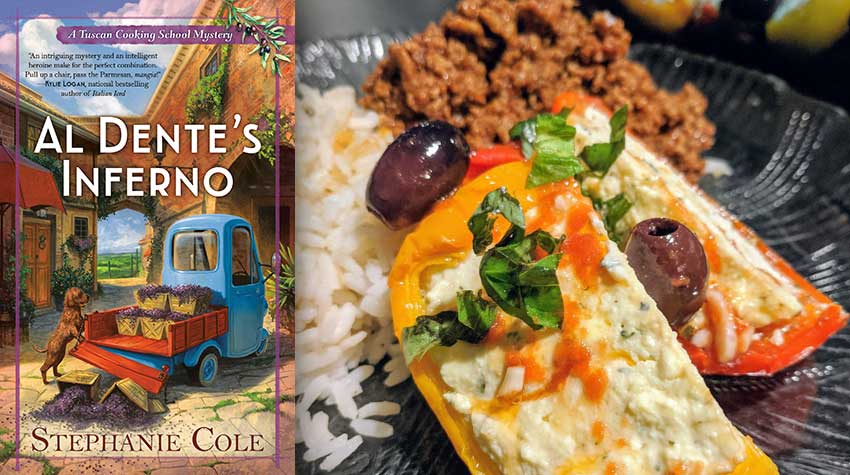 Nell Valenti is running away almost as much as she's running towards when she accepts the offer to help one of her culinary heroes, Chef Claudio Orlandini, turn his Tuscan kitchen into a farm-to-table cooking school. Leaving behind the East Coast and all the complications of her personal life, she figures she can get a fresh start in the countryside just outside of Cortona, Italy. With her own experience as a chef who's previously revamped other resort-style kitchens, she's ready to take on this exciting new challenge.
What she isn't ready for is how completely unready both Chef O and his aging villa are for accommodating guests, especially ones willing to pay for the privilege. While Chef O is a culinary genius, he often seems more interested in his bocce games than in cooking. Fortunately, his American-educated son, Pete, and devoted helper Annamaria are ready to assist Nell in her efforts at making the dilapidated villa at least a little more presentable, especially in light of an upcoming launch dinner to be attended by some of Cortona's most glamorous names.
To add to the pressure, a small crew for a Netflix documentary will be on hand to film the dinner as part of a series on culinary schools around the globe. When Nell discovers that the crew is headed by her ex-boyfriend, Buford Kaplan, it seems as if the stars themselves are aligning to defeat her every effort at making a success of the school.
Still, she and the villa's staff and assorted volunteers do their best to prepare for the big night. Things start to nosedive when Chef O abruptly disappears during the launch dinner's second course. The night turns into a total disaster when Nell later stumbles over Buford's corpse in the courtyard. At first, all signs point to Chef O having done in the filmmaker, but as the finger of suspicion swings round to point at Nell herself, she finds herself fighting to clear her name and save a school she's not even sure she wants to help open anymore.
I loved so much the far-flung setting of this novel, one of the few culinary cozies that isn't set here in America. Stephanie Cole does a wonderful job of describing the Italian countryside as well as the way of life there, such that reading Al Dente's Inferno felt almost like reading a travelogue—with the extra twist of a murder mystery to spice up the proceedings. Her Italian cast is especially delightful, and I'm very much looking forward to reading more of the adventures of the Billy-Joel-loving Bari sisters in future installments of this series.
There was only one recipe included with this novel, but oh, it was so good!
Peperoni al Forno Ripieni di Ricotta
Baked Peppers Stuffed with Ricotta
Ingredients for the peppers
6 bell peppers—red, yellow, and green
3 cups ricotta cheese
2 eggs
⅓ cup Pecorino cheese, grated
1 tablespoon minced garlic
1 tablespoon fresh oregano or marjoram, chopped
Salt and freshly ground pepper, to taste
Ingredients for the dressing
1 tablespoon minced garlic
3 tablespoons red wine vinegar
1 tablespoon tomato paste
½ cup Moraiolo olive oil (typically Tuscan, with notes of artichokes and herbs, but any good extra virgin olive oil will do)
Chiffonade of fresh basil
Kalamata olives
Instructions
Preheat oven to 350°F.
Cut peppers in half through the stem end and take out the seeds.
In a small bowl, mix ricotta, eggs, Pecorino, garlic, oregano or marjoram, salt, and pepper.
Stuff the mixture into the pepper halves. Place on a lightly oiled baking dish and bake about 40 minutes. Remove from the oven and cool. Then refrigerate overnight.
For the dressing, whisk the garlic, vinegar, tomato paste, and olive oil in a small bowl.
When ready to serve, cut the pepper halves in half and place them on a serving dish. Drizzle with the dressing, and scatter basil and olives over all.
I had my misgivings about a cold vegetable and cheese dish, but this was so sublime and quite easy to put together! I actually used orange instead of green peppers because I wanted to keep the flavors on the sweeter side, and I do not regret that decision at all. All the flavors meld so well, with the tang of the peppers enhanced by the sharpness of the dressing but balanced well by the cheese stuffing. It does make quite a number of peppers, but they keep nicely and can be brought out as a lovely accompaniment to several days' worth of meals. On the night that I originally served these, I sautéed some ground beef in the extra tomato paste I had left over from the recipe. With rice, it was a sumptuous meal.
Next week, we return Stateside to prepare the quintessential American dessert, with a delightful candy twist, while solving a murder at a poetry slam. Do join me!