Pickup on South Street: A Cold War Thriller… Or Not
Brian Greene revisits Samuel Fuller's Pickup on South Street (1953) as the Criterion Collection prepares to release a new edition this June.
If someone who's seen Samuel Fuller's 1953 film Pickup on South Street was asked to describe it using just a few words, they might say it's "a Cold War spy thriller." On the surface, that way of characterizing the movie is apt enough. The story does involve a ring of traitorous Americans who steal their government's secrets and sell them to communists, and the film did get made at the height of the second Red Scare in the U.S. Yet Fuller (1912-97), the filmmaking maverick who wrote the script as well as directed the title, recoiled at the idea that anyone should think of Pickup as a Cold War movie. With the Criterion Collection set to release a new expanded version of the title in late June, now's a good time to explore Fuller's feature film and to try and make sense of why the director so objected to people categorizing the movie as being what it actually appears to be.
The story is (very) loosely based on a script that was written by Dwight Taylor and offered to Fuller by 20th Century Fox's Darryl Zanuck. Taylor's story is about a female lawyer who falls for the murder suspect she's representing in court. Fuller was drawn to aspects of that script, but, as he put it in his 2002 autobiography A Third Face: My Tale of Writing, Fighting, and Filmmaking, "I wanted to go down a few rungs lower on the ladder of criminality." So Fuller wrote the criminal at the heart of the story to be a common thief who specializes in the art of pickpocketing.
Fuller's pickpocket is a character named Skip McCoy, as portrayed by Richard Widmark. McCoy might be small-time in the world of thievery, but he's in big trouble with Johnny Law. He's already been caught and convicted for stealing from strangers three times, and if he gets busted again he's likely to receive a life sentence in prison. Yet just a week out from doing his most recent stretch in the pokey, he pilfers some contents from the purse of an attractive woman he happens to be standing next to on a crowded New York subway train. As he does so, two men standing nearby very carefully observe the incident, and become alarmed when McCoy, booty in tow, races out of the train at the next stop, before they can get off and follow him.
What Skip doesn't know then, but will soon find out, is that he didn't get any common valuable goods out of the lady's handbag. What he came away with is some microfilm that belongs to the U.S. government and that involves a top-secret chemical formula. Then men on the train who watched Skip steal from the woman are FBI agents, who know what she was carrying and had been tailing her. They want that microfilm, and they turn to an NYPD Captain to help them locate the pickpocket.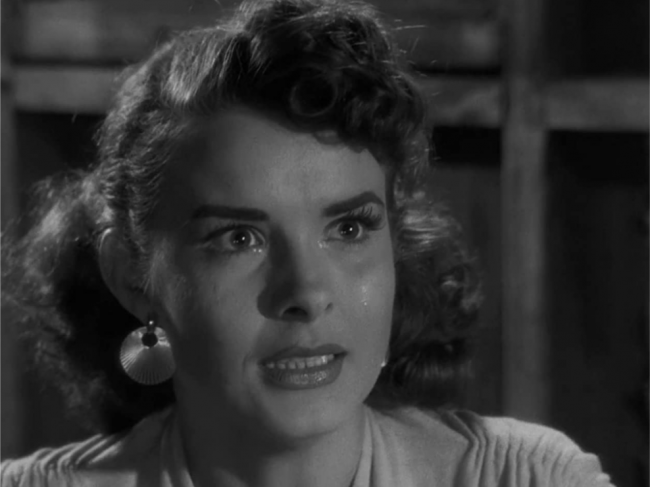 The other person who is initially unaware of the content of the film is McCoy's victim. The woman—a character named Candy, played by Jean Peters—is a worldly-wise lady who of late has been running various goods between two parties, as a favor to her former boyfriend and for some pay. But Candy's ex has been telling her that the stuff she's been handing off to his contacts just has to do with some business dealings. When she learns that she's actually been acting as a go-between in a plot to aid communists, she's stunned and alarmed.
The third primary character in Pickup on South Street is an elderly woman named Moe. Thelma Ritter, whom many may primarily know for her role in Hitchcock's Rear Window, plays this part. Moe is a woman who works both sides in the game of law and order. A crafty lady who lives hand to mouth by peddling men's ties for a buck, she's in the know about most criminal goings-on in the city and is a friend to many of the crooks. But she's also a police informant who sometimes helps the cops in various ways, in exchange for sums of cash. Moe leads the NYPD and FBI to Skip McCoy.
So law enforcement wants the microfilm back. Candy's ex and his pinko associates want the microfilm back. And Candy wants the microfilm back, to save herself from harm, also to protect Skip, for whom she develops a soft spot. But a guy like Skip McCoy isn't about to easily hand over something as clearly valuable as this footage. Skip guffaws at the mere $500 Candy's ex gives her to try and buy the goods; he wants 25K.
Widmark (1914-2008), who put on one of the great film noir acting performances as the doomed lead character in Jules Dassin's Night and the City (1950), excels as Skip McCoy. Fuller said that Widmark was initially something of a prima donna on the set, but under Fuller's direction, Widmark ultimately portrayed the hardened individualist pickpocket in a convincing and memorable way. Widmark's McCoy is a lone wolf who lives in a waterfront shack when he's not behind bars, who talks hard and isn't about to take any shit off anybody including the fuzz, but whose life philosophy of resigned detachment from others gets challenged when the pretty and equally streetwise Candy shows feelings for him.
Perhaps the most interesting aspect of the backstory around the making of Pickup on South Street involves the casting of Candy. There's a makes-your-jaw-drop list of female actors who wanted the part but got turned down by Fuller. Shelley Winters (wasn't right for the part, per Fuller's book), Ava Gardner ("too luscious a beauty to be credible"), Betty Grable (a "glamour-puss" who wouldn't do for the role), and even Marilyn Monroe ("her overwhelming sensuality would obscure my yarn") all tried to play the tough, likable woman who's an innocent pawn who gets pulled into the middle of the intrigue involving the stolen microfilm. Grable threatened to make trouble for the studio if she didn't get the role, before Zanuck talked her down. What drew Fuller to Peters (1926-2000) as the one to play Candy was that he felt she had everyday beauty and could pull off portraying somebody from the wrong side of the tracks. Also, he liked that she walked bow-legged, which to him added to her personal atmosphere of not being traditionally or overtly glamorous.
Ritter was nominated for a Best Supporting Actress Oscar for her performance as Moe, and deservedly so. A person who rubs shoulders with criminals yet sometimes helps police capture them for her personal gain, sounds like someone just about anybody would find morally objectionable. Yet there's depth to Moe in Fuller's story and in the way Ritter played her, such that one sympathizes with her and wants her to get by ok. Ritter (1902-69) received an impressive six Oscar nominations during her career, yet never won one.
In writing the story, Fuller drew on his experiences as an NYC crime reporter from the very early years of his professional life. And he based the police Captain on the doings of an actual New York detective he knew. The gritty, utterly realistic sets of the film were developed from sketches the director drew. Fuller lavishly praised art director Lyle Wheeler for bringing his vision of the film's physical atmosphere to vivid fruition.
So why was Fuller so deeply bothered by Pickup on South Street being thought of as a Cold War movie, when its storyline, as well as the timeliness factor, so clearly connects it to that topic? One just has to read his chapter on the film in A Third Face to get that. For the director/screenwriter, the intrigue involving the communists was just a plot vehicle that served as a backdrop for what was, to him, the heart of the story. Fuller mainly cared about the characters who are the most vulnerable and whose lives really have nothing to do with political schemes. For him, the story is about Skip, Candy, and Moe. Or, as he put it in his autobiography, "My yarn is a noir thriller about marginal people, nothing more, nothing less."
The part of the story that involves the players in the communist conspiracy actually is compelling and suspenseful.  But Fuller was right in stating that all of that was secondary to the character studies of Skip, Candy, and Moe, and to the drama involving their associations with one another. Those elements of the film are what make it so strong, and so moving.
Pickup on South Street earned Fuller a Bronze Lion award at the Venice Film Festival in 1953. The Criterion edition of the film offers a generous assortment of bonus features that take various kinds of deep dives into its heart.