Marvel's Iron Fist Season 2 Review: Episodes 1-4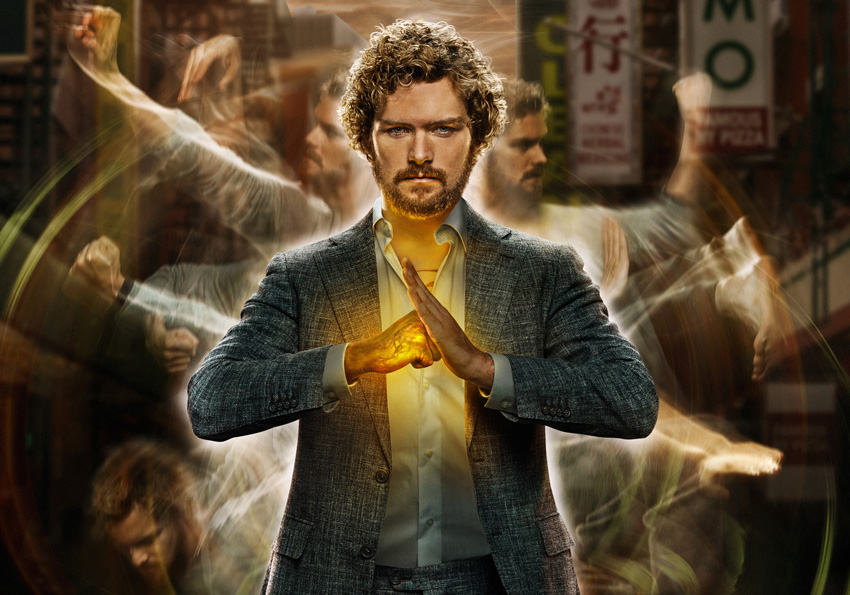 Hello, and welcome back to my reviews of the Netflix corner of Marvel's Cinematic Universe! If you go back and look at my reviews of Iron Fist Season 1 for Criminal Element, you'll see I really tried to give the show a chance—it was just an overwhelmingly bad show. However, the end of The Defenders put a lot of the terrible plot elements of Iron Fist Season 1 to rest, and when Danny Rand showed up in Luke Cage Season 2, he wasn't terrible. I actually kind of liked him. Plus, Iron Fist Season 2 will only have 10 episodes instead of the usual 13.
So can Iron Fist redeem itself with Season 2? We're about to find out by looking at Episode 1: "The Fury of Iron Fist"; Episode 2: "The City is Not for Burning"; Episode 3: "This Deadly Secret"; and Episode 4: "Target: Iron Fist." I'll offer up my perspective as a longtime Marvel Comics fan and journalist and clue you in on any comic Easter eggs you may have missed.
So focus your Chi, flip off your N.A. Group, and let's get started…
One thing that's immediately clear after watching these first four episodes of Iron Fist Season Two is that it is a much different show. There are a few things that are actually entertaining, and it's already better than Season 1. But that doesn't necessarily mean it's good. It still has a few glaring problems—the biggest being that its main character is still largely unlikable.
In Season 2 of Luke Cage, Finn Jones's Danny Rand seemed to finally be at peace, and it was a nice change. Not just because that's largely the demeanor of the comic book version of Danny Rand but also because he's less of an asshole. Danny Rand works best as a sort of naive character played off of people with harder edges or in dark places, which is why I think his scenes with actor Mike Colter worked in Luke Cage. In the opening episodes of Iron Fist Season 2, Danny is in a better place but not a good one. So he still exhibits the same awful attitude that made him so unlikable in Season 1 and The Defenders. He frequently talks about might being right and refuses to listen to the people who are his friends when they have something to say that he doesn't want to hear. It makes him a hot-headed jerk, and honestly, it makes me root for the bad guys. It also doesn't help that the bad guys are much better written and more interesting, but more on that in a bit.
There's a lot going on in these initial episodes, but not all of it feels connected (though I do like a lot of the various stories, especially the brewing Triad war). So far, we've been introduced to Colleen's quest to find her family, caught up with what Davos is up to, checked in on Joy Meachum, got a sense of Ward's direction, and learned what's going on with Mary/Walker. While episodes 3-4 introduced a little bit of connective tissue between these various elements, a lot of them still feel like they're their own thing, and the season is almost half over.
Despite all of this information and the various storylines, the season seems to be lacking in stakes. It started strong with the escalating mob war, but as the episodes rolled on, the only seemingly high-stakes element fell into the background and was replaced with Davos's quest for vengeance and whatever Joy is up to. While I like both of those characters, their goals are way too personal, and the episodes suffer a lack of tension because of it.
But it wasn't all bad. As I've hinted, Davos and Joy are stellar characters. For me, Sacha Dhawan's Davos was one of the few bright spots of Season 1 of Iron Fist, but he was introduced into that season way too late. I'm glad he's in this season right from the beginning because he's a badass villain. The first few episodes feature his scheme to transform himself into the comic book incarnation of his character. More on that in a bit.
Jessica Stroup showed hints of how interesting her character, Joy Meachum, could be as a villain in Iron Fist Season 1, and she really shines as an antagonist here. What I love about Joy is her cunningness and vulnerability and how snide she is when subtly confronting her enemies. She offers up comments to shake them and put them on the wrong foot, but the comments are cloaked in false politeness. But she's also very interesting when she drops that mask and shows the simmering rage beneath it. I want to know more about what she's up to.
As great as Joy and Davos have been, Tom Pelphrey's Ward Meachum tops my list of returning characters. Ward is a great example of creating an asshole character that the audience can actually like. He's a jerk, but he's also charismatic and incredibly funny. When he confronts his N.A. Group in the third episode and gives them a double middle finger salute, it was hilarious. Ward is also great at being vulnerable. I like his relationship with his N.A. Sponsor, Bethany. That relationship shows that, yes, Ward is a schmuck, but he is trying to be better and is in genuine pain because of his relationship with Joy.
Jessica Henwick's Colleen Wing also had some great scenes in these initial episodes, like when she is brutally honest at the dinner party in episode three or rightfully points out that Danny is being a jerk. For me, however, most of her performance was overshadowed by how much I liked Ward, Davos, and Joy and how much I didn't like Danny.
There was also a new character added into the mix, Mary Walker (Alice Eve), whom I found pretty intriguing. Her character is an adaptation of a villain from Daredevil comics named Typhoid Mary. Like Eve's Mary, Typhoid is also a gifted martial artist who suffers from Dissociative Identity Disorder. In the comics, she's an assassin for the Kingpin. She also has limited psychic abilities like telekinesis and pyrokinesis. Though Eve's Mary doesn't appear to share those abilities, I hope she develops them in later episodes, as it would make her even more of a fearsome foe.
Alice Eve is doing a great job portraying Mary and her various alters. The subtle way she wears her hair and changes her body language makes it clear that Mary, who Danny meets, and Walker, the private eye hired by Joy and Davos, are two very different personas. The comic book Mary has several alters, and I hope we see more as the season progresses.
Mary was just one of several major comic book homages and Easter eggs in these first four episodes. The other major one is Davos gaining the power to become Iron Fist's opposite number, the Steel Serpent. That character was introduced back in the original Iron Fist comics from the '70s. The name of one of the Triads, the Golden Tigers, is also an homage to a villainous gang of the same name from the original '70s-era Iron Fist comics. They dressed in supervillain-style tiger costumes in the comics.
The flashback scene of the fight between Davos and Danny in episode two also establishes some classic characters from the Iron Fist comic world. In that scene, we saw the return of Danny's teacher and Davos' father, Lei-Kung the Thunderer, whom we also saw in a flashback last season. That same flashback also shows a green-robed figure who goes unnamed. I knew him to be Yu-Ti, the leader of K'un-Lun. In the comics, Yu-Ti is a very weasely and cunning character, but he seems to be more of just an Easter egg in the show.
The final comic Easter eggs I want to talk about come from some modern-day comics. In 2006, Marvel began publishing a series called The Immortal Iron Fist, and if you want to see how entertaining a character Danny Rand can be, check out the collected edition graphic novels of that series. Both the "Crane Sisters" (the unnamed women who assist Davos with the ritual in episode four) and the mysterious Iron Fist in the coffin (also from episode four) appear to be references to The Immortal Iron Fist. I'm especially interested in the man in the coffin because he looks a lot like Orson Randall, a comic character who was sort of a pulp, avenger-style Iron Fist in the '20s and '30s who was alive in present day. If that is supposed to be Orson Randall (and it looked a lot like the outfit he wore), I don't like that he's dead. It would be nice to see him come back from the dead and be a Yoda-like character who could call Danny out on his bullshit.
So with these first four episodes, Iron Fist Season 2 steps over a very low bar set by the first season. Can its path to redemption continue? Or will it become a mess like the second half of many other Marvel/Netflix shows? Join me back here next week for the answers to those questions and more as we look at episodes 5-7 of Iron Fist Season 2.