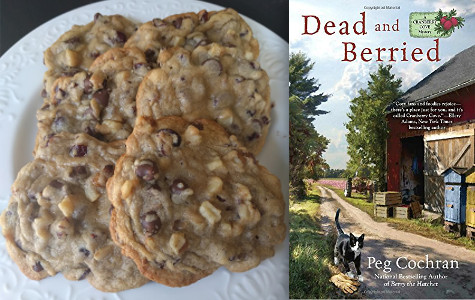 The delightful Cranberry Cove Mystery series set on the eastern shore of Lake Michigan is back with its third installment! Monica Albertson is finally feeling like she's integrating into the tightly-knit village community after moving here two books ago to help with her younger half-brother Jeff's cranberry farm. Now, she bakes for Jeff's farm store and is expanding the business outwards, as a local grocery chain wants to sell her cranberry salsa at all its locations. This is both exciting and a bit nerve-wracking, so Monica is grateful for her helpers, Arline in the kitchen and Nora in the store.
Jeff is also getting some help in the form of Nora's husband, Rick, and his bees. Cranberries require more pollination than wild local bees can provide, so Jeff hires out several of Rick's hives in hopes of promoting a good harvest. Everything looks promising until Lori Wenk, Rick's assistant, is found at the farm covered in bee stings and quite dead.
At first, it looks like an unfortunate accident. But when the autopsy reveals that Lori was given a fatal dose of ricin prior to being stung by bees, Rick becomes the prime suspect. A distraught Nora asks Monica for help, and Monica soon finds herself helping not only Nora but others who may have been victimized by both Lori and a scheming killer.
I really enjoyed getting to know the characters in this book, particularly Monica's charmingly shallow stepmother, Gina. It isn't often that you read of such cordial step-relations in cozy mysteries, especially when the family members involved are such opposites. Gina is a total scene stealer, and I love how she and Monica teamed up to solve this crime.
I also really enjoyed following the blooming relationship between Monica and her boyfriend, Greg. It was detailed with such tenderness that only a total Grinch wouldn't root for their enduring happiness.
Recipe-wise, there were three to choose from. I passed on the savory-sweet quinoa dish and ultimately decided against the cobbler because I haven't the slightest idea where to get fresh cranberries. That left me with this promising recipe:
Cranberry Walnut Chocolate Chunk Cookies
Ingredients
1 cup butter, softened
½ cup granulated white sugar
1 ½ cups brown sugar, packed
2 eggs
2 teaspoons vanilla extract
1 teaspoon baking soda
2 teaspoons hot water
½ teaspoon salt
2 ½ cups all-purpose flour
2 cups semisweet chocolate chunks
1 cup dried cranberries, chopped
1 cup walnuts, chopped

Instructions
Preheat oven to 325 degrees.
Cream softened butter, white sugar and brown sugar until light and smooth. Beat in eggs one at a time along with vanilla extract.
Dissolve baking soda in hot water and add to batter along with salt. Mix in flour. Stir in chocolate chips, cranberries and walnuts. Chill batter for 1 hour.
Drop by tablespoons onto cookie sheet, leaving room for cookies to expand. Bake for approximately 10 to 12 minutes. Cool on a rack.
I love it when a recipe lives up to its promise. I'd never thought to mix chocolate with cranberries, but wow, what a sensational combination! I loved the tartness of the dried cranberries in what is otherwise your everyday delicious chocolate chip cookie. I actually couldn't find chocolate chunks, so I used chips. I also made one batch with walnuts and one without, as I'm not usually a fan of nuts in cookies. The walnuts were really great in this, though, and I munched on both versions quite happily.
One note: these were definitely soft-bake cookies, which is generally my preference. If you want something crispier (or "cooked, like it says in the name," as my lovely assistant Karin would say), I'd leave them in the oven for a few minutes more.
One thing about the food in Dead And Berried did bother me, however. There's a Dutch food festival lovingly described in the novel (with two of my all-time favorite dishes, nasi goreng and poffertjes, given some prominence!), but there wasn't a single nod to Dutch cooking in the recipe section. I shall have to hunt down the other Cranberry Cove mysteries to see if they remedy this deficiency, given how rooted in Dutch culture the setting is.
Next week, I emulate the heroine of our next Cooking The Books mystery and travel (virtually, in my case) from Michigan to the East Coast, landing in the Hamptons to enjoy a savory tart. Do join me!
See also: Cooking the Books: Masking for Trouble by Diane Vallere
To learn more or order a copy, visit:
---
Doreen Sheridan is a freelance writer living in Washington, D.C. She microblogs on Twitter @dvaleris.
Read all posts by Doreen Sheridan for Criminal Element.