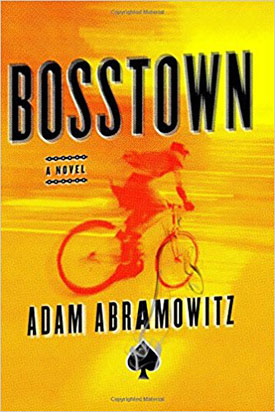 Bosstown by Adam Abramowitz is a story of harrowing high speeds, desperately high stakes, and more twists than a Boston street (available August 8, 2017).
Zesty Meyers is Bosstown's fastest bike messenger—caffeine fueled, wise-cracking and reckless—accustomed to hurtling through Boston's kamikaze streets at breakneck speed, always just a bumper or car door away from disaster.
Will Meyers is Zesty's father, Beantown's former backroom poker king and political fixer, who is suffering from Alzheimer's and a growing dread that the Big Dig, carving its way through some of the city's toughest neighborhoods, will expose the bodies and secrets he'd assumed were buried forever.
When the heist of an armored truck goes violently wrong, Zesty is forced to navigate a gritty underworld of gangsters and blood money, desperately trying to outrace his family's criminal past and stay alive in a changing city where death loiters on every corner and the odds of survival have narrowed to pulling a straight flush on the river.
ONE
Boylston Street coming out of the Fenway runs for twelve blocks through Boston as straight as a sumo wrestler on the way to a buffet table before intersecting with Tremont, which in turn does a little improvisational dance into the rat maze that constitutes the Financial District—a place the sun never seems to shine below the twentieth floor.
There are eleven sets of traffic lights from one end of Boylston to where it hits Tremont, seven bus stops, forty-nine fire hydrants, and two mammoth potholes known to swallow small Hondas whole. There are no stop signs.
A leisurely drive down Boylston just taking in the sights—the granite mistake of the Prudential Center, Boston Public Library, Copley Square, Trinity Church and its Gothic reflection in the slate blue glass of the John Hancock Tower, a corner of the Public Garden blooming behind the cast-iron fence—would take about seven minutes, providing you didn't catch every red light along the way.
I know these and other meaningless facts about Boylston Street because it's a road I've traveled often, way more times than I care to remember, and in just about every condition imaginable, Boylston and just about every other strip of pavement masquerading as a street in this historic landfill. I get paid to travel them, you see. I deliver things. Pick things up. I'm a bicycle messenger. Hell on wheels. A pedestrian's worst nightmare.
On a social scale, that makes me right about even with the gum stuck to the bottom of your shoe. Maybe even the stuff stuck to the bottom of the gum. But I like it. There are even times I like it because of it. Sometimes I think it's a lot easier being the gum than the shoe. The life might be shorter, but it's full of flavor while it lasts.
To make up for my occasional bouts with a lack of professional self-esteem, I like to think of myself as Boston's lowest paid professional athlete. Though admittedly, I'd be hard-pressed to qualify, considering I've yet to submit to drug testing, be sued for paternity, or get stopped on the street for an autograph or handshake. And that's despite the fact my outfits are tighter than Tom Brady's game-day uniform and sometimes twice as flashy. I often contemplate hiring an agent. Just about every one of my ex-girlfriends—and there are plenty of those—thinks maybe I should get a real job.
But at this point such drastic measures are out of the question. I get enough of the ball-and-chain nine-to-five during my forays inside the endless cubicle cities and office cells. It's as close to real as I want to get. I decided a long time ago I needed a longer leash.
So I ride the streets. And the sidewalks. And the occasional lobby if it comes to that—caffeine fueled, adrenaline hyped, my stripped-down silver Fat Chance oiled and tuned to the bone. Almost out of habit it seems. No road too rough, no curb too high, no hangover too debilitating; on most days I never give much thought to what I'm doing or the streets flashing beneath my wheels.
Only this morning is different. This morning I have the time to think about where I am, which happens to be Boylston Street, long, wide, and one-way only. Because this morning in early June, sunny and bright, the birds singing like they've been paid in advance, Boylston Street is as backed up as John Goodman's arteries. Backed up solid. Plugged. Bumper to bumper and heading nowhere fast.
And I seem to be the cause of it. Because this morning I'm lying in the middle of Boylston at the intersection of Arlington, bleeding like I never knew I could. Like a river. Like a pro. Lots and lots of blood coming out from somewhere on my head, my face, my hip, and my leg, blood coming out red, warm, and sticky like someone turned on the faucet and left it running.
And all of a sudden, I'm not having such a swell day.
***
Copyright © 2017 Adam Abramowitz.
To learn more or order a copy, visit:
---
Adam Abramowitz grew up in Allston and Boston's South End working as a courier, bartender, doorman, and long-time mover at Nick's Cheap and Friendly Moving Company. A graduate of the University of Massachusetts Boston, Adam currently teaches at the Amani Public Charter School in Mount Vernon, NY. He lives with his wife, the poet Adrienne Abramowitz, and their two children in Irvington, New York.