Cooking the Books: Cherry Pies & Deadly Lies by Darci Hannah
So you know how sometimes you meet a person and your immediate instinct is, "Oh, wow, this person is too much," but after 20 minutes or so, you realize that you actually want to be best friends forever? That was essentially me and Whitney Bloom, the aggressively reckless but sincerely delightful heroine and narrator of Cherry Pies & Deadly Lies.
Whitney, you see, is a bit of a disaster. After masterminding an ad that tanked so badly it took down an entire brand with it, Whit finds herself over a year out of any work in the Chicago advertising industry. She's been supporting herself with an online bakery ever since. But when an embarrassing last-ditch attempt to get rehired by her former boss is followed by a hysterical phone call from her mother, she drives the five hours home to Cherry Cove to see if the news could possibly be true: that her father might have murdered someone.
The someone in question is Jeb Carlson, an older gentleman who manages the Bloom cherry orchards while Whit's parents run the accompanying B&B. Whit's dad is well-known for having a bad temper, but Whit refuses to believe that he might be guilty and bounds into the investigation with all the skill and enthusiasm of a golden retriever. Cherry Cove's only police officer is Jack MacLaren, her high school academic rival, and Whit shamelessly presumes on their friendship to insinuate herself into the proceedings. Despite Jack's misgivings and many warnings, Whit almost literally plunges headlong into danger as she chases down a ruthless murderer.
Honestly, this book was so great on so many levels. Whit's relationships with her friends and family feel so genuine, and their interactions are both charming and hilarious once Whit returns to Cherry Cove. I especially loved the allusions to the Scooby Gang. Whit herself is quite the creation—I have a weakness for leads who are believably boy-crazy—and the plot was both romance- and action-packed. A very surprising amount of story happens in the pages of this book, and I enjoyed every minute once I'd gotten used to Whit herself.
There were three recipes included in the back, and I decided to go the traditional route to try this one:
Grandma Jenn's Classic Door County Cherry Pie
*Makes one 10-inch pie (can be used in a 9-inch pie as well)
Ingredients
For Grandma Jenn's Flaky Crust:
1 ½ sticks chilled butter
⅓ cup chilled vegetable shortening
3 cups all-purpose flour
1 teaspoon salt
1 tablespoon sugar
1 teaspoon cider vinegar
½ cup ice water
For Grandma Jenn's Fabulous Filling:
6 cups of fresh or frozen tart cherries
1 cup sugar
4 tablespoons corn starch
1 teaspoon fresh lemon juice, or ½ teaspoon concentrate
3 tablespoons butter
1 tablespoon milk, to brush over top crust
1 tablespoon sugar, to sprinkle
Instructions
Make the Crust
Dice the butter and the vegetable shortening and put in the refrigerator to chill.
While the butter and shortening are chilling, place the flour, salt, and sugar in the bowl of an electric mixer. Fit the mixer with the stir attachment and add the chilled butter and shortening.
Mix until the butter and shortening are the size of peas.
Next add the vinegar to the ice water and stir. While the machine is still mixing, pour in the liquid and keep mixing until the dough begins to form a ball.
Turn the dough out on a floured cutting board and shape into a ball, being careful not to work the dough too much.
Wrap the dough ball in plastic wrap and chill for about thirty minutes.
When the dough is ready to handle, sprinkle cutting board with flour so dough won't stick and cut the dough in half.
Using a rolling pin, roll half the dough into a large circle about a quarter of an inch thick, making sure the surface of the cutting board has enough flour so the dough won't stick.
Once the dough is rolled out, fold it in half and place in the bottom of the pie plate. Roll out top crust and set it aside.
Time to Make the Filling!
Preheat oven to 375°. Place cherries in large saucepan over medium heat. Add the teaspoon of lemon juice, cover, and stir occasionally. After a few minutes, the cherries should start releasing juice. Keep covered and remove from heat.
In a small bowl, mix sugar and cornstarch together until combined. Pour this mixture into the warm, juicy cherries and mix well. Return the mixture to the stove and cook over medium heat, stirring continuously until the liquid loses its cloudy appearance and becomes thick and bubbly. Remove from heat and stir in the butter.
Pour cooled cherry filling into the prepared pie crust.
Using a pastry brush, moisten the edges of the bottom crust with a little water. Place top crust on and flute the edges of the pie.
Make a slit in the middle of the top crust to vent steam.
Brush on a thin layer of milk over top crust, then sprinkle with sugar.
Place pie on baking sheet, cover the edges of the crust with tin foil, and place in the middle rack of the preheated oven.
Bake for 30 minutes. Remove foil from edges and bake another 20 minutes until crust is golden brown. Remove from oven and cool.
When pie has set and is ready to be served, plate a generous helping and serve with a scoop of your favorite vanilla ice cream!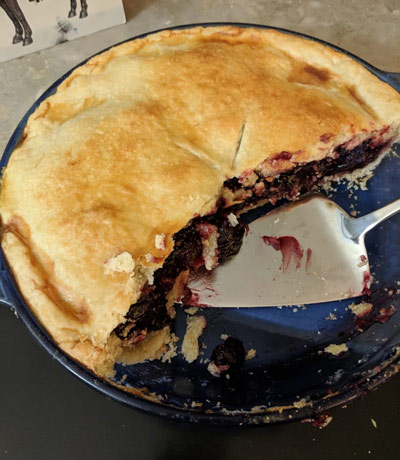 This is the first time I've ever used salted butter in a recipe and regretted it. The pie was quite good, but since I couldn't find tart cherries and had to fudge the recipe a bit by adding sweet cherries and tweaking the lemon juice and sugar content, the flavor of the crust tended to overwhelm the filling. It would have been a perfect crust for the chicken pot pie recipe also included in the book, but it was definitely a smidge too savory for this one. Otherwise, this was a classic cherry pie recipe that presents beautifully—and I'm sure it tastes much better than what I produced, particularly if you add that scoop of ice cream for a little extra sweetness.
Next week, we keep traveling west to try out two recipes. Do join me!