Cooking the Books: Murder in a Cape Cottage by Maddie Day
Our heroine, Mac Almeida, and her fiancé, Tim, are getting married! In the lead-up to their New Year's nuptials, they're renovating the house that they'll be living in as a married couple. The old Cape Cod cottage is comfortable but could use a little extra modernization. Mac is most excited at the prospect of installing an en suite bathroom to go with their ground-floor master bedroom.
Mac's exuberance swiftly evaporates, however, when demolishing the wall for the en suite uncovers not only a hidden space but a body concealed inside. As if finding a body wasn't bad enough, the skeletal remains are clad in a wedding dress. Worse, the bride was apparently chained to the wall and left to die. Mac isn't the superstitious sort, but she knows that she'll feel like a cloud is hanging over her own wedding if she doesn't figure out beforehand who this poor woman was and how and why she met her untimely end.
Fortunately, Mac has her Cozy Capers book group to help her gather and sort out the clues. Turns out that the bride was a young woman who was thought to have eloped back in 1940, scandalizing the citizenry of Westham, Massachusetts. Members of her prominent extended family are still in town, with some more reluctant to talk about what happened than others. As Mac juggles wedding errands with inquiries as to the town's history, she's surprised by the lengths some people will go to in order to obscure the past. But when her investigations unearth a connection with very modern crimes, will she be able to find peace for the dead bride while still making it to her own wedding safe and sound?
This was another solid installment in the Cozy Capers Book Group mystery series. In all honesty, I felt more suspense at Mac meeting Tim's parents for the first time than at any of the actual criminal activity going on, which is a sign of how invested I am in her relationship! The contrast between her loving extended family and the machinations of Westham's founding families of the 1940s was stark and made for absorbing reading.
There were five food and drink recipes included, and I decided to try out this dish that was on the menu for Mac and Tim's wedding dinner:
Pasta with Lobster
Ingredients
2 cups cooked lobster meat
1 pound sturdy pasta, like rotini or farfalle
4 tablespoons olive oil
½ small onion, finely diced
4 garlic cloves, minced
½ teaspoon red pepper flakes
1 cup halved mixed gold and red cherry tomatoes
½ cup pasta water
Salt and pepper
½ cup basil leaves, slivered
Parmesan cheese
Instructions
Set a large pot of salted water to boil. Add pasta.
Pour olive oil in a wide skillet over medium-high heat. Add onion and cook for 1 minute, without browning. Add garlic and red pepper and cook for 1 minute. Add tomatoes and season generously with salt and pepper. Add lobster meat, stir to coat, cook 1 minute, then turn off heat and cover until pasta is ready.
When pasta is al dente, add ½ cup of the water to the skillet.
Drain pasta, add to skillet, add basil, and season with salt and pepper. Toss well and transfer to a warmed wide bowl or platter.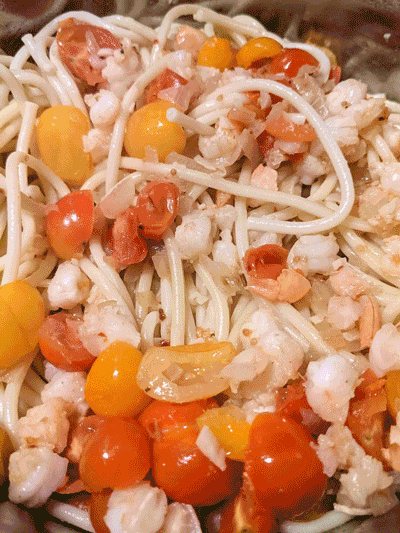 Serve immediately with freshly grated Parmesan cheese and a green salad.
Lobster meat is rather hard to come by in my local grocery stores nowadays, so I used shrimp instead, which makes for a perfectly delicious if admittedly less decadent substitution. I also decided to use some bucatini from my pantry instead of getting a more shaped pasta: the box had a bit of an incident with some green food coloring, but the pasta was otherwise perfect. Speaking of pasta, I discovered that my skillet wasn't quite large enough to deal with a whole pound of it, so I poured the skillet contents into the drained pasta pot instead of the other way around. I'm certain that it had no detrimental effect on the quality of the final dish though.
And what a dish it was! I love how simple this pasta is yet rich with flavor. The olive oil, onion, garlic, red pepper, and tomatoes combine for a very basic yet exceedingly delicious, barely there sauce. I only wish I'd had more basil to hand, as the contrast with the cheese packs a wonderful, aromatic punch.
Next week, we'll be getting in the holiday spirit with a trio of mysteries while baking up a fun alternative to the usual seasonal roast meat recipes. Do join me!