Cooking the Books: Jealousy Filled Donuts by Ginger Bolton
The third Deputy Donut Mystery finds us back in Fallingbrook, Wisconsin, as the town gears up to celebrate the Fourth of July. Donut shop owner Emily Westhill is pleased that both her store and vintage donut-mobile will be featured in the festivities, with the latter set to carry the Fallingbrook King and Queen during the big parade.
She's also grateful that she and her business partner, Tom, who is both the town's retired police chief and father to her late husband, have been able to hire some help around the store in the form of Jocelyn, a young woman taking a gap year between high school and college. As much as the two owners enjoy running their beloved store, it's nice to be able to take a day off every now and again.
Emily's good spirits are quickly dampened, however, first by a pesky photographer, then by the poisonous attitude of Queen Taylor Whisbard, who insultingly refuses to ride in the Deputy Donut car. She regains some cheer while handing out donuts after the parade, even forming a birthday cake stack for a thrilled young boy. But then, a similar stack is found to have hidden a marble-embellished firecracker shot directly, and fatally, into Taylor's back during the fireworks celebration that night. Bad enough that her donuts were involved in murder; now the photographer is claiming that Emily herself is the killer. With the help of her friends, Emily must do everything she can to clear her name—even if that means putting herself in serious danger.
I admit to being somewhat skeptical as to death by firecracker before reading the book, but Ginger Bolton handles it all very convincingly. I also really got into Emily's penchant for matchmaking, as well as her own complicated feelings for her late husband's best friend, Brent. This was a very emotionally satisfying culinary cozy.
And, of course, it included three recipes, two of them for donuts! I decided to try out this one:
Maple Cheddar-Filled Donuts
Ingredients
1 cup less 3 tablespoons warm water
¼ cup unsalted butter, softened
2 tablespoons active dry yeast (yes, this is a lot!)
¾ cup maple syrup
3 ½ cups all-purpose or bread flour
½ teaspoon salt
1 egg or 2 egg whites, room temperature
Wisconsin cheddar, sharpness according to taste (medium is yummy and buttery)
If frying your donuts: vegetable oil with a smoke point of 400° or higher (or follow your deep fryer's instruction manual)
Instructions
In your mixer fitted with a dough hook, combine the warm water, butter, yeast, and maple syrup. Let stand for 15 minutes.
Add 2 cups of the flour, the salt, and the egg to the yeast mixture. Stir with the dough hook. Add the remaining flour ½ cup at a time and knead with the dough hook. If the dough is too sticky, add ¼ cup of flour and knead with the dough hook. If the dough is still too sticky, carefully add more flour 1 teaspoon at a time. Continue kneading with the dough hook until the dough cleans the sides of the bowl, is satiny, doesn't stick to your fingers, and doesn't keep its shape when pinched. It should still feel slightly sticky. Too much flour will make the donuts tough.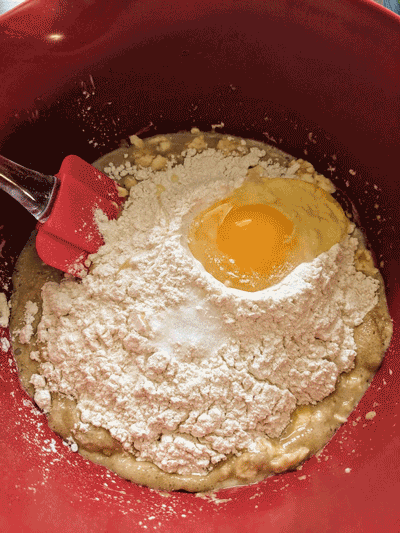 Divide in half and refrigerate one half.
For each half, roll the dough to about ¼ once think between two sheets of parchment paper.
Remove the top sheet of parchment paper and cut rounds from the sigh with a round cookie cutter.
Press a small chunk of Wisconsin cheddar, about 1 inch by 1 inch by ¼ inch, or the equivalent amount if the cheese is too crumbly to cut, for rounds that are 2 inches in diameter, smaller if you used a smaller cookie cutter, into the center of half of the rounds.
Working with one donut at a time and using your fingers, rub water around the edge surrounding the cheese, place a plain round on top and pinch the edges together.
Allow to rest for 10 minutes.
Fry the filled donuts at 375°, turning when golden, about 30 seconds per side. Lift from the oil and allow to drain.
OR bake on cookie sheet lined with parchment paper or a silicone baking sheet in a 375° oven for about 10 minutes until the tops are golden.
When cool, glaze the tops with purchased maple butter or make your own maple glaze (below). If you like, sprinkle coarse salt, maple sugar, maple flakes, or crisp crumbles of bacon on top.
Maple Glaze
Ingredients
½ cup maple syrup
Confectioners' sugar
Instructions
Stir confectioners' sugar by teaspoonfuls into maple syrup until glaze reaches desired consistency for spreading.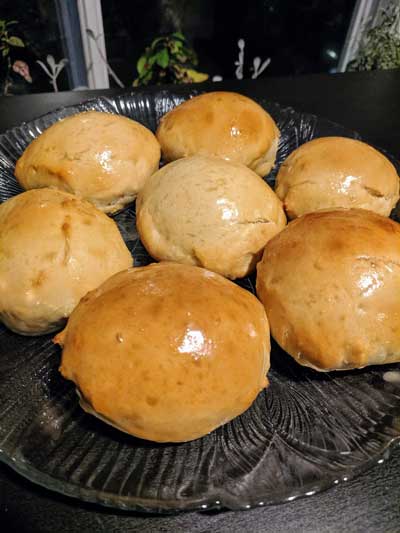 I'm pretty sure that had I decided to fry them instead of baking them, these donuts would have tasted store-bought. But after all the time I spent wrestling with the dough, I was in no mood to stand over my stove individually frying up all 15 (plus, it's easier for me to control temperatures when baking rather than frying). It probably didn't help that I don't actually own a dough hook, so I decided to make do with a standard mixer.
For all that, these came out wonderfully, and they definitely tasted more like the platonic ideal of donuts than other home recipes I've tried. Maple glaze is actually my favorite donut flavor, though I do think it might have been helpful to note that double glazing (waiting for the first coat to dry before applying more) would have enriched the flavor further. Also, I'd recommend generosity with the cheese, which is by far my favorite donut filling now that Ms. Bolton has introduced me to its joys.
Overall, a tasty treat for those with the patience to put it all together at home. Myself, I'll probably be driving to my local donut store because my talents just don't extend to this kind of bread-making (or any bread-making, as I'm coming to accept). Granted, cheese-filled donuts will likely be a challenge to find, so it'll be good to have this recipe handy should I ever develop a hankering.
Next week, we travel east to try out some (healthy!) party food and solve a murder. Do join me!