Cooking the Books: Here Comes the Fudge by Nancy Coco
I can't believe it's already the ninth installment of the Candy Coated Mystery series! Our heroine, Allie McMurphy, is gearing up for her first full tourist season on Mackinac Island, now that she's finally restored her family's historic inn and fudge shop to its fully functioning glory. She's also excited to be hosting upcoming wedding packages, but none more so than that of her own best friend, event planner Jenn Christensen. The hyper-organized planner is ready to knock out her gorgeous wedding extravaganza before building her business with more events at the McMurphy, saving her honeymoon with local crime scene investigator Shane Carpenter for when the tourist season is over. As Jenn's maid of honor, Allie is a little worried that simultaneously planning her own wedding with others' ceremonies will result in one frazzled bride, but Jenn is quick to dismiss her friend's concerns.
Until, that is, an evening shortly before the wedding when Shane not only fails to meet Jenn for dinner but doesn't return any of her text messages or phone calls. Jenn is worried enough to ask Allie to accompany her in searching for him for fear perhaps that something has happened while he was working on renovating the house the newlyweds are planning to move into. But the two friends find Shane in the last place they thought possible: a darkened alley near the restaurant where he was supposed to meet Jenn. Worse, he's clutching a bloody knife. Worst of all, there's a fresh corpse, dead from stab wounds, on the ground in front of him.
Allie immediately calls her by-the-book contact in the local police department, Detective Rex Manning. Despite the romantic relationship limbo they've recently found themselves in, she knows he's the best person to handle any of the island's crime, even if he is discouraging of her amateur sleuthing. This case is no different, as he sternly warns Allie and Jenn to back off looking into what happened. But how could they possibly not investigate when Jenn's wedding and future happiness are at stake?
The plot zips along wonderfully in the first two-thirds or so of the novel, as Allie must balance running her business with maid of honor duties and trying to clear Shane's name. It doesn't help that Shane is weirdly hesitant to tell either her or Jenn anything about what happened that evening—certainly not the best way to build trust with your fiancee, never mind her crime-solving best friend! The pressure of it all does get to Allie towards the end, even before she finds herself in a series of life-threatening situations. 
Even more intriguing to me as a regular reader was the nascent love triangle only hinted at in the previous novel. I'll freely admit that I was disappointed by Rex's actions in the last book and was really hoping Allie could continue exploring her newfound connection with the adorable Harry Winston (yes, I know—I don't understand why these pop-culture-laden names were chosen either!). Things don't quite go as I'd like here, but it's nice to see Allie stand up for herself first and foremost.
There were seven yummy fudge and dessert recipes included, and while I was super tempted by the "Decadent Salted Caramel Pretzel Brownies" recipe, I ultimately decided to go with this one, in hopes it would last longer around my kids:
Chocolate Almond Butter Crunch Bars
Ingredients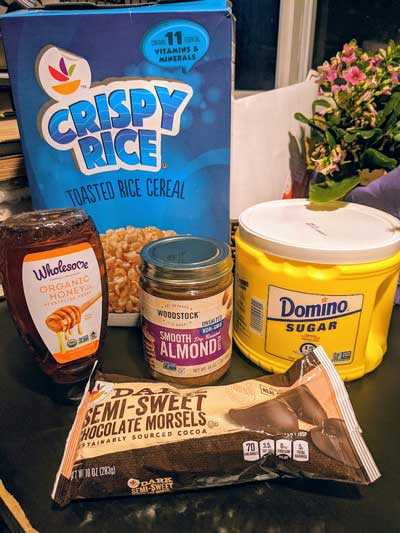 1 cup honey
1 cup sugar
 1 ½ cups dark chocolate chips
 1 ½ cups almond butter
4 cups crisp rice cereal
Instructions
Use a medium saucepan to combine the honey, sugar, chocolate chips, and almond butter. Heat on medium heat and stir until melted.
Add the crisp rice cereal and stir to coat. Place in a heavily buttered 8 x 8-in. pan. Chill until set.
Slice into 2-inch squares. Store in an airtight container. Makes 16.
If you cut it into even smaller servings, you can get a whole lot of snacking out of these very tasty dark chocolate crunch bars! I actually wound up using an entire jar of almond butter to get to one and a half cups and recommend upping the amount of crisp rice cereal to your liking, as four cups didn't quite give me the level of crunch I wanted. These are a tasty, protein-packed chocolate snack that will definitely be a favorite for all the family.
Next week, we get to stay in the area to investigate a murder with another treat maker while baking up something truly special. Do join me!