Cooking the Books: Double Chocolate Cookie Murder by Devon Delaney
Sherry Oliveri is about to do something entirely novel for her: judge a cook-off contest instead of competing in one. That said, the Story for Glory Cookie Bake-Off is probably a competition she would never have entered herself. Sherry prides herself on her cooking creativity, but baking has never been her forte, requiring as it does a much greater precision of ingredients and technique than her usual preferred methods.
When a blast from the past shows up in town to take part, Sherry is initially hesitant to do anything that might compromise the integrity of her judging. Crosby Banks has changed his name, among other things, since he was her home economics high school teacher, but since he was the one who initially encouraged her interest in cooking, she feels that she owes him friendliness if not advice outright. And while she ultimately doesn't award him the laurels in the cookie contest, she is pleased that they got a chance to reconnect.
It's thus a horrible shock when Crosby is soon found dead down by the harbor where his father was once dockmaster. Sherry is still mourning his death when a boat ride with her love interest, Don Johnstone, and her sister Marla takes a dangerous turn. Someone seems to be trying to warn her off from looking into Crosby's death. Despite her growing reputation as an amateur sleuth, Sherry had meant to leave any investigations to local police detective Ray Bease. But the obstacles the killer keeps throwing in her path only make her more determined to get to the truth and bring her former mentor's killer to justice.
This elaborate mystery was another fun romp through the town of Augustin, Connecticut, as we get to know more about Sherry's family and neighbors while solving the complex case. It was cute to see the little flares of jealousy from Sherry's male friends, though I do hope she and Don continue exploring their relationship in future books. The subplot with Marla's marriage was also nicely done. As always, the insight into the competitive cooking scene and how recipes are whipped up was an engrossing highlight of both this book and the series as a whole.
There were three recipes included here, and I decided to try out the titular cookie recipe.
Candy Cane Kissed Peppermint Patties
Ingredients
14 tablespoons butter, room temperature
¼ cup brown sugar
¼ cup granulated sugar
1 teaspoon vanilla extract
1 egg yolk
1 cup plus 2 tablespoons all-purpose flour
¼ cup Dutch process cocoa
1 cup confectioners' sugar
1 teaspoon peppermint extract
3 tablespoons plus 1 teaspoon light cream
1 ½ cups semisweet chocolate chips
½ cup crushed candy canes
Instructions
Preheat the oven to 350 degrees F.
Cream 10 tablespoons of the butter with the sugars in a medium bowl, and then beat in the vanilla and egg yolk. Add the flour and cocoa and beat until smooth. Transfer the dough to wax paper and roll into a 10-by-2-inch log. Wrap and refrigerate 1 hour.
Slice the dough into ¼-inch rounds and flatten gently on a baking sheet. Bake 7 to 8 minutes, and then let cool 10 minutes.
Cream the remaining 4 tablespoons butter with the confectioners' sugar, peppermint extract, and 1 teaspoon of the cream until smooth.
Spread about 2 teaspoons of peppermint cream each over half of the cookies and close with a plain baked cookie.
Melt the chocolate chips with the remaining cream in a small saucepan, adding more cream to make it smooth but not runny.
Spread over half of the cookies and top with the candy canes while the chocolate is still wet.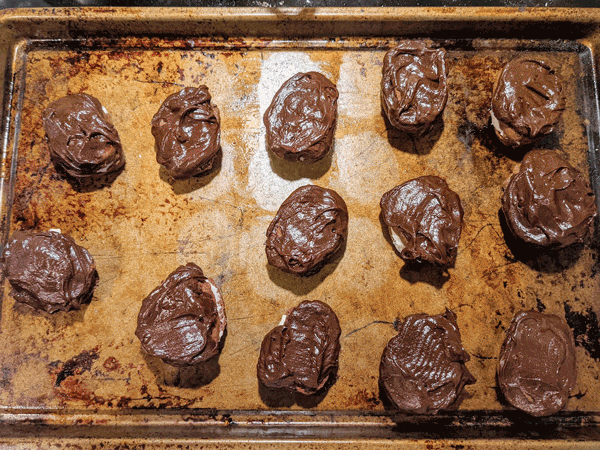 Chocolate and mint can be hit or miss together, but if you like that combination of flavors, then these cookies will absolutely wow you. I actually went a bit light on the peppermint and really enjoyed how this large sandwich cookie almost tastes like a chocolate-mint cupcake texture-wise. I did wind up using regular baking cocoa instead of Dutch process, but I don't think that affected the end result in a detrimental fashion. I will say that you ought to keep any leftover crumbs to sprinkle on top of ice cream as a delightful treat. This recipe made about 14 large and tasty cookies for me, and they keep quite well, I feel, over a few days.
Next week, we head south a ways to try a delicious soup while looking into the death of a shady lawyer. Do join me!