The Ten Best Political Thriller Films Ever
To commemorate the publication of Margaret Truman's Murder on the Metro, the first Capital Crimes novel by Jon Land, Jon visits the site this week to bestow his list of best polticial thriller films, EVER.
From its very inception, Margaret Truman's Capital Crimes series has excelled at stitching tales of murder and mystery with Washington, D.C. as a backdrop. Look no further than the title of each of the now 31 entries to find a particular setting in the Capital where a murder sets off a high stakes game or gambit with the pursuit of political power invariably serving as the motive. So to commemorate the publication of Murder on the Metro, my first effort in the series, I thought it would be especially appropriate to conjure up a list of the greatest political thriller films ever, all based on equally terrific books of the same title.
Seven Days in May
John Frankenheimer's brilliant adaptation of the Fletcher Knebble bestseller remains the quintessential benchmark of the genre. The mere notion of a military overthrow of the United States government seemed like a true paranoid fantasy until the last few years stretched the limits of what is possible. The plot's gradual unraveling through the eyes of Colonel "Jigs" Casey, magnificently played by Kirk Douglas, is a structural schematic of brilliant proportions. And Burt Lancaster's irrepressible and hubris-riddled General James Mattoon Scott leads a stellar cast, highlighted by Fredrick March's embattled president Jordan Lyman, on a high-stakes romp through corridors of power that never felt so threatened or claustrophobic.
Three Days of the Condor
Dominated and defined by Robert Redford's portrayal of a CIA cypher whose job it is to read books in search of hidden meanings and nefarious plots that may stray too close to the truth, the thriller by James Grady's (titled "Six Days" instead of "Three") became the seminal tale to emerge from the post-Watergate era of conspiracy-laden tomes. Evoking classic Hitchcock films featuring an innocent man on the run, director Sydney Pollock pits Redford's Condor against the whole of the US government when his entire station is wiped out because of a report he wrote. The mystery lies in what he inadvertently uncovered and the fun in watching him do battle with a sinister yet saintly assassin wondrously played by Max Von Sydow. The film's genius is cemented into legendary status by their final scene, especially the sequence that begins with Von Sydow's deceptively deadly Joubert saying, "It will happen this way. . ."
All the President's Men
The ultimate political thriller because it was all true. William Goldman's Oscar-winning screenplay elegantly stitches Woodward and Bernstein's reportage into a nail-biting narrative you have to pinch yourself to remember is real. There is so much to like here, but nothing exceeds the intrepid reporters' dogged efforts that roil the halls of power en route to toppling an entire administration. Again, current events have lent this thriller fresh resonance and credibility, reminding us that the press remains the greatest safeguard against would-be tyrants.
Fail Safe
Sydney Lumet's relentlessly suspenseful tale of an accidental nuclear attack launched against the former Soviet Union is included here because it's dominated by exchanges between the American president, played by Henry Fonda, and the Soviet premier, stoically interpreted by Larry Hagman. As the nightmarish scenario ticks down to a potential doomsday, the principals are faced with an impossible choice. This while a stellar klatch of characters, led by Walter Matthau and Dan O'Herlihy (in his finest role), do battle with themselves and each other. The final moments of the film are among the most powerful ever, right up until the shattering fadeout when O'Herlihy's doomed General Black realizes he is "the matador," the villain of his own recurrent, and ultimately prescient, nightmare.
The Candidate
While running for the senate, Robert Redford's title character is determined not to let anything get in the way of his ideals. Under the tutelage of a political consultant, wondrously played by the underrated Peter Boyle, though, Redford's Bill McKay finds himself in a rigged game where the goalposts keep getting moved and the means to winning become an end in themselves. Never has a film's message been better summed up than in a final line with Redford's McKay posing a question to Boyle's Marvin Lucas after they win: "What do we do now?", to which Lucas has no answer.
Being There
Many consider Peter Sellers' portrayal of a simpleton who accidentally becomes a pawn of power brokers to be the actor's finest performance in this farcical parody.  Hal Ashby's touchtone rendering of Jerzy Kosinski's classic novel has gained new and scary relevance in an era where truth has become a relative term and facts are dumped into a hamper with yesterday's laundry. The film is built around a kind of figurative battle between perception and reality with the former winning out hands down. Sound (regrettably) familiar?
Advise & Consent
Otto Preminger's faithful adaptation of the pitch-perfect book by Alan Drury gives a bird's eye, behind-the-scenes view of all the mechanizations involved in confirmation hearings for a controversial selection for secretary of state. The 1962 film was way ahead of its time in stitching together a trail dominated by duplicitous politicos, backroom manipulations, and the cloudy nature of the truth itself. Preminger's stunning take on the dark side of politics makes the process a character, and a villain, in itself. The film's genius lies in the fact that the system portrayed is pretty much the same, and even more broken, 60 years later.
The Parallax View
This is director Alan J. Pakula's second appearance on this list, a kind of nightmarish expansion of his All the President's Men. Warren Beatty plays a political reporter whose quest to expose the conspiracy behind the assassination of a presidential candidate evokes memories of Dallas on November 23, 1963 as well as Watergate. Lacking the support enjoyed by his fictional counterparts, Beatty's character bites off more than he can chew and ends up getting swallowed himself, along with the entire country, as a result.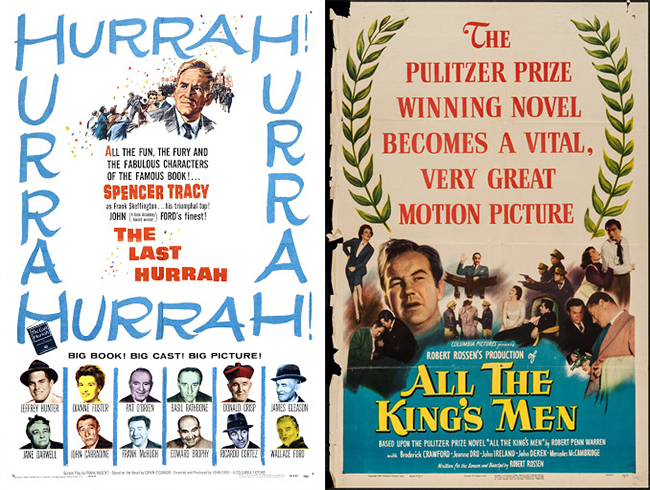 The Last Hurrah and All the King's Men
A twofer of loosely-disguised biopics on Mayor Michael Curly and Huey "the Kingfish" Long respectively, both classics dwell on the manipulations and mechanizations behind political machines. These period pieces spell doom for the old-fashioned way of doing business as Spencer Tracy's Frank Skeffington and Broderick Crawford's Willy Stark find that when you sell your soul, sooner or later the devil comes calling to collect. Again, though, what emerges beyond all else is that in politics the more things change, the more they remain the same.
The Manchurian Candidate
We started with one John Frankenheimer adaptation so let's end with another, in this case the great Richard Condon's Cold War thriller that lives on stronger than ever in pop culture. What would indeed happen if a young man marked for greatness was actually a brainwashed plant totally beholden to a foreign power? Thankfully, Frank Sinatra's tortured Major Ben Marco is there to unravel the deceit and save the US from a crazed plot that seemed utterly outlandish . . . until now.
---
About Murder on the Metro by Jon Land:
Israel: A drone-based terrorist attack kills dozens on a sun-splashed beach in Caesarea.
Washington: America awakens to the shattering news that Vice President Stephanie Davenport has died of an apparent heart attack.
That same morning, a chance encounter on the Washington Metro results in international private investigator Robert Brixton thwarting an attempted terrorist bombing. Brixton has no reason to suspect that the three incidents have anything in common, until he's contacted by Kendra Rendine, the Secret Service agent who headed up the vice president's security detail. Rendine is convinced the vice president was murdered and needs Brixton's investigative expertise to find out why.
In Israel, meanwhile, legendary anti-terrorist fighter Lia Ganz launches her own crusade against the perpetrators of that attack which nearly claimed the lives of her and granddaughter. Ganz's trail will ultimately take her to Washington where she joins forces with Brixton to uncover an impossible link between the deadly attack on Caesarea and the attempted Metro bombing, as well as the death of the vice president.
The connection lies in the highest corridors of power in Washington where a deadly plot with unimaginable consequences has been hatched. With the clock ticking toward doomsday, Brixton and Ganz race against time to save millions of American lives who will otherwise become collateral damage to a conspiracy destined to change the United States forever.