Stalking the Unknown: Unsolved Serial Killer Cases
Joanna Schaffhausen is the award-winning author of Gone For Good, the first in a new mystery series featuring Detective Annalisa Vega who investigates a serial killer murder case. Read Joanna's new essay about several presently unsolved serial killer cases.

BONUS: Leave a comment on this post for your chance to win 1 of 3 hardcover copies of Gone For Good!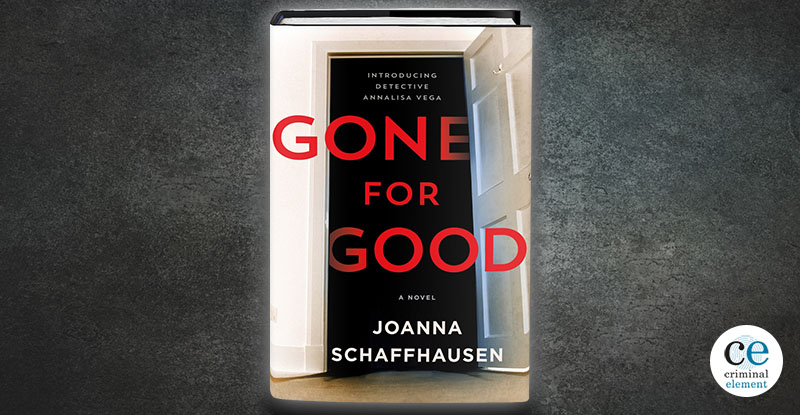 For a serial killer who enjoys provoking headlines, the greatest irony is that true fame requires being caught, and make no mistake—they do not wish to be caught. A few killers have managed to capture public imagination anyway. Jack the Ripper and the Zodiac Killer have each inspired numerous books and movies. Theories about their true identities abound, but as the years go by, the chances that either case will be definitively resolved grow slimmer. There are dozens of other unsolved serial homicides that remain active and investigators hopeful for a resolution. They are all seeking that one witness, the one piece of DNA that might break the case. 
New Bedford Highway Killer
Debra Medeiros told her mother she was going to visit her boyfriend in New Bedford, MA. Days later, the boyfriend called Debra's mother to say he hadn't seen her. Debra's body was discovered two months later, along with the bodies of five other women nearby. Debra's case is part of an infamous unsolved serial murder investigation called the New Bedford Highway Killer near where I live in Boston. 
The serial killer first came to light in 1988 and 1989 when the remains of nine women were discovered near Interstate 195 and other local highways. Two other women who disappeared around the same time are believed to be additional victims, but their bodies have never been found.  The women were all drug addicts and/or sex workers, so in some cases, it took days or weeks for anyone to notice they were missing. By the time their bodies were discovered, decomposition made identification of the victims a challenge. DNA was not a widely available tool in the late 1980s.
The investigation focused on New Bedford, particularly an area called Weld Square where some of the women were known to frequent. Indeed, several of the women had known each other prior to the murders. Several had also known a defense attorney named Ken Ponte, who became a main suspect in the case. Ponte admitted to a relationship with one of the murdered women, and he had served as an attorney for three other victims. 
Police questioned Ponte numerous times and even dug up his yard with a backhoe looking for evidence, but there was never anything definitive to connect him with the crimes. Ponte died several years ago, and the cases remain open and unsolved.
Highway of Tears 
The "Highway of Tears" murders represent the work of more than one serial killer, with many cases still unsolved. The name derives from a 450 mile stretch of Highway 16 in Canada and the tears that the families have cried over the victims lost along it. Highway 16 transverses remote areas of forest, snaking through logging towns and Native American reservations. The region is plagued in places by poverty, which means many residents lack reliable transportation. Hitchhiking remains a common practice. The road itself is dark, without the lights and cameras that deter crimes in more populous areas.
From 1969 to the present, dozens of young women, most of them indigenous, have disappeared or been found murdered near Highway 16. Some people familiar with the cases suggest the total number of victims could be fifty or higher, and nearly all are unsolved. Three separate serial killers—Brian Arp, Edward Isaac, and Cody Legebokoff—have been charged with various murders in the area, but investigators believe there may still be others at large. 
Investigation of the Highway of Tears homicides has been dogged by complaints that the cases were not given enough priority or thorough examination. The victims were often young, poor, and indigenous. Government files related to the case have been suspiciously purged in response to attempts to gain more information. In 2005, the Royal Canadian Mounted Police (RCMP) founded E-Pana to focus on the reinvestigation of the Highway 16 murders, although the investigation expanded to include similar cases not connected to the highways. The task force has had some successes. Using DNA technology, the E-Pana project linked the 1974 homicide of 16-year-old Colleen MacMillen with deceased American serial killer Bobby Jack Fowler, and Fowler is also suspected in two other killings. 
However, the homicides related to the Highway of Tears remain unsolved, and detectives are still pursuing these open cases.
The Long Island Serial Killer
The Long Island Serial Killer, also known as LISK, murdered between 10 and 16 people over a period of nearly 20 years, although most remains were discovered in 2010 and 2011. The majority of the victims were known sex workers, but the youngest purported victim was a toddler. In some cases, the victims had been missing for many years before their remains were discovered, which has hampered efforts to solve the case. The killer dismembered the bodies and left them at various places on the South Shore of Long Island, NY, which is how his nickname originated. 
Investigators believe the killer is a white male familiar with the Long Island region, and that he had easy access to burlap sacks, which were used to hold the remains of the victims. The press speculated that known serial killer Joel Rifkin, who had murdered at least nine women across other areas of New York, might be responsible for these deaths, since he had lived in Long Island for a time. Rifkin has denied any involvement.
In September of 2017, the Suffolk County prosecutor named Attorney's office announced that John Bittrolff was a suspect in the case. A carpenter, Bittrolff had access to the type of sacks linked to the crimes and he had been recently convicted of murders of two other female sex workers in the 1990s, both of whom had been dismembered. However, an attorney for Bittrolff has denied any connection to the LISK cases.
Last year in an effort to spur new leads, Suffolk County Police Commissioner Geraldine Hart released images of a belt found at one of the crime scenes. The belt features the letters "HM" or "WH" (depending on orientation) embossed in black leather and it was recovered near Ocean Parkway in Gilgo Beach. Investigators believe that the belt is connected to the perpetrator, not the victims, and they have asked anyone who might have information about the belt to come forward. 
The Monster of Florence
The "Monster of Florence" is a serial killer who has captured the imagination of Italy and cold-case aficionados everywhere. The killer preyed on young Italian couples in parked cars, not unlike the Zodiac killer in the USA. He is believed to have murdered at least 14 people between 1974 and 1985. In a ghoulish twist, the killer took the female sex organs from the victims, which may have been the ultimate motive for his crimes.
The murders have inspired episodes of television, a forthcoming movie, and a bestselling book. The investigation is complex enough to fill a set of encyclopedias. Multiple men have been suspected, and in some cases even convicted, of at least some of the murders, starting with the husband of one of the first victims.
Antonio Lo Bianco and Barbara Locci were the first known victims. As Locci was married, the pair of lovers met up for relations in a parked car—with Locci's son, Natalino, asleep in the backseat. A gunman came and shot the lovers, waking Natalino. He reported that the killer carried him down the street to safety, singing to him to make him less afraid. His description of the killer has never matched any of the suspects. Despite this, police detained Locci's husband, Stefano Mele. A paraffin test revealed Mele had recently fired a gun, and he admitted to being at the crime scene. He was found guilty and sentenced to fourteen years in prison, although he later recanted his confession.
Unfortunately for investigators, the killings did not stop once Mele was arrested. By 1985, six other couples would meet the same fate as Bianco and Locci, and later, the police connected the killer to the earlier murder of a seventh couple. Further investigation turned up more suspects, including Pietro Pacciani. Pacciani had been convicted of rape and murder. He was alleged to be a satanic cult member and enjoyed taxidermy as a hobby.
In 1994, Pacciani was controversially convicted of all the "Monster of Florence" murders except the first ones attributed to Mele. But he appealed the conviction, and in a reversal, the prosecutor sided with Pacciani, citing overall lack of evidence and shoddy police work. As a result, Pacciani was acquitted and released in 1996. A new trial for Pacciani was ordered by the Supreme Court, but he died in 1998 before it could begin.
The Doodler
In the mid-1970s, five gay men in San Francisco were killed and their bodies found around the Ocean Beach area of the city. The killer earned his nickname "The Doodler" because witnesses reported seeing him sketching caricatures prior to the attacks. Some reports say he even sketched his victims and left the drawings at the scene of the crime, although police have never released any of his artwork. 
In 1975, two men attacked at an apartment complex were able to describe the assailant, whom the police came to believe was The Doodler. He was 19-25 years old, Black, around six feet tall with a slim build. Investigators released an artist's sketch of the suspect at the time, and recently, they have updated the drawing with an "age progression" of what he might look like now.
The intriguing part of this story is that police have always had a suspect. The unknown man has never been publicly identified, but he has been questioned repeatedly and investigators say he remains a person of interest even now. Inspired by the unmasking of the Golden State Killer Joseph DeAngelo using forensic genealogy, investigators have reportedly submitted DNA findings in the Doodler case to see if he might be identified this way. The idea is that the killer's relatives may have submitted their DNA to a public database, and if the killer's profile is similar, they could reveal him this way. Thus far, however, there are no new leads in the case.
---
About Gone for Good by Joanna Schaffhausen:
The Lovelorn Killer murdered seven women, ritually binding them and leaving them for dead before penning them gruesome love letters in the local papers. Then he disappeared, and after twenty years with no trace of him, many believe that he's gone for good.
Not Grace Harper. A grocery store manager by day, at night Grace uses her snooping skills as part of an amateur sleuth group. She believes the Lovelorn Killer is still living in the same neighborhoods that he hunted in, and if she can figure out how he selected his victims, she will have the key to his identity.
Detective Annalisa Vega lost someone she loved to the killer. Now she's at a murder scene with the worst kind of déjà vu: Grace Harper lies bound and dead on the floor, surrounded by clues to the biggest murder case that Chicago homicide never solved. Annalisa has the chance to make it right and to heal her family, but first, she has to figure out what Grace knew—how to see a killer who may be standing right in front of you. This means tracing his steps back to her childhood, peering into dark corners she hadn't acknowledged before, and learning that despite everything the killer took, she has still so much more to lose.
---
Enter the Sweepstakes!
Sign in and comment on this post for a chance to win 3 hardcover copies of Gone for Good by Joanna Schaffhausen!
To enter, make sure you're a registered member of the site and simply leave a comment below.
Gone for Good Comment Sweepstakes: NO PURCHASE NECESSARY TO ENTER OR WIN.  A purchase does not improve your chances of winning.  Sweepstakes open to legal residents of 50 United States, D.C., and Canada (excluding Quebec), who are 18 years or older as of the date of entry.  To enter, complete the "Post a Comment" entry at https://www.criminalelement.com/stalking-the-unknown-unsolved-serial-killer-cases/ beginning at 12:00 p.m. Eastern Time (ET) August 9, 2021. Sweepstakes ends at 11:59 a.m. ET August 23, 2021. Void outside the United States and Canada and where prohibited by law. Please see full details and official rules here. Sponsor: Macmillan, 120 Broadway, New York, NY 10271.