Game of Thrones 8.04: "The Last of the Starks"
Warning: I'm going to complain about a fair bit in this article. If you're looking for rose-tinted glasses, I suggest making like Tormund and getting the hell out while you can. Still here? Okay, here we go.
I want to discuss what I think is the overall problem with this season of Game of Thrones, and it was on full display in "The Last of the Starks." This season, and Season 7 for that matter too, have been rushed. When it all finally wraps up in two weeks, it'll be clear that we needed another season—not to add more to the plot, but rather to let this expedited narrative breathe like a just-opened Arbor Red.
We're simply moving too fast, and as a result, we're losing the scenes we deserve most. I wanted to see Arya's hero-reception back in Winterfell. And Jon's realization that Daenerys lived. Tyrion breathing a sigh of relief upon seeing Jaime. Sam breaking down when he realizes Jon lived. These should have been powerful, Emmy-inspiring scenes, and instead, we fast-forwarded to a room temperature funeral pyre.
And then there's the show's newfound insistence on cutting to a new scene just as very important information is about to be revealed. I feel robbed at not getting to see Arya and Sansa's reaction to Jon's reveal of his true parentage. And ditto for Tyrion's reaction when Sansa told him. It's easy to call these decisions the move of lazy or incompetent writers, but I don't want to go that far. I do think David Benioff and Dan Weiss are trying their best, but with the show's time constraints, they're being forced to cut these scenes due to their complexity and how long they would run. (Why they instead insist on force-feeding us Tormund jokes is a question for another day.)
We deserve a better send off. These characters deserve a better sendoff. And Benioff and Weiss deserve a better sendoff. There are only two episodes left, and it's growing more and more obvious how these episodes will play out. Sure, we'll get Thrones' patented carnage—that's easy stuff. But will we get its once-patented twist? I'm afraid there might not be enough time.
* * *
Riser of the Week: Gendry Baratheon
In one fell swoop, Daenerys turned Gendry from a lowly bastard into one of the most powerful lords in Westeros. That's quite the rise for a man who began this series as a blacksmith's apprentice. Gendry is right in being visibly nervous at the idea of ruling over the Stormlands, but his restrained temperament should make him a worthy lord.
As this scene was progressing, it got me thinking of just how destructive this war has been for the once-many great houses of Westeros. Over the course of the series, we've lost the Baratheons, the Martells, the Tyrells, the Freys, the Boltons, the Umbers, and the Mormonts. The Lannisters are on the brink with death likely awaiting at least two of its leading siblings, and the Greyjoys are growing precariously thin as well, especially if Yara joins the fight next week. Technically, Edmure Tully should still be alive somewhere in the Riverlands, but I fear the show has forgotten him the same way the entire Northern army forgot to invite Meera Reed to the battle against the White Walkers. (Seriously, Meera Reed spent significant time north of the Wall with Bran and has even killed some White Walkers. She would have been one of the most qualified people at the battle. But, you know, time constraints and such.)
So yes, Gendry is a clear riser this week. But what stands out to me, even more, is how much rising there is to be done by yet unnamed men and women after the war with Cersei ends. There are a lot of empty castles in Westeros and, as Bronn aptly points out, a lot of cutthroat sons of bitches ready to move in.
Honorable Mention: Sansa Stark, who's out there making power moves that even Littlefinger would be proud of.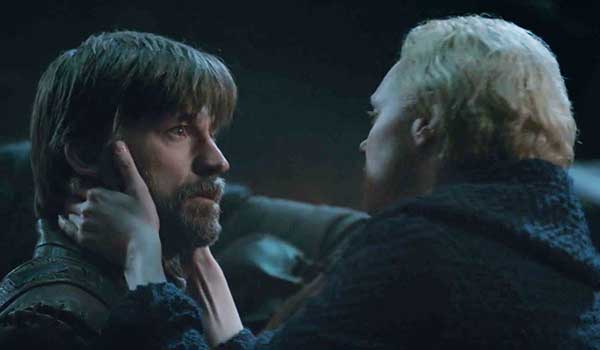 Faller of the Week: Jaime Lannister
Jaime's love for Cersei is an addiction, and it's one he can't break. With time running out and death all but likely for Cersei, Jaime is cementing his status as one of the show's most tragic characters. Jaime is on my ever-shrinking list of favorite characters, and I love how George R.R. Martin was able to take the man who pushed a young boy out of a window and turned him into someone we not only tolerate but root for. Nikolaj Coster-Waldau has played Jaime to perfection throughout the entire series, and it's a damn shame he's never won any serious acting awards for his portrayal of such a conflicted man. Jaime's confession to Brienne as he's packing up his horse shows us that he'll never see himself in the way the audiences have come to see him. I find it more and more unlikely that Jaime will survive the series, but I still have my money on him taking down Cersei before it's all over.
Honorable Mention: Tyrion Lannister, for once again overestimating Cersei when it mattered most.
Maester's Musings:
What a great job by Emilia Clarke showing pure anger there at the end after Missandei's execution. Something officially snapped inside her, and it has awoken the Mad Queen. I hope the residents of King's Landing have fire insurance.
While I've been quick to make fun of Missandei and Grey Worm's relationship (and I stand by every word), I must give Missandei credit for a badass final word. By uttering dracarys, she's telling her Queen to set King's Landing ablaze, and can you blame her? (What you could blame her for is not thinking to just grab Cersei and jump off the top of the wall, but we can save that for another day too.)
One last thought about Missandei. How the hell did Daenerys's team find out that Euron had captured her? Wasn't it possible that Missandei just died in the water after the ships were ripped to shreds? Even though having her captured was a bit on the cheesy side, I don't have that big of an issue with it. But they should have waited to reveal her captivity to us, and to Daenerys, right there at the end when she's next to Cersei. That would have been a fun little twist, and it would have made what transpired heartbreaking—or at the very least, Alanis Morrissette-approved ironic.
Sticking with that final, troublesome scene, did Euron catch on that Tyrion knew about Cersei's pregnancy? If so, will he realize that he's being played? He seems like a mild-tempered, even man, so I'm sure things will be a-okay when Jaime arrives.
And one more thing on the ending: why wouldn't Cersei just open fire on Daenerys, Drogon, and everyone else standing before her? As Margaery and everyone else who died in the Great Sept will attest, she doesn't fight fair. Why did she choose to do so now? This is a classic example of a character's actions serving the plot, not the character itself.
It seems that Arya is headed south to cross Cersei off her list. Is that her endgame here? I don't think the writers can have her ghost through King's Landing and kill Cersei the same way she just did to the Night King. That would be too easy. Maybe she'll save the Hound when he inevitably squares off with the Mountain? Whatever transpires, it's going to be tough to top taking out the Night King.
And speaking of the Night King, all week I continued to hold out hope that we weren't finished with that storyline, but it seems like I had no such luck. It's over, and once again, we deserved more.
There better be a Bran payoff coming, because as it stands now, his arc is an underwhelming tease. If his big role in the story was to confirm Jon's lineage, that's going to be an emphatic disappointment.
It looks like we've officially wrapped up Tormund's story. May he find an everlasting fountain of giant's milk and a long line of tall, consenting wildling women.
 It also looks like the end of Ghost. Maybe Tormund will pay more attention to him than Jon. Here's hoping he runs into Nymeria up there.
Jon, you should have pet your wolf one last time.
Sansa is out here playing Littlefinger games better than anyone would suspect. She's most definitely not a little bird anymore, and she knew exactly what would happen by telling Tyrion the secret of Jon's parentage. Varys summed it up perfectly: she turned a secret into information, and she knows just how incendiary that information will be.
Also, with how fast that rumor traveled, can anyone really blame Ned Stark for keeping it a secret from everyone, including Catelyn?
Warning, one last rant incoming. I have a bone to pick about the scorpions—the incredibly powerful harpoon-like weapons that killed Rhaegal and obliterated Daenerys's boats. In the books, these weapons have existed for hundreds of years and were around back when the old Targaryens rode dragons. But these weapons barely did any damage, according to the history books. The spears would simply bounce off the dragons' hard scales. But now these things are turning dragons into pin cushions. In the Inside the Episode segment, the showrunners explained that Qyburn had spent time working on the weapons since we last saw it used in the Field of Fire battle last season. This is all well and good, as we know how much Qyburn lovs him some research and development. But what makes no sense to me here is that we're acting like these weapons were only prioritized and developed because there are dragons in the world once again. But look how powerful these weapons are! They completely erased an entire fleet of ships. They straight up wreck. Why are they not outfitted on every boat? Why didn't Daenerys's team add them to their arsenal? Why are they not atop every single castle? I find it hard to believe that no one ever thought to do that until now. Which means it's much more likely that these weapons serve another purpose: some good old deus ex machina.
Let's end of a fun note. I'm sure we all saw Pod lock eyes with that woman at the feast. But did you catch what happened next? In the background, we later see Pod lock arms with two women and walk off screen. Talk about a Tri-Pod.