Book Review: Hairpin Bridge by Taylor Adams
New from author Taylor Adams, Hairpin Bridge is a riveting psychological thriller featuring Lena Nguyen, an unforgettable protagonist.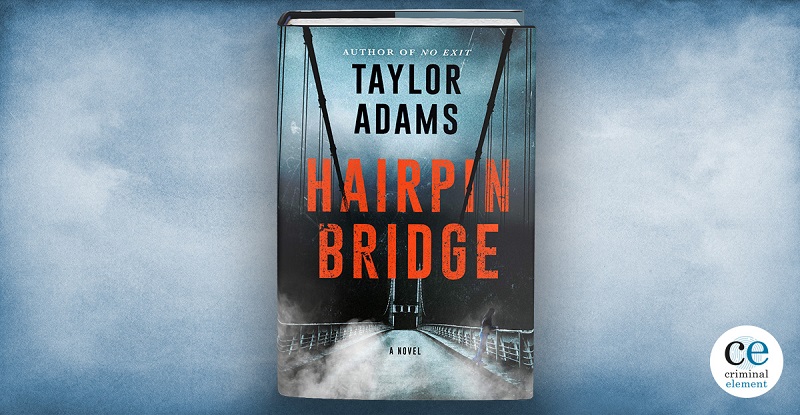 Y'all, my heart expanded two sizes at the end of this intense page-turner, which was not something I expected at all. But then, there was very little that I saw coming in this incessantly twisty, almost cinematic novel of suspense, as a young woman investigating the suicide of her twin sister puts it all on the line to get to the shocking truth.
Lena Nguyen was always the good kid, the docile kid, the one who got good grades and went to college with dreams of being a writer. Now twenty-four years old, she works retail to pay off her student loans and blogs as her main creative outlet. Her twin sister Cambry, on the other hand, was the epitome of the wild child. The sisters grew apart in grade school and Cambry took off from the family home as soon as she was old enough to leave. She'd gone on a grand tour of America, living out of her car and sketching her experiences, and hadn't seen her family in over a year when she suddenly sent Lena a strange text message that turned out to be a suicide note.
Cambry's death devastated the Nguyen family. While her religious parents sought to erase every trace of Cambry from their home, Lena stubbornly refused to believe any story that had her sister committing suicide:
It's sickening, becoming an only child in an instant.

This was the moment Lena decided she wouldn't just capture her sister's killer. She would tell Cambry's story, too. It was too important to be told by anyone else. She would give her mother and father a version of their daughter they could remember and love. A version that didn't steal from their wallets, that didn't get arrested for shoplifting, that didn't reek of weed and cigarettes and barrel out the door at age eighteen to never call them back, and that didn't leave them now for real, just as cruelly and abruptly.

The true Cambry was out there somewhere. Lena would find her. At any cost.
To this end, Lena plots to meet the man who found and reported Cambry's corpse, Montana Highway Patrol Corporal Raymond Raycevic. Lena has pored over all of the official reports and finds it strange that Raycevic not only pulled Cambry over for speeding earlier on the night she died, but is also mentioned in her alleged suicide note. Lena arranges to meet Raycevic in a diner skirting the cellular dead zone where Cambry died—and from where Cambry attempted to make nearly twenty 911 calls on her last fateful night. From there, he'll escort her to the closed-off area around Hairpin Bridge, from which Cambry plummeted to her doom.
Hairpin Bridge is a rusting piece of infrastructure that's been closed to the general public for fear of structural unsoundness. It also has a reputation for being a local suicide spot, a reputation Lena believes Raycevic capitalized on in order to dispose of Cambry's body. She doesn't yet know why a random cop would kill her sister, but she's determined to get the truth out of him as they stand overlooking the scene of Cambry's death. The reality of him, however, puts her at a disadvantage. He's smarter, kinder, and, perhaps most worryingly for Lena, more physically imposing than she expected:
"You're recording me," Raycevic said, "because you believe I had something to do with your sister's death. Is that right?"

She nodded. "That's correct."

Somehow this felt like an anticlimax. For months she'd daydreamed of accusing him powerfully, articulately, like a prosecutor leveling a scathing charge before an enthralled courtroom. She'd wanted the microphone to hear the conviction in her voice. But she'd lost her nerve somewhere in the moment, and he'd taken control of the conversation. He'd been so close to her. So big.

[He] glanced at her—she tried to look stoic, like the heroine in an action movie—and then down at the recorder. "Turn it off," he said finally. "Then we'll talk."
It's hard to say much more about this book without spoiling the contents, but I promise that it is well worth the read. The pace is breakneck, with Taylor Adams exhibiting exquisite control of his craft and material as he leads readers through the plot's many revelations and reversals, as Lena and Raycevic face off in a tense battle of wills. It's also, perhaps surprisingly, a heartbreaking look at the power of stories—the stories we tell ourselves and others—to protect and heal, and the lengths we'll go to in order to preserve our fictions. Violent, occasionally bizarre, and overall deeply heartfelt, this was one heck of a journey—one I'm extremely glad I took.