The Underwater Underside of Vermont
Archer Mayor's newest Joe Gunther novel, Marked Man, is available now. Pull on your hiking boots as Archer leads us through some of the less-traversed but ever-intriguing landmarks in his home-state of Vermont.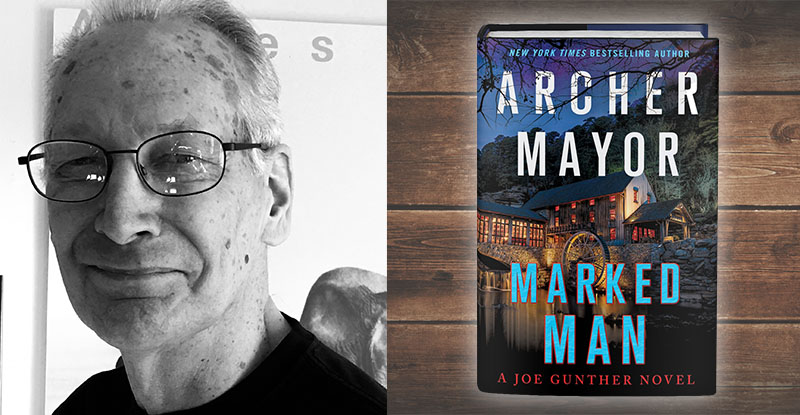 From the start, I wanted to make "place" as much a participant in my now 32-volume Joe Gunther series as the humans driving the plots.
The books are set in Vermont, so the famously touted beauty and natural drama of that state supplied an easy starting point. But in addition, I wanted to ferret out hidden details that might either enhance the Vermont aura or paradoxically run counter to it. They are murder mysteries, after all—gotta have an old-fashioned creepy backdrop every once in a while, right?
For the fifth "Gunther" book, Fruits of the Poisonous Tree, one setting I chose was also an historical landmark—at the time (the 1920s,) arguably the world's largest earthen dam, built to create what is still known as the Harriman Reservoir, in southern Vermont.
The most eye-catching details to this structure, (and what drew me as a writer to the spot) is what the architects called a "glory hole" overflow device.
Replacing the traditional spillway, this was to handle those times when the reservoir's water got too high for the dam to handle. The glory hole, a 160-wide concrete lily pad with a funnel in its middle is—when water pours thunderously down it—a mesmerizing, deafening, and frightening sight.
Off to one side of it, however, attached by a narrow catwalk, is also a tiny maintenance shed, perched atop a thin stalk of concrete projecting out of the water. Perhaps oddly, this was what I wanted to explore.
I contacted the company running the dam, and they allowed me access to this little hut-on-a-stick. Of course, as you've probably guessed, it was far more than that. It was the entrance to the equivalent of a twenty-foot by 170-foot deep concrete missile silo, plunging straight down to the reservoir's granite floor, and leading to a deep tunnel access to the glory hole outlet tube. Lining one wall was a zig-zagging metal ladder. The only lighting came from what you were able to carry.
This, needless to say, was somewhere Joe Gunther HAD to pursue one of his action scenes.
Being a research hound has its benefits, and as I saw it, this was one of them. I descended the jet-black silo, later detailing the experience in the following passage:
"Below was a seemingly bottomless, smooth-walled, misty pit, the dampness of which formed a slight fog, thick enough to defeat my flashlight's ability to reach the bedrock. The ladder was fastened to one glistening side, zig-zagging back and forth at sharp vertical angles from one narrow platform to the next, like some misplaced urban fire escape. It appeared almost puny in comparison to the void all around it."
But that was just how things appeared from the outside. I (and later Joe in my place) swung my feet through the metal trapdoor in the floor of the little hut, and began my descent.
"All was dark, damp, and tomblike. The metal rungs of the ladder were slippery and wet, the concrete to which it was attached smooth with the same calcium skin that coated cave walls. And despite my silence, I felt surrounded by sound—the rustling of clothes, my own breathing, the mere brushing of a hand across a hard surface. I felt I was locked in a huge, wet, very cold echo chamber."
But wait! There's more:
"As I progressed, the moisture increased along with the cold, tickling the hairs in my nose and reaching down my collar like a draft. What little light there'd been from the trapdoor became absorbed by the mist, reducing the entrance above to a hazy, pale rectangle without radiance or effect. Reality became solely what I could feel beneath my hands. All sense of smell was suffused by the dampness and the cold, and hearing became clogged by a minute cacophony of drips, sighs, and subtle shiftings—the living sounds, I began thinking, of the millions of tons of water all around me, held at bay by a few feet of seventy year-old concrete."
Who knew such an environment lay tucked away in a tourist-laden, rural place famous for foliage, skiing, maple syrup, and fancy ice cream? But such is my goal, to find among the 'chamber of commerce showpieces' some contrasting exemplars of industry, gritty history, and human misfortune that help to balance out the true picture of the cold, northern, thinly populated, hardscrabble, stoic, and—yes—beautiful state I call home.
---

About Marked Man by Archer Mayor:
A year ago, local philanthropist and millionaire Nathan Lyon died a natural death in his sprawling mansion, a 150,000 square foot converted mill, surrounded by his loving, attentive family. Or so it seemed at the time. Now Joe Gunther and his Vermont Bureau of Investigation team has discovered that almost nothing about that story was true. Nathan Lyon was actually Nick Bianchi from Providence, Rhode Island. His money came from Mafia-tainted sources. And his family now seems to be dying themselves and their deaths are now revealed to be murders.
As Gunther's team desperately works to uncover what is going on at The Mill, who is responsible and what they are trying to accomplish, Joe himself travels to Rhode Island to look into the original source of the money. While the police are doing their jobs, private investigator Sally Kravitz teams up with reporter Rachel Reiling to expose the truth behind this tangled and expanding web of duplicity, greed, and obsession. Having betrayed many, it's no surprise that Nathan Lyon was a marked man. But now Gunther has to figure out who, among the many, killed him, and stop them before their killing spree claims another.