Portland Area Crime Writers
As we celebrate the release of her new novel following PI Kelly Pruett, Denied, Lefty and Agatha award-nominated author Mary Keliikoa shares her favorite crime writers hailing from Oregon.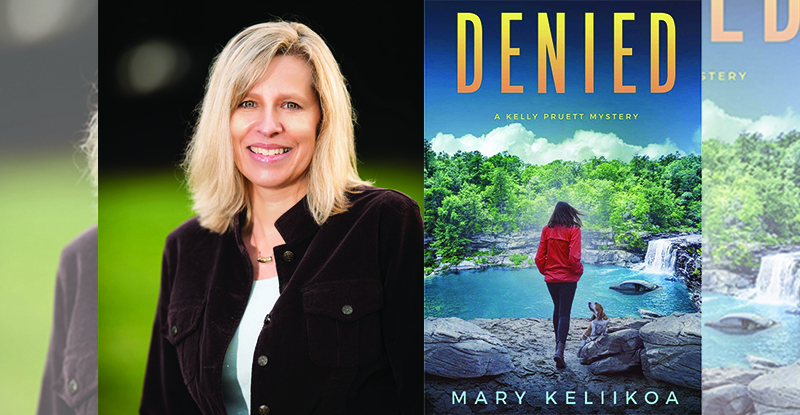 Portland–and Oregon in general–has had its share of crime: We're the home of D. B. Cooper, the I-5 serial killer, Diane Downs, Tonya Harding, and Westley Allen Dodd. The Green River Killer and Ted Bundy committed some of their crimes here, and a cult in eastern Oregon once tried to poison a river that fed the Portland water supply. All of that local history certainly inspired me to be a crime writer, and it's no wonder a generation of other mystery, crime, and thriller writers live in the Pacific Northwest too. Here are a few of my favorite authors who call Oregon home.
CINDY BROWN
Cindy Brown has been a theater geek since her professional gig at age 14. She's the author of the Agatha Award-nominated Ivy Meadows madcap mysteries set in the off, off, OFF Broadway world of theater, her latest being Killalot. She resides in Portland with her husband now—she left Phoenix, Arizona after 25 years. Needless to say she knows all the good places to hide dead bodies in both cities.
CHELSEA CAIN
Chelsea Cain is the author of The New York Times bestselling Archie Sheridan/Gretchen Lowell thriller series that includes Heartsick, and the Kick Lannigan novel One Kick, among other novels. Her Portland-based thrillers, described by The New York Times as "steamy and perverse," have been published in over 30 languages and recommended widely. While Chelsea wasn't born in Portland, she makes it her home now and we're happy to claim her!
BILL CAMERON AKA W.H. CAMERON
W.H. Cameron raises backyard chickens in Oregon, and shapes unruly words into captivating people caught in harrowing situations. As Bill Cameron, he's the critically-acclaimed author of the edgy and stirring mysteries featuring irascible Portland homicide cop Skin Kadash who explores the "dark and underbelly" of "P-town." His young adult mystery, introducing troubled yet resourceful Joey Getchie, was named one of Kirkus Reviews Best Books of 2016. 
RENE DENFELD
Rene is the author of the acclaimed novels The Child Finder, The Enchanted, and The Butterfly Girl. Using the Oregon forest and Portland streets as backdrops, she immerses you in the local setting. Ms. Denfeld was the Chief Investigator at a public defender's office and has worked hundreds of cases, including death row exonerations, and helping rape trafficking victims escape their captors. She was awarded the Break the Silence Award in Washington, D.C. for her social justice work, and was named a 2017 hero of the year by the New York Times. 
WARREN C. EASLEY
Formerly a research scientist and international business executive, Warren C. Easley is the author of the Cal Claxton Oregon Mysteries set in the small town of Dundee, Oregon, also known as wine country. The eighth novel in the series, No Witness, will be out in August 2021. He received a Kay Snow National Award for fiction in 2012 and was named the Northwest's Up and Coming Author in 2017, both honors bestowed by Willamette Writers.
KELLY GARRETT
Kelly Garrett's YA debut was an Oregon Book Awards finalist. Kelly is also a 2020 Oregon Literary Fellow. She writes for adults as Emmeline Duncan. The first novel in her Ground Rules series, Fresh Brewed Murder, was published in April 2021 and involves the local food truck culture. When not writing, Kelly spends her time hiking and seeking out new coffee shops. 
DANA HAYNES
Dana Haynes, a Pacific NW native, has spent more than 20 years in Oregon newspaper newsrooms. He has won awards as a reporter, columnist and editor. His first thriller was released in 2010 by Minotaur Books, but subsequent sequels followed. He won the Spotted Owl Award from Friends of Mystery in 2010. His latest thriller, Crasher, involves a passenger plane crashing just outside of Portland and the ensuing investigation on what or who brought the plane down.
PHILLIP MARGOLIN
Phillip Margolin is a New York Times bestselling author. He was born in New York City, but after graduating law school, came to Oregon in 1970 to work for the Oregon Court of Appeals. He published his first short story in 1974 and his first novel in 1978 and went on to continue to write short stories and 23 more full-length legal thrillers set in Oregon. He became a full-time writer in 1996, and his latest, A Matter of Life or Death, came out in March 2021. 
ELLE MARR
Elle Marr is the author of Missing Sister and Lies We Bury, and a third due out next year. Her first book ranked among the top 25 Amazon books of 2020. Originally from Sacramento, she earned a master's degree from the Sorbonne University in Paris. When not working on her next book, she enjoys watching French Netflix shows with the subtitles off in Oregon, where she lives with her husband, son, and one very demanding feline. 
AMY STEWART
Amy Stewart is the New York Times bestselling author of the Kopp Sisters series, which are based on the true stories of one of America's first female deputy sheriffs and her two rambunctious sisters. Her latest was published in January 2021, Dear Ms. Kopp. She also has several popular nonfiction titles on her distinguished resume. Her books have sold over a million copies worldwide and have been translated into 17 languages. She lives in Portland with her husband Scott Brown, a rare book dealer. 
---

About Denied by Mary Keliikoa:
PI Kelly Pruett's search to locate a former classmate's missing father ends in what appears to be a tragic accident. Kelly will play a high risk game of chance with a killer willing to gamble everything to win.