Our Most Anticipated Reads: August 2023
Get ready to be thrilled by our most anticipated reads for this August! With summer slowly coming to a close, keep the excitement alive with these upcoming books!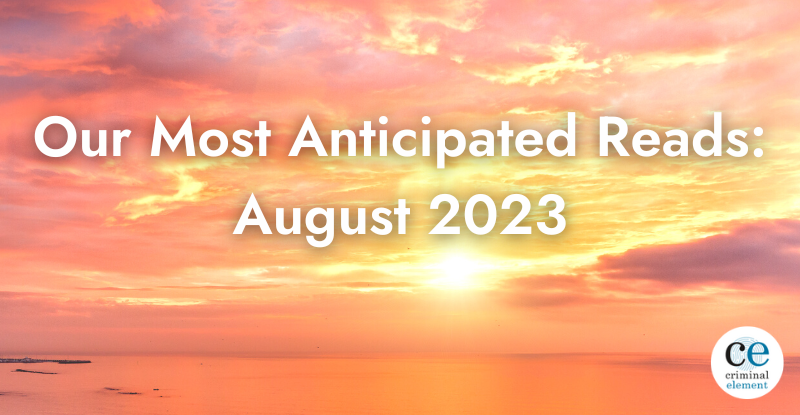 Just Another Missing Person by Gillian McAllister
From the author of the Reese's Book Club Pick and the New York Times bestseller Wrong Place Wrong Time comes a new heart-stopping thriller in which a missing-person case unravels deeper, darker secrets that lead a detective to an impossible moral choice.
Three Fires by Denise Mina
From the award-winning master of crime fiction, Denise Mina re-imagines the "Bonfire of the Vanities," a series of fires lit throughout Florence at the end of the fifteenth century—inspired by the fanatical Girolamo Savonarola.
The Bone Hacker by Kathy Reichs
#1 New York Times bestselling author Kathy Reichs returns with her twenty-second high-stakes thriller featuring forensic anthropologist Temperance Brennan who, following a series of bizarre disappearances on the islands of Turks and Caicos, enters a sinister labyrinth in which a new technology may wreak worldwide havoc.
Out of Nowhere by Sandra Brown
#1 New York Times bestselling author Sandra Brown returns with a fast-paced, emotional thriller where the lives of a young mother and a high-rolling consultant collide under devastating circumstances—culminating in a desperate manhunt that will change their futures forever.
What Never Happened by Rachel Howzell Hall
It's murder in paradise as a woman uncovers a host of secrets off the rocky California coast in a gripping novel of suspense by New York Times bestselling author Rachel Howzell Hall.
The Trap by Catherine Ryan Howard
From award-winning, internationally bestselling crime writer Catherine Ryan Howard comes The Trap: an unsettling mystery inspired by a series of still-unsolved disappearances in Ireland in the nineties, wherein one young woman risks everything to catch a faceless killer.
Deadlock by James Byrne
In this sequel to the highly praised The Gatekeeper, Dez Limerick, one of the best new thriller heroes returns.
North of Nowhere by Allison Brennan
New York Times bestseller Allison Brennan's latest standalone is an unputdownable race to the dramatic finish.
Dead and Gone by Joanna Schaffhausen
The next installment of Joanna Schaffhausen's critically acclaimed Detective Annalisa Vega series.
Tangled Vines by John Glatt
In Tangled Vines, bestselling true crime author John Glatt reconstructs the rise of the prestigious Murdaugh family and the shocking double murder that led to the downfall of its patriarch, Alex Murdaugh.
Bridge by Lauren Beukes
A grieving daughter's search for her mother becomes a journey across alternate realities in this dazzling new thriller from the author of The Shining Girls that is "sheer thrilling madness with a big, beating heart that reminds us we're all connected" (Grady Hendrix).
In a Quiet Town by Amber Garza
In this chilling new novel, a woman discovers that her estranged daughter is missing, but no one believes her, until she meets a man claiming to be her daughter's fiancé.
The Dark Edge of Night by Mark Pryor
"Sharp eyed and sharp mouthed police detective"* Henri Lefort, is determined to solve homicides and uncover any German conspiracies threatening France—in Mark Pryor's newest World War II mystery, The Dark Edge of Night.
The Trade Off by Sandie Jones
From the New York Times bestselling author of the Reese's Book Club Pick The Other Woman comes The Trade Off, an electrifying new novel of suspense that begs the question: Would you tell a story, if you knew it was a lie? Or tell the truth and sleep at night?
The Devil Takes You Home by Gabino Iglesias
From an award-winning author comes a genre-defying thriller about a father desperate to salvage what's left of his family—even if it means a descent into violence.
Dead Mountain by Lincoln Child and Douglas Preston
#1 New York Times bestselling authors Preston & Child return in the latest installment of the bestselling series featuring renowned archaeologist Nora Kelly and FBI Agent Corrie Swanson, who investigate a mystery so enigmatic it may have no solution.
After That Night by Karin Slaughter
Will Trent and Sara Linton are back in an electrifying thriller featuring GBI investigator Will Trent and medical examiner Sara Linton from New York Times bestselling author Karin Slaughter.
I'm Not Done with You Yet by Jesse Q. Sutanto
Some friends—and friendships—are worth killing for in this dark, twisty suspense novel by national bestselling author Jesse Q. Sutanto.