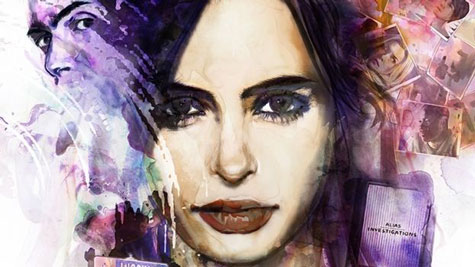 Hello, and welcome back to my look at Season 2 of Netflix and Marvel's Jessica Jones, where Krysten Ritter plays the titular hard-drinking, haunted, superpowered, super sleuth. Last time, we kicked things off with a look at Episodes 1-4. Today, we'll finish the first half of the season with a look at Episode 5: "AKA The Octopus"; Episode 6: "AKA Facetime"; and Episode 7: "AKA I Want Your Cray Cray." Once again, I'll be exploring the aspects of the show I thought did and did not work while using my perspective and knowledge as a longtime Marvel Comics fan and comic journalist to illuminate any Easter eggs or differences from the source materials you might have missed.
So put down that weird inhaler (are you sure it's for your allergies?), and let's go!
In Episodes 5-7, we get a lot of interesting reveals and character moments. Most are great, but one character arc continues to be pretty annoying and feels entirely unnatural, and one was just kind of there. So it was the case of the meh, the awesome, and the ugly.
Let's start with the awesome. That continues to be Jessica Jones. The twists and turns of Episodes 5-7 force Jess to do a number of things outside her comfort zone, and Krysten Ritter excels in portraying the complexities of her character. Ritter does a fantastic job showing Jess's vulnerable side and really captures the pain and reluctance she feels in exposing it.
We learn that the emotional traumas she's endured go far beyond losing her parents and the things Kilgrave did to her. In the flashbacks of Episode 7, we see that her boyfriend Sterling was murdered. Watching Jess cry over his body is heart-wrenching. I'm guessing it will be just as painful, if not more, when Jess learns the role her mother played in Sterling's death.
I really enjoyed the reveal that Janet McTeer's superhumanly strong killer from Episodes 1-4 is, in fact, Jess's still-living mother, Alisa Jones, who is prone to fits of murderous rage. It gives this season a set of very personal emotional stakes for its title character. Plus, making the superpowered antagonist Jess's mother means the resolution has to be different from what happened with Kilgrave in Season 1. Jess can't just walk up and snap her own mother's neck—especially since Alisa has been shown to be stronger than Jess. The final showdown should be interesting.
These episodes also introduce the man responsible for orchestrating that showdown between mother and daughter: Dr. Karl Malus. I instantly recognized the name when I heard it in Episode 6. In Marvel Comics' shared universe, Malus is sort of your stereotypical mad scientist. His experiments have menaced a variety of heroes, including Spider-Woman, the Thing, and Captain America. I first encountered him back in the 1980s in a story featured in a Thing comic where he was offering an illegal procedure to endow professional wrestlers with superhuman strength.
However, the Jessica Jones version of Malus is a little bit different and, in my opinion, more interesting. He's almost like a hippie version of Doctor Frankenstein. While his intentions are good, they're nullified by his hubris and the ruthless, illegal, and insidious things he and Alisa do to "fix" his mistakes. I'm very interested to see the role he plays in these upcoming episodes.
Also, I'm really enjoying the way Canadian character actor Callum Keith Rennie is playing Malus. The only thing I didn't like was the ease at which he seems to get the drop on the Jones women and knock them out with a syringe full of sedatives. It feels like it happened at least three times in these episodes.
Another comic Easter egg that popped out to me in these episodes is the painting that Oscar Arocho (J. R. Ramirez)—Jess's building super and possible love interest—gives Jess in Episode 6.
It might look familiar to fans of both the Jessica Jones comics and the promotional artwork done for the show. That's because it was painted by David Mack, who regularly does covers for Marvel's Jessica Jones comic series as well as the promotional image designed for Season 1 that appears at the top of these reviews.
Malcolm's character arc continues to be enjoyable. He's really growing into the role of investigator, and it's fascinating to watch him discover that some of the duplicitous things he learned to do as an addict aid him in his role as a PI. However, I'm worried that his collision with the disaster that's been Trish's character arc this season could ruin my enjoyment of his character.
Trish's boyfriend, Griffin, is revealed not to be as insidious as he appeared to be in Episodes 1-4. I like that she left him after realizing she wanted to be him—she didn't love him; it felt like a natural development. What I don't like, however, is Trish's need to prove herself, which has caused her to spiral out of control and become a hyper-aggressive addict who's addicted to the super steroid inhaler that Simpson left behind. It's aggravating and makes her character appear stupid.
Episode 7 does a good job showing Trish's history with drug addiction. It felt organic given what we've learned about her awful childhood. But the fact that she's spiraled and is using out of a desire to prove herself to other people like Jess feels at odds with the supportive character I knew and liked last season.
Jeri Hogarth is most interesting in her interactions with Jess and Malcolm, but her own storyline continues to just sort of be there. It picks up a bit of momentum in Episode 6 when Inez Green tells her about the IGH experiment who had healing powers; let's hope they capitalize on that development soon. I want to see Jeri make some selfish and morally murky choices. Also, learning about an IGH experiment with different powers from Jess, her mother, and Simpson (who all have superhuman physical traits) could open the door to new story possibilities in future seasons.
Oscar is an interesting addition in that he brings out a different side of Jess. Ultimately, I hope she finds her way back to Luke Cage, but if they're going to give her a significant other, I think Oscar's reformed forger trying to be a good dad will be a decent fit.
Pryce Cheng's confrontation with Jess outside of the police station has to go down as some of the best creative swearing in this series so far. Jess tells him he's a shitty investigator who should go beat off in a corner and that she doesn't give a dead moose's last shit about him. A hilarious moment, and I'm interested to see whether Jess's verbal castigation of Cheng causes him to change for the better or become someone much nastier.
So with Episodes 5-7, Season 2 of Jessica Jones gets a lot better in many ways, but there are still some things I don't care for. We'll see if it can rise to the heights of Season 1 when we dive into the back half of Season 2 with a look at Episodes 8-10. I'm off to watch those episodes now!
Please join me back here next Wednesday as we take a look at Episodes 8-10 of Season 2 of Jessica Jones!
---
Dave Richards covers all things Marvel Comics for the Eisner Award-winning website Comic Book Resources and his book reviews and other musings can be found at his blog Pop Culture Vulture.