Hong Kong's Second Golden Age of Kung Fu Films
Brian Klingborg, author of the new Inspector Lu Fei mystery, Thief of Souls, returns this week to recall Hong Kong's second Golden Age of Kung Fu films.
In the old days before streaming video, the only place you could reliably see a Chinese martial arts movie was on your local TV station's Saturday afternoon broadcast of Kung Fu Theater, or some similarly named program. Chances are it would a double feature—Shaolin Executioners followed by Dirty Ho, perhaps—featuring guys in bad wigs and fake beards duking it out to the accompaniment of cheesy sound effects and ridiculously dubbed dialogue: "So, you think you can beat me, do ya?" "Your mantis/monkey/crane/tiger style is no match for my 18 Lohan/9 dragons/72 drunken shrimp style!" "Saayy…your kung fu is pretty good!"
Although many consider these titles to be classics, they didn't do much for me at the time. Perhaps it was the stilted choreography of the fight scenes; the bargain-basement production values; the convoluted or nonsensical plots. After about five minutes, I usually just switched them off.
To be fair, such films were never intended to compete at Cannes for the Palme d'Or. In the late 1960s and throughout the 1970s, they were churned out quickly and at low cost, using a rotating cast of writers, directors, actors, and martial arts choreographers. In other words, they were the cinematic equivalent of fast-food—cheap, palatable, and a lot of filler to go along with the killer.
Even Bruce Lee, despite his international status, barely made a dent in Hong Kong's traditional style of filmmaking. He released only a handful of motion pictures between 1971 and 1973 which, in terms of box office numbers, proved more successful with foreign audiences than Chinese viewers. After his untimely death, aside from some "Bruce Li" rip-offs, local studios went back to cranking out movies much as they had before he burst onto the scene.
But then something interesting happened, right around 1978. Two things actually: kung fu movies stopped taking themselves so seriously, and fight scene choreography broke free of tired old conventions and started to really kick some ass. 
We probably have Bruce Lee to thank for the first one. Jackie Chan, the court jester of kung fu, has suggested that his slapstick comedic style was an attempt to distinguish himself from the deadly seriousness of Bruce's onscreen persona.
As for the upgrade in the fight scenes, in a roundabout way, they were the result of a dying industry—Chinese opera.
Most westerners are familiar with Chinese opera's colorful face paint, outlandish costumes, and, to foreign ears at least, discordant music.   But this centuries-old art form is truly staggering in the breadth of skills it requires of performers, including singing, acting, dancing, acrobatics, and martial arts. Learning the basics requires many years of dedicated practice, and traditionally children were apprenticed to a master when they were as young as 8 or 9. The opera troupe then became their surrogate family and means of making a living for the remainder of their lives.
By the late 1970s, the popularity of Chinese opera was on the wane, and this form of apprenticeship—or indentured servitude, if you like—was on its last legs. But not before it produced a new generation of artists who could punch and kick, flip and tumble, wield a variety of weapons, sing, and dance, and who saw movies as a physically less arduous way to put food on the table. Most of the stars who ushered in this second golden age of kung fu films emerged from one of Hong Kong's opera schools, including Jackie Chan, Sammo Hung, Yuen Biao, Yuen Woo-Ping, and many others.
The new crop of films retained the cheap production values of their predecessors but blended the physical comedy of Harold Lloyd with acrobatics and kung fu to create a new fighting style that was both savage and thrilling. Sure, there was still an abundance of filler, but the fisticuffs, sight gags, and incredible stunts made the dull interludes worth the effort.  
Sadly, in the early 90s, due to a variety of factors, the film industry took a serious nosedive. And today's Hong Kong action star owes his or her celluloid prowess more to clever camera angles and editing than actual martial arts training.
But enough filler—let's get to the killer: my top five kung fu films from Hong Kong's second golden age.
Project A 2 (1987)
This movie holds a special place in my heart because it was the first film I saw in a theater when I spent a year studying abroad in Taiwan, and it simply blew me away. At the time, I was vaguely familiar with Jackie Chan, probably through one of his subpar attempts to break into the US market, such as Battle Creek Brawl, but to see him in all his unfettered glory—the crazy stunts, ballistic fight scenes, comedy sight gags—was nothing short of an epiphany. Forever after, watching a fight scene in a western movie has been like comparing a child's fingerpainting to Hieronymus Bosch's The Garden of Earthly Delights.
Police Story (1986)
Jackie has stated that this is among his favorite of his own films, and he'll get no argument from me. The fight scenes are fast and fierce, and the stunts, including a car tobogganing down a steep hill through a shanty town and Jackie dangling off the back of a speeding bus by an umbrella, are death-defying.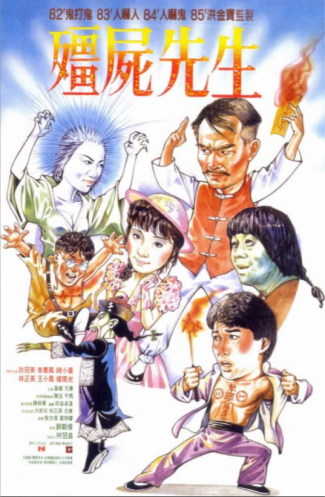 Spooky Encounters (1981) and Mr. Vampire (1985)
I'm cheating a bit here, but these two films fall into my favorite subgenre—kung fu horror—and each was instrumental in establishing popular tropes copied by countless other similar films. Spooky Encounters was directed by and stars Sammo Hung, Jackie Chan's senior in their childhood opera troupe and a true innovator in the Hong Kong film industry. In the film's climactic battle, Sammo hilariously fights the disciple of an evil Daoist priest while possessed by the monkey god. Be forewarned, though—although played for laughs, there are some problematic misogynistic scenes. Mr. Vampire stars Lam Ching-ying, who likewise cut his teeth in Chinese opera, playing the role which would come to indelibly define him—that of the stern, but fatherly Daoist priest who mercilessly pummels various creatures of the night.
 Once Upon a Time in China (1991)
A starring role for Chinese wushu champion Jet Li, who despite his relative youth, managed to imbue his portrayal of 19th-century folk hero Wong Fei Hung with a great deal of gravitas. This was a relatively big production and it shows—the costumes, sets and props are several cuts above the standard Hong Kong fare. I think it greatly outshines Jackie Chan's Drunken Master films, in which he also portrays Wong Fei Hung. (Sidenote: the real Wong Fei Hung was a master of Hung Ga, not drunken fist.)  (Side-side note: yes, I am well aware that Hung Ga has its own drunken fist techniques).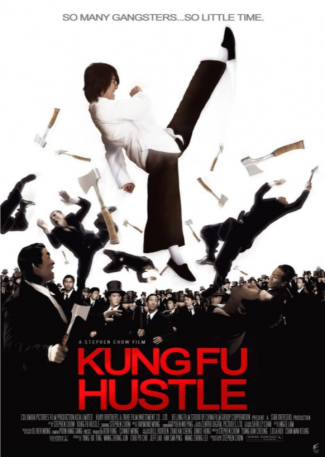 Kung Fu Hustle (2004)
Although star Steven Chow can't match the physical skills of performers like Jackie and Sammo, Kung Fu Hustle represents the epitome of Hong Kong martial arts cinema. It benefits greatly over its predecessors in terms of affordable CGI special effects, but beyond that, it features a stellar blend of absurdist humor, fun fight scenes, just enough romance and yet not too much, and a heartfelt story in which a callous youth embarks upon a redemptive journey from zero to hero.
---

About Thief of Souls by Brian Klingborg:
Lu Fei is a graduate of China's top police college but he's been assigned to a sleepy backwater town in northern China, where almost nothing happens and the theft of a few chickens represents a major crime wave. That is until a young woman is found dead, her organs removed, and joss paper stuffed in her mouth. The CID in Beijing—headed by a rising political star—is on the case but in an increasingly authoritarian China, prosperity and political stability are far more important than solving the murder of an insignificant village girl. As such, the CID head is interested in pinning the crime on the first available suspect rather than wading into uncomfortable truths, leaving Lu Fei on his own.
As Lu digs deeper into the gruesome murder, he finds himself facing old enemies and creating new ones in the form of local Communist Party bosses and corrupt business interests. Despite these rising obstacles, Lu remains determined to find the real killer, especially after he links the murder to other unsolved homicides. But the closer he gets to the heart of the mystery, the more he puts himself and his loved ones in danger.