Good Dog, Bad Cop by David Rosenfelt: Featured Excerpt
For the K Team, playing "good dog", "bad cop" is all fun and games...until there's a body on the scene, in the next K Team Novel by bestselling author David Rosenfelt. Start reading an excerpt here!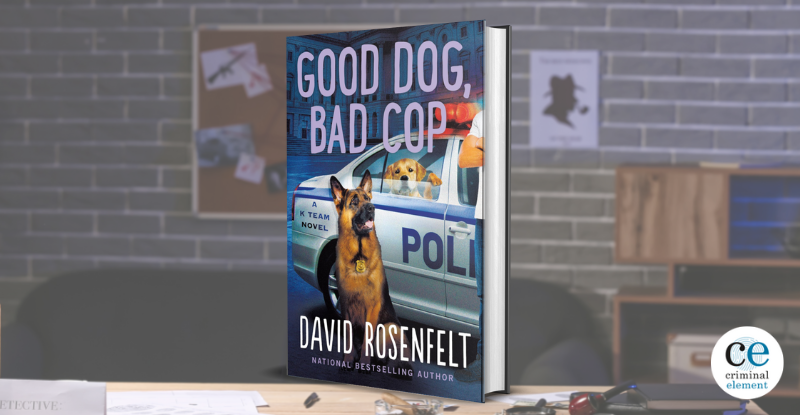 It had been a while since Danny Avery was on anything resembling a stakeout.
Of course, this could never be classified as a normal stakeout. No one else in the Paterson Police Department knew where he was or what he was doing; Avery was working this one independently.
At some point they would find out, but by then the operation would be over.
Of course, if it wasn't successful, they'd never hear about it. Because in that case he sure as hell would not be filing a report about it.
Fortunately, this action tonight was not going to last long—two hours at most. Then Avery would follow his subject, approach him when he was alone, and drop the hammer on him.
He was very much looking forward to that.
Avery was well positioned on the darkened street, far enough away that he could not be seen, but absolutely in a place where he could not miss seeing the target when he appeared. Avery was pretty confident that no one had seen him, certainly not the people he was after.
He could hear their conversation through the planted wire, and it was going exactly as he hoped. He was recording it on his phone and would ultimately make good use of that audio.
But for the moment Avery would have to wait, anxiously, because this night would be the night it would all start to come together, one way or the other. It had taken a lot of time, and the next two hours would seem like no time at all by comparison.
Avery's reputation, and his future in the department, were on the line, and this would change the trajectory of both for the better.
Two hours.
Danny Avery never heard the noise or felt the impact. The back of his head exploded, sending blood and brain matter all across the dashboard and the front windshield, which shattered when the bullet reached it.
His assailant reached into the car, grabbed Avery's cell phone from the dash, and fled into the night, unseen.
The idea of people getting away with murder pisses me off, which is why the past two days have been so infuriating.
My name is Corey Douglas, and along with my partners Laurie Collins and Marcus Clark, we call ourselves the K Team. That name is in honor of the fourth member of our squad, Simon Garfunkel, the German shepherd who retired from the Paterson Police Department when I did.
Naming our group was Laurie's idea, and I reluctantly went along. I pointed out that we are private investigators, not a bowling team. But I gave in because there's no harm in a name, so it just wasn't a big deal. I would certainly have drawn the line at wearing uniforms if anyone had suggested it.
Even though we are private investigators, we've recently been at least partially on the public payroll. That's because Pete Stanton, the captain in charge of the Homicide Division of the Paterson PD, has hired us to investigate cold cases.
Pete had explained that financial restrictions were preventing him from hiring new cops, but that a budget anomaly provided funds for hiring consultants. He figured if he didn't spend the money, he wouldn't get credit for being frugal. The bureaucrats would just take back the money.
So we are the chosen consultants . . . well-paid chosen consultants at that. I'm making three times what I made in my days on the force, overtime included. Best of all, I don't have to punch a clock, and nobody is looking over my shoulder.
Pete has given us general freedom to decide which cold cases we're interested in tackling, though he has to sign off on them. So for the last two days here at the station we've been going through the files he's provided, which have been among the most unpleasant days I can remember.
As an ex-cop, I am aware of the awful things that people can do to each other, and how often they do them. So going through these cases, which consist of one unsolved murder after another, does not shock or enlighten me.
But it does depress me, and it certainly angers me, since each case represents at least one person that has literally gotten away with murder. Unless the killers have been convicted of another crime and put away, they are living among us, going about their business after having deprived someone else of their very life.
The friends and family of those victims have never gotten any kind of closure, which must drive them crazy.
It sure bugs the hell out of me.
There are few of these cases that I wouldn't want to tackle; I'd like to systematically put every one of these assholes behind bars. But we have to do it one at a time, and the one I am most interested in is not even in the files Pete provided.
Laurie, Marcus, and I had discussed this when Pete first talked to us about taking on the cold cases. We agreed that if any one of us had a deep personal interest in a case, then the others would defer and let that person choose.
I have such an interest, and since we're all in Pete's office about to tell him our choice, he's about to hear it. But he's not going to like it.
"Jimmy Dietrich and Susan Avery," I say.
The look on Pete's face is completely predictable; it's as if he's just taken a sip of a horseshit smoothie. "Don't go there."
"That's our pick. Or at least it's my pick, and my partners are willing to indulge me."
"We're good that way," Laurie says.
Pete shakes his head. "It wasn't even in the case files I gave you."
"We noticed that," I say. "Obviously an oversight by you. But the Jimmy Dietrich, Susan Avery case is still our choice."
Pete is getting frustrated. "As you may remember, the idea of this arrangement is for you to find out who committed crimes that are currently unsolved."
Laurie jumps in again. "This case fits that directive, Pete, especially the Susan Avery piece. There's no question that she was murdered, and no one has been officially identified as her killer."
"You know damn well why that is," he says. "If you were to get into this, the strong possibility is that you would not like what you find, if you find anything at all."
I nod. "Maybe. Or maybe not. We won't know until we know."
"So if that's the way it turns out, if you prove what happened, who will be better off for it?"
"We'll know the truth, Pete," I say. "That will have to be good enough."
Pete shakes his head. "I'm not convinced. Besides, the case is what . . . a year and a half old? It hasn't had time to turn cold. It's lukewarm."
"Have you had people working it lately?"
"You know I haven't."
"Then it's cold," I say.
He remains obviously unconvinced. "I'll have to think about it. What's your second choice?"
"We don't have a second choice, Pete," Laurie says.
I look at Laurie, and she nods her silent agreement at what she knows I'm going to say next.
"How about if we make it a two-for-one?" We knew how this conversation would go, so we held this out as a bargaining chip to close the deal.
"I'm listening." Pete also knows full well where this is going. "We'll look into Danny Avery as well."
Pete smiles. "Now you're talking."
* * *
Copyright © 2023 by David Rosenfelt. All rights reserved.
About Good Dog, Bad Cop by David Rosenfelt:
The K Team enjoys investigating cold cases for the Paterson Police Department. Corey Douglas, his K-9 partner Simon Garfunkel, Laurie Collins, and Marcus Clark even get to choose which cases they'd like to pursue. When Corey sees the latest list of possibilities, there's no question which one to look into next.
Corey's former mentor, Jimmy Dietrich, had his whole identity wrapped up in being a cop. When Jimmy retired three years ago, his marriage quickly deteriorated and he tried–and failed—to get back on the force. Jimmy was left to try to adjust to life as a civilian.
Not long after, two bodies were pulled from the Passaic River. A local woman, Susan Avery, and Jimmy Dietrich. With no true evidence available, the deaths went unsolved and the case declared cold. This didn't stop the whispers: an affair gone wrong… a murder-suicide committed by Jimmy.
Corey never believed it. With this case, the K Team has the opportunity to find the real murderer, and clear Jimmy's name. Bestselling author David Rosenfelt returns in Good Dog, Bad Cop, where there's little to go on, but that won't stop Paterson, New Jersey's favorite private investigators from sniffing out the truth.