For the Love of Crime Comics and Graphic Novels
Alverne Ball is the author of Blue Religion, the sequel to 2016's Only the Holy Remain. He visits the site this week to share 5 of his favorite crime comics.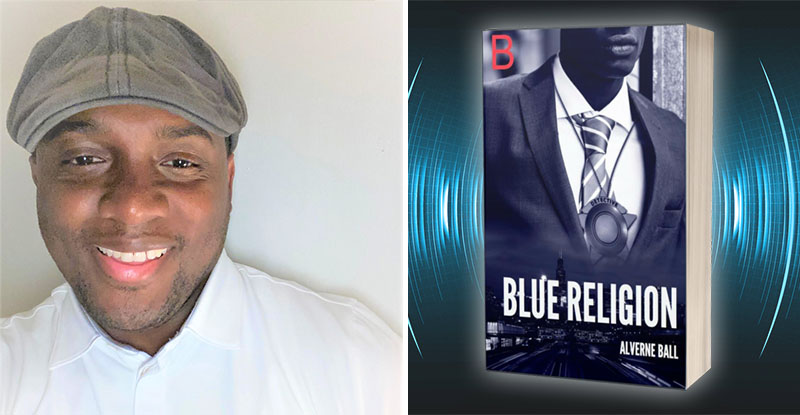 I love crime comics—so much so that I hope to one day create an imprint dedicated to all things crime. I write crime fiction novels, too (my newest, Blue Religion, hits the shelves October 12), and screenplays, and just signed a deal to pen a new crime comic series. When I'm not writing, I look to other writers, artists, and publishers to give me my fix of the whodunit, the murderous intent, and the often macabre that crime fiction can encompass. And comics, particularly crime comics, are many times the first thing I'll turn to.
I like a good escape, which is why I read comics in the first place. I also love a great story—both for inspiration and entertainment–and crime comics often tell some of the most complex, layered stories, full of three-dimensional characters with grounded ambitions that allow readers to take away a variety of responses to the material, which can result in a more altruistic look at our own humanity and our place in it.
There are plenty of excellent, well-known entries in the canon—Criminal, Vol. 1 & 2, Batman: The Long Halloween, From Hell, Richard Starks' Parker series, The Road to Perdition, 100 Bullets, Jinx, and so many more. For some others that you may not have tried, here are 5 of my favorites:
Publisher: Image comic, writer: Jonathan Hickman, artist: Tomm Coker
This comic follows the story of the occult; more precisely, the banking corporate establishment that makes the world go round and its ties to the Almighty God of Money, Mammon. Through human sacrifice, black magic, and murder, the question of how far one detective will go to obtain the truth versus attaining the almighty dollar is a query that is thoroughly examined. Hickman's research into the real Black Monday, which occurred when the stock market crashed on Oct. 19, 1987, and his understanding of the occult puts this book on the level of the film, Seven, in regards to the methodical murders of the elite.
Now defunct but available through Amazon or most bookstores. 13 books in total. Vertigo, DC Comics, writers: various, artists: various
Like Pokémon, I'd say you gotta collect them all because these black and white hardcover and softcover graphic novels cover myriad genres and the one thing that they all have in common is that they involve crime. This menagerie is a must-read because the genres of horror, fantasy, whodunit, mystery, hard-boiled, and more are all on display and are perfect examples of what the forms can do.
Publisher: Berger Books/Dark Horse comics, writer: Mat Johnson, artist: Warren Pleece
The story follows a Black reporter named Zane, who passes as a white person so that he can report on the lynchings of Black folks in the South. When his darker brother is accused of murder, Zane must go "deep cover" and find the truth before his brother becomes yet another lynched Black man like so many he's reported on before.  This is a must-have on any crime comic reader's bookshelf because this timeless story touches on racism and the lynching of Black people but from the perspective of a "white" bystander, plus the mystery that unfolds will have you going back through the book, piecing the story together.
Publisher: Fair Square Comics writers: various, artists: various
This volume is a graphic novel anthology of Black crime stories told by African American writers and artists. It is a vivid and colorful viewpoint of the American experience as seen through and told from the perspective of Black creators. With stories by such writers as Brandon Easton, David Walker, Brandon Thomas, and Greg Anderson Elysée, and art by powerhouse illustrators Marcus William, N. Steven Harris, and many more, this is a must-have for any reader looking to dive deep into what it means to tell a crime story.
Publisher: Pm Press, writer: Bill Campbell, artist: Bizhan Khodabandeh
This 2021 book is a fictionalized retelling of the 1923 riot that occurred in Carnegie, PA after the KKK came to town to cleanse it of its Catholic and Jewish residents. The story focuses on a Sicilian immigrant, Primo Salerno. He is not a leader; he's a man with a troubled past: He was pulled from the sulfur mines of Sicily as a teen to fight in the First World War. Afterward, he became the focus of a local fascist and was forced to emigrate to the United States. He doesn't want to fight the KKK but feels that he may have no choice. The entire town needs him—and indeed everybody—to make a stand. This breakout hit is up there with Incognegro because it does something that rarely occurs in the genre of crime graphic novels— it takes a look at an objectionable moment in the racially charged history of the United States and it reflects that image back at the reader as a pseudo-double-consciousness to remind us of how far we've come, but more importantly, to show us how easy it can be for us to step back into that darkness of our racist past.
While these 5 books are an excellent place to start, they in no way can represent all of the treasures in the vast sea of graphic novels and comics that deal with the subject of crime. For those of you who already know and love the genre, what are some of your favorites that aren't (yet) on this list?
---
About Blue Religion by Alverne Ball:
Flanked by his new partner Fred Lions, while also battling remnants of his father's recent conviction, Frank chases down clues across the city as he begins to assemble pieces of the case. With mounting pressure from his girlfriend Gloria, as well as the Assistant State's Attorney striving to make a career off the case's headlines, Frank must keep his head on straight as he attempts to find the killer and navigate the pitfalls of the blue religion.