Five Novels Portraying Messy Mother and Daughter Relationships
Amber Garza—author of In a Quiet Town—shares a thoughtful essay regarding the complex yet heartwarming relationships between a mother and a daughter by listing some of the best examples from contemporary books.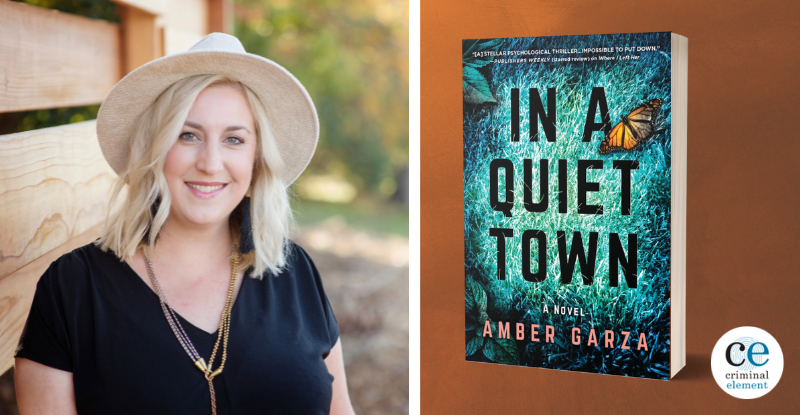 Arguably, there's no relationship more intense and complicated than the one between a mother and daughter. It's often fraught with contradictions. Extreme love, yes, but sprinkled in can be resentment, disappointment, and a need to please or control. This makes the perfect material for domestic suspense novels. I love books that show the many complicated sides of a mother and daughter relationship. Even better if it exposes the darker sides. In my novel In a Quiet Town, Tatum hasn't seen her daughter, Adrienne, in years, not since Tatum's husband—the pastor in their small California town—all but disowned her. When she finally gathers the courage to secretly reconnect with Adrienne, Tatum's thrilled she's even willing to talk to her. But their relationship is strained, resentments and old hurts acting as a barrier between them. When Adrienne disappears, Tatum is desperate to find her daughter and make things right between them. I enjoyed writing this nuanced relationship, the ups and downs, the moments of good and moments of bad, the miscommunications and missed opportunities, coupled with bright spots and wins. 
Here are five other novels portraying messy mother and daughter relationships. 
Mothered by Zoje Stage
Mothered takes an already tense mother and daughter relationship and further complicates it by trapping them together with a shelter-in-place order. What results is thriller gold. After Grace loses her job and is struggling to pay her bills, she reluctantly agrees to let her mother Jackie move in with her. It is the height of the pandemic, so Grace and Jackie shut in together. Old issues resurface between the two of them, and Grace's mental state begins to deteriorate. She starts having flashbacks and nightmares. Similarly, Jackie's behavior changes from somewhat pleasant to combative and defensive the longer she's there. The story is claustrophobic and, at times, chilling. The relationship between mother and daughter is authentic and well-done all the way to the explosive ending. 
The Favorite Daughter by Kaira Rouda
Jane's oldest daughter Mary died a year ago in a tragic accident and she's been grief-stricken ever since. Now, her youngest daughter Betsy is graduating from high school and her husband has planned a memorial for Mary. Jane doesn't simply want to participate in these events, but control them, along with everyone else around her. She suspects there was more to Mary's death – that perhaps it wasn't an accident at all – and she's determined to find out the truth. Jane and Betsy's relationship is strained and the main reason for this is that Jane seems to have always preferred her older daughter to her younger one. Even worse, it appears Jane might suspect Betsy's the one who harmed Mary. This story is an intriguing look at a dysfunctional mother and daughter relationship.  
The Good Girl by Mary Kubica
This story and its stunning plot twist has haunted me for years. The story begins with a handsome man hitting on Mia Dennett at a bar. She is taken in by his charm and leaves the bar with him. But the stranger isn't who he seems, and this will prove to be a grave mistake when he ends up abducting her and holding her captive. Her mother Eve works with a detective to try to find her daughter. It's clear from the start that Mia and her mother have a strained relationship. At first Eve hesitates to even believe her daughter is truly missing. Once she comes to grips with that fact, she spends a lot of time thinking back to the things she felt she could have done better while raising Mia. 
Daughter by Jane Smelt
More of a family drama then suspense novel Daughter is the story of Jenny, a doctor and mother to three teenage children. When her fifteen-year-old daughter disappears, she tries desperately to find her. The story is mostly about Jenny's journey as a mother. She replays the past couple of years trying to piece together clues she missed that led to her daughter's disappearance. Through her flashbacks, we learn a lot about their relationship and what may or may not have gone wrong. The ending to this book is one I've thought about for years. 
The Night Oliva Fell by Christina McDonald
This chilling novel starts with Abi Knight being awoken by a phone call in the middle of the night, relaying to her that her daughter Olivia has fallen off a bridge. Not only is Olivia now brain dead and in a medically-induced coma, she's also pregnant. Abi was not aware of the fact until now. There are a lot of secrets between mother and daughter that slowly come to light throughout the story. I love how this book explores this idea of not only how well we know our children, but how well they know us.
Get a copy of Amber's latest novel here!
*Author Photo Credit: Megan Squires Photography