Crime Stories for Non-Criminals
With his provocative thriller All That Is Mine I Carry With Me launching today, William Landay visits the site to share his unique insights on crime fiction—and the common humanity he believes such novels contain.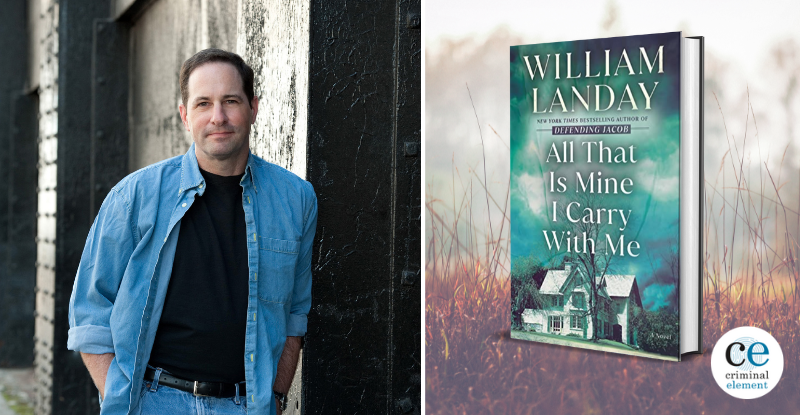 Recently, as my publisher and I began to prepare for the release of my new book, I updated my author bio for the first time in years. I try to be as tight-lipped as possible with personal details, and in this case I ruthlessly whittled down the bio to a single sentence that was essentially a list of my books. Fine, my editor said, but where is the bit about being a "former district attorney"? Well, I left it out intentionally. I have not been an assistant D.A. since 1998. After nearly 25 years, the credential seemed stale and irrelevant. Surely there is a sell-by date on these things.
In the end, the phrase was restored. My editor was right, as usual. The credential has not expired. If John le Carré could advertise himself as an ex-spy sixty years after he'd quit the business, why should I blush at a mere twenty-five? On consideration, I don't find it irrelevant, either. I do write about crime and criminals, and my crime-writing is surely informed by my crime-lawyering. Like most professions, criminal law has a language and a culture of its own. I like to think I speak it with some fluency, even now.
But I still feel a little uneasy with the D.A. business on the book jacket for the simple reason that I don't consider my books to be crime novels; they are novels that happen to involve crimes. If that sounds like a finicky, snobby distinction, I don't mean it to be. I am not sneering at crime novels—least of all on a web site devoted to them. This is not a high-low distinction. I just think the focus on authenticity in crime fiction is misplaced.
The truth is most actual, real-life crime is not worth your attention. There are spectacular, gory, dramatic outliers, of course, but the meat and potatoes of criminal courts is an endless procession of dull, similar cases. The work of a prosecutor, like most lawyers' work, is meticulous and detail-oriented—lots of writing, very few car chases or gun fights. The criminals themselves generally disappoint, as well. Smart, interesting people do commit crimes, but not in smart, interesting ways. (The Massachusetts man who recently killed his wife after Googling "best ways to dispose of a body" makes a shining example.) And of course the vast majority of criminals are not especially smart or interesting to begin with.
I think most readers know all this. As much as we like to talk about the authenticity of crime novels, what we are really after is a compelling story. If that means shaping the facts to the needs of drama, so be it. Realism, yes. Reality, not so much.
It has often been remarked that there is a wide gulf between the readers who consume crime fiction and the characters who populate it. Ordinary people from quiet suburbs, who would not so much as steal a pen from CVS in real life, will quite happily read novels about murderers and thugs of all kinds. What are those readers finding in these books? A common humanity.
One of my favorite quotes on this topic is from the forensic psychiatrist Robert Simon: "Bad men do what good men dream." I think our best fictional criminals resonate so deeply with readers because their crimes connect with universal, fundamental human fears and anxieties. It was Freud who linked Hamlet's hesitation to our own complex feelings about our fathers and mothers, but you don't have to look that closely to draw connections. Surely one reason my own novel Defending Jacob connected with readers was that parenting is such a fraught, anxious experience for all moms and dads. (For that matter, so is being a teen like Jacob himself.) Even the more run-of-the-mill character types in harder-edged crime novels—the tough-guy detectives and crooks that populate traditional crime fiction—embody our own obsessions in their various ways: our aspirations about courage, toughness, and nobility; our anxieties about danger, violence, and insecurity; our suppressed, sinful desires for money, pleasure, or power. In short, we come to crime novels to find something about ourselves, not just to fantasize about a parallel world where Bad Things happen, far from our own universe, far from our own quiet existence.
In a way, my new novel, All That Is Mine I Carry With Me, continues this exploration of what crime stories mean to us non-criminals. Or, more precisely, what we learn when we imagine crime visiting our (hopefully) secure, quiet lives. The novel tells the story of a woman's mysterious disappearance and, for those left behind, the weight of her absence. I tried in every page and in every creative decision to keep the narrative as close to real life as possible—as close to the uncanny valley where realism overlaps reality, where fiction begins to feel uncomfortably true. By flying low to the ground this way, I hope readers will feel the chill in their own lives, as if they had experienced the story in a personal way. Because the best crime stories are not about criminals; they are about us.
About All That Is Mine I Carry With Me by William Landay:
One afternoon in November 1975, ten-year-old Miranda Larkin comes home from school to find her house eerily quiet. Her mother is missing. Nothing else is out of place. There is no sign of struggle. Her mom's pocketbook remains in the front hall, in its usual spot.
 
So begins a mystery that will span a lifetime. What happened to Jane Larkin?
 
Investigators suspect Jane's husband. A criminal defense attorney, Dan Larkin would surely be an expert in outfoxing the police.
 
But no evidence is found linking him to a crime, and the case fades from the public's memory, a simmering, unresolved riddle. Jane's three children—Alex, Jeff, and Miranda—are left to be raised by the man who may have murdered their mother.
 
Two decades later, the remains of Jane Larkin are found. The investigation is awakened. The children, now grown, are forced to choose sides. With their father or against him? Guilty or innocent? And what happens if they are wrong?
 
A tale about family—family secrets and vengeance, but also family love—All That Is Mine I Carry With Me masterfully grapples with a primal question: When does loyalty reach its limit?