Crime By The Book's Best Reads: November 2018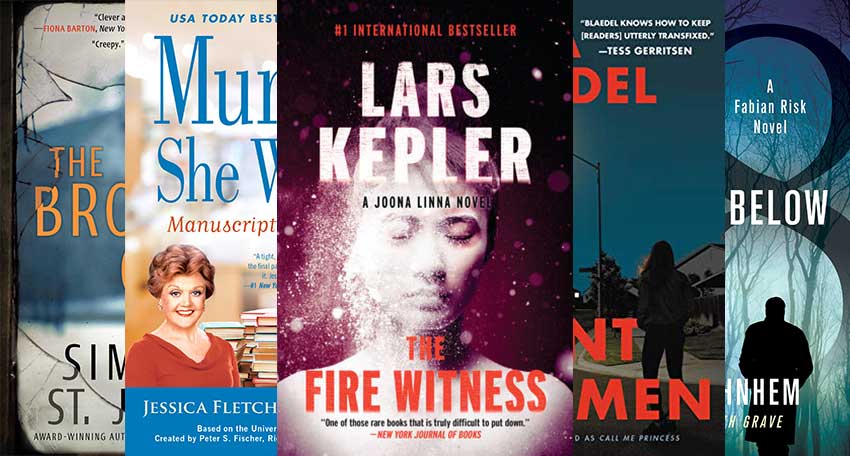 Hey there, reader! It's been great collaborating with Criminal Element on this "Best of the Month" series, and I'm thrilled to highlight these five November books. When I'm not reading crime fiction or writing about crime fiction as Crime by the Book, I can often be found perusing Criminal Element's fantastic selection of crime book reviews and features.
So here's how this feature will work: Each month, I'll be sharing with Criminal Element readers my picks for best books of the month—but this list will have a unique twist. Rather than giving you a general rundown of the new releases I'm recommending each month, I'll be dividing these lists into specific categories—and these categories will change on a month-to-month basis too. This will mean that no list will be exactly like the others. So make sure to check in at the end of each month to see what categories I've created and which books I'm choosing for each!
Without further ado, let's dive right into my picks for Best Books of November 2018!
Best New Paperback
In the market for a chilling winter read? Look no further than Simone St. James' excellent psychological thriller The Broken Girls, now available in a beautiful paperback edition. Set against the backdrop of a boarding school for troubled girls, this dual-timeline novel follows a reporter whose work draws her into a decades-old mystery. In 1950's Vermont, rumors of ghostly apparitions haunt Idlewild Hall, a boarding school where parents send their "troublemaking" daughters. And when one of the girls goes missing on the school grounds, the residents' worst fears about the school seem to be confirmed. In 2014, a journalist with her own personal ties to Idlewild Hall learns that an anonymous benefactor is planning a renovation of the school. Her subsequent research into Idlewild and its history turns up long-buried secrets—and might just lend credence to the stories of haunting that have long plagued the campus. The Broken Girls combines a touch of the otherworldly with a gripping story of a past that just won't stay buried. It's creepy, immersive, and totally atmospheric. This one begs to be binge-read over a snowy winter weekend!
Best New Scandinavian Crime
What a fantastic fall this has been for fans of Danish crime writer Sara Blaedel—and there's more to come! This month, the second book in Blaedel's internationally-bestselling series hit US shelves in a brand-new edition. The Silent Woman was Blaedel's breakout book in her native Denmark, and it's easy to see why: it's is a visceral, gripping story that just feels like the book in which the author hits her stride. Though technically Book 2 in Blaedel's Louise Rick series, The Silent Woman can easily be read as a standalone, or as your introduction to the Louise Rick series. If you're not quite sure where to start with the Louise Rick books, The Silent Woman will make a great choice. It's a dark story, to be sure, but it's also a story that highlights the humanity and heart that make Blaedel's series such a standout. The Silent Woman tackles a very sensitive subject: in this mystery, a serial rapist is targeting women using a popular dating website. In Blaedel's expert hands, this disturbing story is a launching point for a heartfelt and gripping exploration of the bonds between women as they rally against a truly repugnant criminal. The real meat of this story comes in the relationship between police officer Louise Rick and the female victims she becomes an advocate for. This may just be my favorite Blaedel book yet.
Best Nostalgic Crime Read
The winter season just feels like the perfect time to cozy up with a nostalgic crime read, and I can think of very few options with a higher nostalgia factor than Murder, She Wrote. A little bit cozy mystery, a little bit thriller, the newest installment in the iconic Murder, She Wrote series finds Jessica Fletcher investigating claims made against her longtime friend and publisher, Lane Barfield. In Manuscript for Murder, Lane Barfield is accused of financial malfeasance, leading to an FBI investigation of Jessica's dear friend. Determined to clear her friend's name, Jessica embarks on her own investigation—and sure enough, she begins to turn up a number of inconsistencies. But then Lane is found dead, and the stakes are raised. Acclaimed thriller writer Jon Land has recently taken over writing the Murder, She Wrote books, and his background experience in writing page-turning, action-packed crime novels has injected this series with a whole new energy. These are still cozy mysteries, to be sure, but Land's take on Jessica Fletcher is a bit edgier and more modern, making Manuscript for Murder an updated yet true-to-its-roots addition to the Jessica Fletcher series.
Best Cover
As soon as I saw the cover for Lars Kepler's The Fire Witness, I knew this was a book I had to have. (It's a bonus that Kepler is one of my favorite authors… but that's another story!) This thriller centers around a home for wayward girls in which a brutal murder is committed. The case appears to be open-and-shut: the murder weapon is found, and it seems clear which young woman in the home is responsible for the crime. But everything is turned on its head when a woman calls the police and claims to have had a vision of the crime which offers up a very different explanation for the disturbing act. Detective Joona Linna, never one to accept the easy answers, sets out to see if there could be any truth behind the woman's claims, and what he discovers is even darker than he could have imagined. True to form, Kepler delivers a pulse-pounding Nordic Noir novel in The Fire Witness. Pick this book up for rich character development, page-turning plotting, and (of course!) that gorgeous cover.
Most Anticipated December Release
I have yet to read any of Stefan Ahnhem's work, but I'm determined to change that this December! Eighteen Below is the third book in Ahnhem's Fabian Risk series, and its plot sounds right up my alley. In this thriller, a high-speed car chase ends in a bizarre discovery: the car's driver was already dead when his car crashed. In fact, he had been dead for two months, his body frozen in perfect condition at eighteen degrees below zero. Fabian Risk is on the case.