Confessions of a True Crime Junkie
Shanna Hogan, author of four true crime books, including the just-released Secrets of a Marine's Wife, takes us down the path that turned her from a journalist into a true crime writer. Make sure to comment for a chance to win a copy of her new book!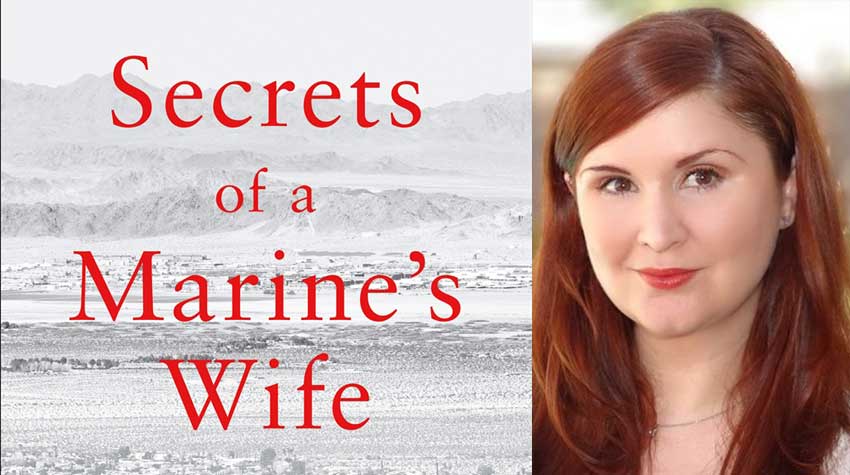 I am a true-crime junkie. Since I was a teenager, I've binged on Discovery ID and true-crime documentaries. Watching the new episodes of Dateline, 48 Hours Mystery, and 20/20 is a weekly ritual. And I devour true-crime books by some of my favorite authors including Ann Rule, Gregg Olsen, John Glatt, Kathryn Casey, and Michael Fleeman.
But that was my secret life for more than a decade. In my day job, I was a magazine writer and editor, working for an Arizona-based family of publications. I specialized mostly in feature stories about interesting people in the community, writing lengthy stories on Bigfoot hunters, teenage exorcists, mail-order brides, cryogenics, and cults.
Still, I was always on the lookout for interesting murder mysteries in my own backyard. In 2008, I found one just about to go to trial. A former Las Vegas showgirl named Marjorie Ann Orbin had been arrested for killing and dismembering her seventh husband, Jay Orbin. In October 2004, Jay's dismembered torso had been discovered in an oversized Rubbermaid container on the outskirts of the Phoenix desert. The story had everything—sex, lies, money, greed, and a gruesome death.
I wanted to know every detail of the story. I purchased the 750-page police report from the Phoenix Police Department for more than $500 and read it like it was The DaVinci Code. After extensive interviews with the lead detective, the prosecutor, defense attorneys, and the victim's family and friends, I wrote my first murder story—"Lady Killer." It was just under 2,500 words and barely scratched the surface of a truly fascinating case.
This story needed to be told in a book. And, I wanted to be the one to write it.
Years before covering the case, I graduated from Arizona State University's Walter Cronkite School of Journalism and Mass Communication with a journalism degree and the hope of one day writing books. But my dream wasn't true-crime writing.
Hunting down the story behind the Orbin case changed me. I found my calling.
Once I discovered my passion, I spent months reading books on writing book proposals, obtaining a literary agent, and navigating the world of professional book publishing. In addition, I dissected and studied some of my favorite true-crime books, examining the aspects I liked and disliked.
Almost a year and a half after writing my first murder article, I was ready to send out my book proposal to agents who represented true-crime. One of the first to respond was the esteemed Sharlene Martin, of Martin Literary Management. She took a chance on me and ended up getting two offers from two different publishers. I signed with St. Martin's Press, which has the best reputation in the business and never looked back. St. Martin's went on to publish my next three books. I had found a way to turn my true-crime obsession into a career.
The book was published as a mass-market paperback and sold well. Yet, it wasn't until a few years later that I truly stumbled upon my big break.
Convicted murderer Jodi Arias—who stabbed her boyfriend nearly 30 times, slit his throat, and shot him in the face—made me a minor celebrity.
It was a case of fatal obsession. Jodi was accused of stalking her boyfriend, 30-year-old Mormon motivational speaker, Travis Alexander, before brutally murdering him in his own master bathroom. She was ultimately caught and convicted of the killing because she had photographed Travis before, during, and after the killing.
When I first started reporting on the case shortly after the murder in 2008, it was relatively unknown. While the story initially received some national publicity, by 2010 it had faded into obscurity, partially because it took about five years for death penalty cases in Arizona to go to trial.
By the time Jodi's trial began in January 2013, I had already secured my second book deal and had been working on the case for more than two years. Because I had also written articles about the case, I was contacted by multiple media outlets and interviewed by programs including Dateline, 20/20, and The View about my reporting on the crime.
For five months I attended every day of the trial. After proceedings ended, I would head to the television trucks parked outside the courthouse where nightly crime commentary shows including Court TV and Dr. Drew wanted to know my take on the trial.
All the publicity helped propel the hardcover release of my book, Picture Perfect: The Jodi Arias Story, on to The New York Times bestseller list.
Months later, my publisher offered me a third book deal about a disgraced Utah doctor named Martin MacNeill, who had been arrested for murdering his wife of 30 years by convincing her to get plastic surgery, drugging her, and drowning her in the bathtub of their million dollar Utah home. The book on that case, The Stranger She Loved, was published in hardcover in 2015.
By then I had quit my job as a magazine editor and started teaching journalism part-time at my alma mater while continuing to write books.
I took my job writing true-life murder stories very seriously. When someone is the victim of murder and their lives are cut short, they are also robbed of the chance to write their own ending. I found value by focusing on the life story of the victims and working closely with their families and friends to bring their story to life. Because of the empathy and sensitivity I have toward the victim, their families often are supportive of my work.
By 2014, I found myself drawn to the story of a 19-year-old pregnant Marine wife named Erin Corwin, who went missing that summer. I followed the case closely as the search for her dragged on for eight long weeks until her body was discovered at the bottom of a mineshaft outside of Joshua Tree National Park. During the investigation, it was discovered that Erin was having an affair, and her boyfriend Chris Lee was ultimately arrested for her murder.
By then, I had learned through my work how the reputation of murder victims is often disparaged in court. Because of her mistakes in life, Erin would surely be condemned in the court of public opinion. I also knew there was a deeper story, and that Erin Corwin was much more than simply a murder victim. I wanted to share the story of who she was in her life.
After more than two years of writing and research, Secrets of a Marine's Wife, is now available wherever books are sold. The book was also selected as the basis for the first season of Macmillan's new true-crime podcast Case Closed, a podcast series about the bad guys who didn't get away with it. I've worked closely with the show's producers to bring a new dimension to this story to podcast listeners.
I hope both readers and listeners are riveted and touched by the story and are fascinated by the many twists and turns in the investigation as I was.
---
Comment below for a chance to win a copy of Secrets of a Marine's Wife by Shanna Hogan!
To enter, make sure you're a registered member of the site and simply leave a comment below.
Secrets of a Marine's Wife Comment Sweepstakes: NO PURCHASE NECESSARY TO ENTER OR WIN.  A purchase does not improve your chances of winning.  Sweepstakes open to legal residents of 50 United States, D.C., and Canada (excluding Quebec), who are 18 years or older as of the date of entry.  To enter, complete the "Post a Comment" entry at http://www.criminalelement.com/confessions-of-a-true-crime-junkie beginning at 12:00 p.m. Eastern Time (ET) March 7, 2019. Sweepstakes ends at 11:59 a.m. ET March 21, 2019. Void outside the United States and Canada and where prohibited by law. Please see full details and official rules here. Sponsor: Macmillan, 175 Fifth Ave., New York, NY 10010.