Book Review: Lost River by J. Todd Scott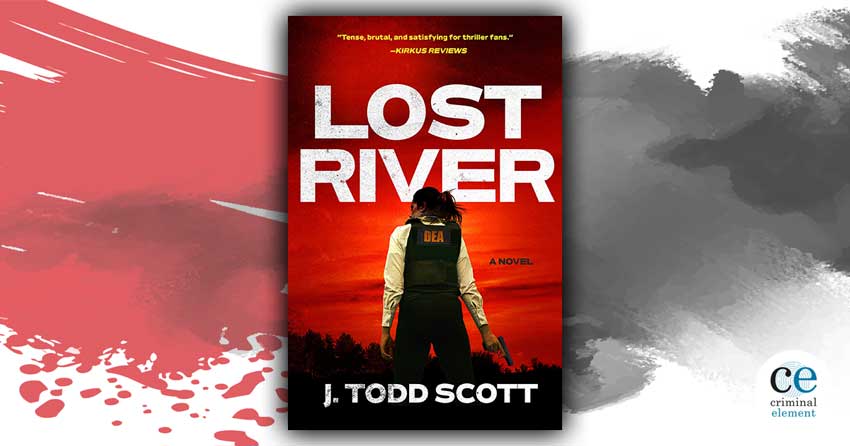 Lost River by J. Todd Scott is a blistering crime novel on the opioid epidemic—featuring its cops, villains, and victims—written by a 25-year veteran of the DEA.
As a crime-fiction aficionado, have you ever hoped Don Winslow and James Ellroy read Hillbilly Elegy and then decided to co-write a police procedural that is an exposé on the opiate crisis set in Appalachia? Obviously, you answered yes, so I have great news: Lost River is that book.
In addition to Lost River, J. Todd Scott has written multiple highly regarded crime novels. Scott is a 25-year veteran of the U.S. Department of Justice's Drug Enforcement Administration (DEA). He's investigated the highest-level transnational cartels all the way down to the lowest-level backwoods meth labs. Scott also has a Juris Doctorate and is a native of Kentucky. You mix all of those ingredients together, and you have the perfect person to cook this book.
Lost River takes place in Angel, Kentucky, a picturesque slice of Appalachia dealing with a severe drug problem. The novel follows several different viewpoints covering a series of events in a large-scale crime, which is an effective structure. Here is an example of the fast pace and taut writing style as shown in the opening chapter:
Kara Grace comes back to life.

Trey used to think that was a miracle but he's not so damn sure anymore.

Dobie holds her head off the grass, hands tangled in her flaxen hair, tossing the spent Narcan aside. She needed only two hits and some oxygen to bring her back from the dead and no chest compressions at all.

Not too bad, all things considered.

Kara Blinks, spits, then nearly throws up. She sucks in air slow like she's sipping out of a straw and starts breathing again with a bang and a rattle, a cold truck engine turning over.

Her eyes are blown wide, but it's hard to know what they're seeing, and they shine with bright fresh tears.

Alive.

Dobie says quietly to no one in particular-

"She's going to be all right. All right."

Trey's not so damn sure about that, either.
Our main character is DEA Agent Casey Alexander, described here:
Casey's own hair is short now. Chopped way, way, down, colored red instead of her natural blond. She cut it two weeks ago and Van Dorn doesn't like it, can't grasp the sudden change, the sort of change she's prone to make on a whim or in a fit of anger or frustration or one of those storm-black moods she's always struggled with.

He told her it makes her look perpetually pissed off, which is kind of a shitty thing to say.

True, maybe, but shitty all the same.
This is a continued description from later in the work:
Young deputy Buechel ignores Casey, like he's afraid to look at her. She's used to it, this magical aura around her, this weird effect she has on other cops, even some of her fellow agents. They either pretend to ignore her or can't keep their eyes off of her.
When an entire local crime family is massacred, Alexander starts investigating due to the drug connection. She works with the resident private ambulance operator's assistant, Trey, to sift through the pieces. The case is complex, and the situation evolves in unpredictable ways. Local corruption and deep-rooted relationships come to the surface in this well-plotted story.
Lost River is an enjoyable but dark novel. It forced me into the shadows and made me thankful I've not experienced such horrors. There were times I felt legitimately uncomfortable, and certain parts were so intense that I needed to take breaks. The novel's delivery and tight structure create a sense of urgency and palatable tension that pushes the story forward at a breakneck pace. The characters are (mostly) well-developed and nuanced, with both the cops and criminals living in the gray space between good and evil. I could sense their motivations and desires independent of the main storyline and focal characters. They are fully realized.
J. Todd Scott's prose is sparse. His legal education and the decades he spent writing DEA investigative reports shine through—in a positive way. My only (minor) gripes are more personal preference: I was occasionally thrown off by his use of present tense, and sometimes the bleakness felt suffocating. Neither of these detracted from the novel, however, which is outstanding. I think Scott soon rises from "well-known" to "celebrity" author, and Lost River may be the catalyst—the novel is that solid.