Book Review: Complicit by Winnie M Li
In Winnie M Li's visceral new thriller Complicit, a woman whose promising film career was derailed has an opportunity for revenge. Check out Doreen Sheridan's review!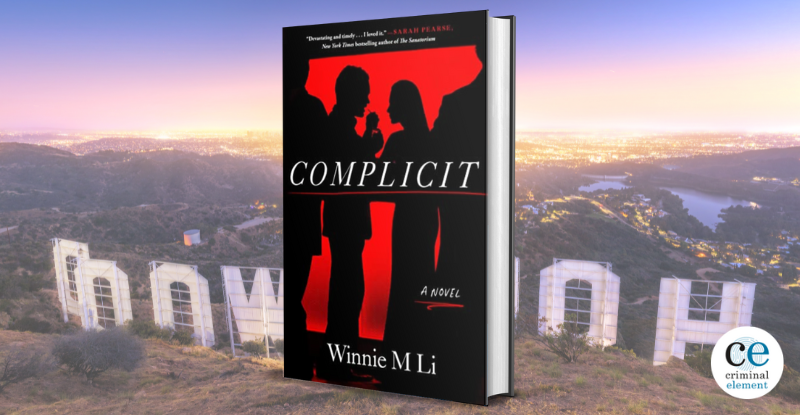 Sarah Lai is a college lecturer who teaches introductory classes in screenwriting to Gen Zers who have perhaps more confidence than talent. She hates her job and is mostly contemptuous of her students, but views it as being at least better than working in her parents' Chinese restaurant. Once upon a time, she thought she'd found a way out of all this drudgery, escaping the East Coast altogether for the bright hot glamor of Hollywood, till a harrowing sequence of experiences sent her running home, looking for safety in anonymity.
But now an email has landed in her inbox, threatening to thrust her into the limelight and turn her world upside down once more. Thom Gallagher is a celebrated investigative reporter for the New York Times, and he wants to ask Sarah a few questions about her relationship with the wealthy and powerful film producer Hugo North.
Just seeing that name again makes Sarah's stomach turn, but she cautiously agrees to talk to Thom. Being a good reporter, he knows how to listen patiently as Sarah tells her story, starting with her own background as a movie-loving kid who defied her parents' expectations to study English at Columbia before jumping on the chance to intern at Firefly Films. The small production company is essentially a one-woman show whose main focus seems to be in advancing the career of photographer and director Xander Schulz. Sylvia Zimmerman, the owner of Firefly, is a hard but mostly fair boss, and Sarah works her butt off to impress her. All that hard work seems to pay off when they finally find a moneybags investor in the larger than life Hugo.
But the more time Sarah spends with Hugo, the more uncomfortable she gets. It's not just that he keeps veering between taking too much of an interest in her and dismissing her contributions entirely. She's used to getting the short end of the stick from Xander and Sylvia, even though her years of hard work have finally earned her the title of Associate Producer. Hugo, on the other hand, takes both the privilege and insecurity of being Executive Producer to a whole other level, even in an industry notorious for that kind of thing:
[T]ake that whole jumble of egos and add a producer to the mix. Well, the producer is the one who's really responsible for a film coming into existence. But no one ever cares about producers. We're those nameless entities who only emerge out of the crowd to receive a Best Picture Oscar each year, and then vanish again. No one goes to see a film because of who's producing it.

So you have all these tensions of who's stroking whose ego, who sees themselves as most responsible for the film's success, and who's getting recognized for their contributions. It's messy.
Sarah can handle messy. After all, she's one of those people who's more than willing to do all the scut work, pushing all her resentments down in the belief that once she's become successful everyone else will have no choice but to acknowledge her brilliance. That all changes when Hugo's hot and cold attitude turns into straight up bullying before finally erupting in violence. Sarah quits the film industry soon after, unable to face up to what happened and her own role in the proceedings.
As Sarah begins to open up to Thom about her experiences, she's overcome by a welter of emotions. Being able to talk about what happened brings up all the rage and grief she's suppressed, as she can finally let go of years of unhappiness and the bitterness that sprang up in its wake. She even grows bold enough to demand of her interviewer:
"You know what about sexual assault makes it so dehumanizing?" I ask, defiant.

"What?" Thom replies. "Tell me."

Because it reduces you, a woman, down to simply that: sexual meat for the desires of someone else. Everything that comprises you as an individual–your intelligence, your talent, your education, your years of experience, or an entire lifetime spent idolizing movies–all that is obliterated the moment you are unwillingly pushed up against a wall, grabbed, manhandled, or worse. It is a simple elimination of yourself as an actual person, with anything worthwhile to say.
But Sarah has her secrets. Even with her newfound openness and the relief it brings, can she bring herself to talk about the worst thing that happened while she was working with Hugo, and the guilt she still carries over it?
This timely novel examines sexual predation in the film industry and the way it derails careers and ruins lives. The genius of this book lies in how, despite its unlikeable protagonist and her occasionally gross attitudes towards other women, it deftly drives home not only how no one deserves to be sexually assaulted but also how keeping quiet about sexual assault rarely serves the public good. 
Winnie M Li is a rape survivor and activist with a background in film herself, hence the realistically absorbing behind-the-scenes details of filmmaking in addition to the frank examination of sexual politics and violence. While Complicit is a work of fiction, it rings true in every infuriating and ultimately cathartic page.