Book Review: Burner by Mark Greaney
In Mark Greaney's Burner, Court Gentry—a former CIA covert ops specialist—is caught between the Russian mafia and the CIA. Check out Jeff Ayer's review!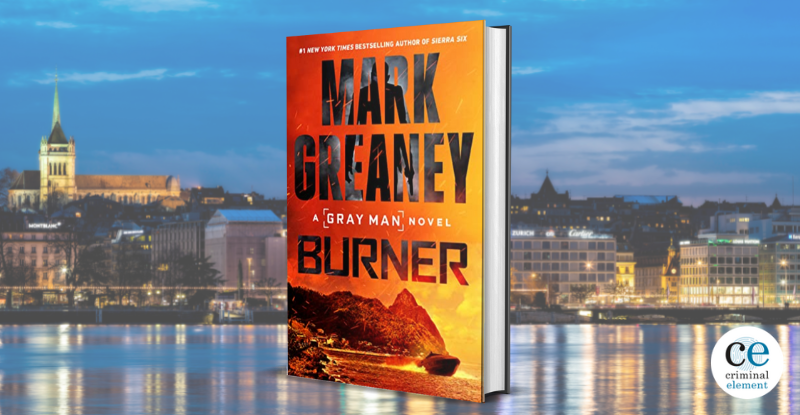 Hot off the success of the Netflix smash film, The Gray Man, Mark Greaney brings back Court Gentry for his twelfth appearance in this intense series.
Gentry is trying to hide from the authorities looking to kill him, but when his former CIA handler Suzanne Brewer reaches out, he can't say no. Teaming up with a green agent named Angela, they are tasked with retrieving what they are told is banking data. Unknown to Court, Angela receives orders to keep an eye out for the Gray Man and, if possible, eliminate him. She has no idea the man she's working with is her potential target.
The data is in the hands of Swiss banker Alex Velesky, and he possesses not mere financial information but rather a map of secret Russian payments and the network using them to subvert in various governments. Velesky knows his life is short, so he ends up working with a former officer of both Russian intelligence and the CIA, Zoya Zakharova. With her help, he hopes to get the goods into the hands of a friend who can encrypt and appropriately disseminate the data.
The groups have different motives and objectives, and when they collide on a train near Geneva, the story is just getting started. It doesn't help that one of the most elite Russian assassins is set on obtaining the data and will kill anyone who gets in his way. And he has a personal history with The Gray Man.
Many authors write in this black-ops landscape, but Mark Greaney is at the head of the class. His novels deliver the action fans of this genre expect, but he also brings a bit of flair to the writing, giving the story a feel similar to classic Robert Ludlum novels. Burner is the perfect starting point for newcomers, and fans will be enamored.