Book Review: A Killer Sundae by Abby Collette
In the third installment of Abby Collette's charming Ice Cream Parlor Mystery series, Bronwyn Crewse is in for two scoops of murder...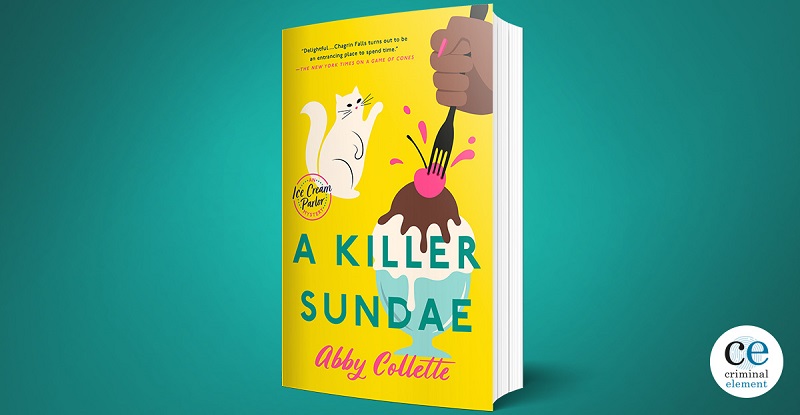 Win Crewse is super excited about the new food truck she bought to expand the operations of her family's ice cream store, Crewse Creamery. With summer festivities well underway in Chagrin Falls, Ohio, the ice cream truck is proving a wise investment, especially since it's allowing the creamery to essentially have two locations open. One of these is at the annual Harvest Time Festival, where Win and her employees are hoping not only to sell a ton of ice cream but also to point tourists drawn to the festivities back in the direction of their brick-and-mortar store, too.
To this end, Win is more or less pleased when her old schoolmate Kaitlyn Toles stops by for a sundae. A former Harvest Time Festival Queen, Kaitlyn has parlayed her good looks and killer instincts into chasing down stories as Channel 6's star news reporter. Never mind that she's ruffled a few feathers along the way: making friends was never really her deal anyway. But Win and Kaitlyn's shared history makes them more inclined to look out for each other than not, with Kaitlyn offering to feature the Creamery's food truck in her coverage of the festival and Win taking care to ensure that no nuts come into contact with the highly allergic Kaitlyn's sundae.
So when Kaitlyn collapses several hours later, and her boyfriend Cameron Toffey accuses Win of deliberately triggering her deadly nut allergy, Win is absolutely stricken. She and Kaitlyn were never the best of friends but she would never wish harm on the other woman, and certainly not in a way that would jeopardize the good name of her family's business. When Kaitlyn is pronounced dead, Win is so deeply affected she doesn't even know if she can offer the surviving Toles her condolences:
I got out of the car and started walking to the [Toles'] house, but my knees had a different idea, and they seemed to win over my stomach. I slowed down, my knees weak, feeling like they'd falter any minute. Butterflies set off in my belly that seemed to turn into bats. My mouth was dry. I was afraid.

Afraid they might believe Cameron. Blame me for Kaitlyn being dead. Afraid that I might not find the right words to say when I started to speak. Afraid that I would only make them more upset by being there.
Fortunately for Win, it soon becomes clear that she had nothing to do with Kaitlyn's death, which turns out to have been due less to an allergen exposure than to a very deliberate poisoning. However, the arrival of a suspicious book has Win wondering whether someone else she knows could possibly be involved, both in Kaitlyn's demise and in others'. Despite her strong aversion to solving murder mysteries, she finds herself drawn in, especially after a contrite Cameron shows up at the Creamery, begging for her help in figuring out what really happened to Kaitlyn and why. 
Win's best friends, as always, egg her on in their own separate ways. Maisie Solomon is just recovering from chickenpox and is even more excited than usual for an adventure. Riya Amacarelli is more level-headed, but she does have a thing for the lead investigator, police detective Liam Beverly. The depictions of Maisie and Riya's relationships with Win, through thick and thin, are one of the highlights of this charming series:
Riya was one tough cookie. She'd saved my life. Literally. But when it came to emotions, she wasn't sympathetic nor did she get teary-eyed. She would usually explode. Her fight-or-flight response was never the latter.

Maisie, on the other hand, was a vitamin-pill-popping, community-garden-eating, I-never-get-sick proclaimer (although she was sick now), the complete opposite. She thought she could fix everything with food. She would have appreciated my tears and probably would have cried with me.
But can even her resourceful, supportive best friends save her when Win comes face to face with a ruthless killer yet again?
It has been a delight to follow along with Abby Collette as her Ice Cream Parlor mystery series goes from strength to strength. I greatly enjoy reading about the bonds between Win and her loved ones, and appreciate her reluctance to just fall in love with the first or even second hot guy to cross her path. The mystery itself is also well-plotted, with clues carefully seeded throughout the narrative. Three books in, I feel invested in the ongoing success of Win and the Crewse Creamery—and am excited for the next book in the series!