A Look at the 1974 Edgar Award Finalists: Tony Hillerman, P.D. James, and More
Join Carol Potenza for a look at all of 1974's Best Novel nominees, including Tony Hillerman's winning novel.
For readers of the 1974 Edgar finalists, the authors took extra care to embed some of the reigning societal and political issues of the time into excellent mysteries and thrillers. While women's rights were slowly advancing with the passage of Title IX (U.S., 1972) and the Equal Pay Act (Great Britain, 1970), P.D. James poked fun at entrenched societal roles in An Unsuitable Job for a Woman, and Jean Stubbs subverted paternalism that underestimated a woman's strength in Dear Laura. Climate change in our times is all about the heat, but back in the '70s, it was all about industrial pollution. Who can forget the 1971 commercial of Iron-Eyes Cody paddling through a polluted river, a tear running down his cheek as he beaches his canoe on a trash-strewn shore? To flee the pollution of civilization, the Trader in Victor Canning's The Rainbird Pattern funds his family's retreat with ransoms from high-profile kidnappings—and murder. What if you woke up one morning and found a Nazi next door? In the 1970s—thirty years after the end of World War II—there were many well-publicized cases of war criminals living quiet lives who were exposed by everyday citizens demanding justice. There is no statute of limitations on mass murder, but redemption was a theme presented in Frances Clifford's Amigo, Amigo. These four books are excellent but were beaten by an upstart writing about Native American culture and crime in the Four Corners area of the Southwestern United States. Why? Maybe it was because of an upswing in the concept of multiculturalism being adopted by Western nations in the 1970s. Or maybe it was because, in 1972, two white men were only given a six-year prison term for killing an Oglala Lakota man in Gordon, Nebraska. This shocking injustice was actually considered a victory by the Sioux because of the pervasive racism in the judicial system. How much more morally satisfying was Tony Hillerman's vigilante justice in Dance Hall of the Dead? Below are summaries of all five finalists, culminating in my favorites.
An Unsuitable Job for a Woman by P.D. James
At the age of 22, Cordelia Gray inherits a detective agency from her recently deceased employer. Although Cordelia lacks experience in pursuing crimes, she decides to make a go of it, even as people around her continually recite the titular phrase. She is hired to investigate the suicide of a young man who quit Cambridge University and took a job as a gardener on a large estate only a few weeks before his death. His father, who also lives on a large estate, wants to know what caused his son's actions. Cordelia eats meals at the manor and explores the countryside in search of clues. A gun introduced in the first few pages makes a reappearance, as all good guns do, in a nicely laid out twist. But what made this story Edgar-worthy? It's a traditional English country-house murder mystery, until… Cordelia starts to reminisce about her sex life and past lovers. I was shocked—shocked. Our heroine is intrepid, plucky, and wears no-nonsense tweeds. How could she have done something so…so un-Miss Marple-like? Intrigued, I did a little digging and found that, in another novel, A Shroud for a Nightingale, the author torches a nursing school—nursing being one of the only jobs that society deemed suitable for a woman. P.D. James, the feminist. Cordelia Gray's backstory was probably heady stuff for the early '70s, and perhaps controversial enough that it might be one reason this book was chosen as a finalist.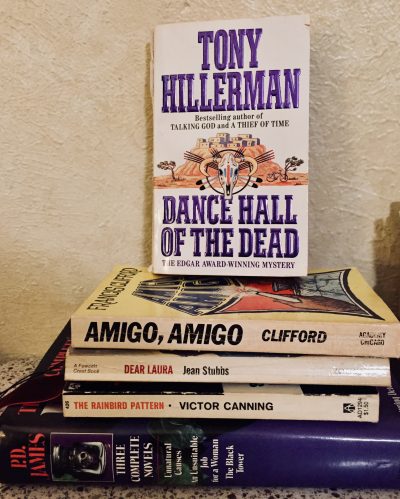 The Rainbird Pattern by Victor Canning
The first scene is riveting and centers the whole book: a ransom drop for a kidnapping establishes the stakes of the crime as well as a ticking clock because the Department, a shadowy governmental agency, believes the kidnappers are only "practicing" and, at some point, will snatch someone BIG. The book then opens up and the reader is sent in multiple directions to meet seemingly random people: George Lumley, a jolly slacker and his cheerful blowsy lover, Blanche Tyler, who patterns herself as a clairvoyant; Miss Grace Rainbird, rich, old, and lonely, who attempts to suppress guilt and dreams of her dead siblings by tippling sherry from morning to night; and Edward Shoebridge, a dangerous, intelligent man with an obsession for escape from civilization. While the police follow up on only the faintest of clues, backstories unfold and set the characters on a collision course with brutal, yet very satisfying endings for many of them. Alfred Hitchcock did attempt to simplify the intricate story into his final movie, Family Plot. My suggestion? Read the book. It's much better, although it does tend to ramble.  
Dear Laura by Jean Stubbs
The only historical selected as a finalist is set in Victorian England. It is about the death of a man, Theodore Crozier, who trusts everyone to do right by him, not because he is of good moral character, but because of his position in society. That trust, needless to say, is misplaced when he ends up poisoned. Suspects abound, from his wife and ne'er-do-well brother, who'd indulged in a past affair, to the doctor, governess, and cook. The namesake of the book—Theodore's wife, Laura—is beautiful, long-suffering, and piteous. She was horribly mistaken by Theodore's character when she married him, and her husband treats her with a casual mental cruelty that is chilling. But she remains devoted to him which engenders loyalty from everyone around her. Indeed, everyone wants to protect her from her husband's hidden, sordid life—but maybe, she's stronger than they think. The author lays out the motives for Theodore's murder and gives the reader every single clue, but ultimately, the killer escapes police detection and isn't brought to justice. Could that be why this story didn't win the Edgar? Perhaps. But it's still a very satisfying and suspenseful mystery. Confession: I didn't figure out who the murderer was until it was revealed, and then I didn't understand how I missed it. Well done, Jean Stubbs, well done.  
Amigo, Amigo by Francis Clifford
What if, in trying to save your own life, you had to partner with a Nazi who was the former administer of Auschwitz? Photojournalist Anthony Lorrimer has a lead on a story that could change the course of his career. He travels into the depths of Guatemala in pursuit of a war criminal who escaped worldwide justice, his intentions both virtuous and self-serving. What he finds is a man—Stemmle—who is the only dentist and curandero in a region immersed in poverty. A man praised by the village priest for the work he does caring for the poor and forgotten people. A man trying to make up in some small way for his horrendous crimes. But Lorimer has his story and nothing will dissuade him from trumpeting the truth—until the author turns everything on its head. Francis Clifford links Lorrimer and Stemmle in a situation where they must trust and depend upon each other for survival. Talk about a great twist. This book is not only thrilling in its conclusion but has psychological underpinnings that press at the reader's deeper consciousness, their sense of what constitutes right and wrong, good and evil. Why didn't this book win the Edgar? In my opinion, because the author—in a second stunning twist—gives Lorrimer and the reader an easy way out of their dilemma with Stemmle. Does Amigo, Amigo stand up through the years? A very definite yes.  
Dance Hall of the Dead by Tony Hillerman
Four British authors chosen as Edgar finalists, and Tony Hillerman blows through musty manor halls with a breath of Southwestern desert air. The reader travels dirt roads with Lt. Joe Leaphorn, a Navajo policeman. He's the perfect guide through the stark, beautiful world of the Navajo and Zuni Reservations, a fresh setting in mystery writing, and one reason I believe Hillerman's book won the Edgar. The actual mystery is excellent, and clues are delivered with such ease and brilliance that they appear to be part of the landscape. One boy dead, another missing, possibly on the run from the masked kachina spirit who killed his friend. Leaphorn, tasked with finding missing fourteen-year-old Navajo George Bowlegs, is one step behind as the boy travels to the Dance Hall of the Dead in search of his murdered friend's spirit and to plead forgiveness for breaking Zuni taboos. Besides the supernatural suspect, Leaphorn questions a group of hippies possibly running drugs, and a pair of anthropologists on the edge of confirming a history-changing find. When he finally tracks down the murderer, it's too late—for the killer. He's dragged away into the night, never to be found. A fitting justice for a murderer of children and someone who subverted Native traditions for selfish means. As Leaphorn states, "It is finished." Luckily for readers, this was only Tony Hillerman's second book in his Leaphorn and Chee series. He went on to write sixteen more.
* * *
While a good author entertains, a great author makes the reader think. The power of the people to address societal ills made its way into the books selected as Edgar finalists in 1974 with twists that took readers on a roller coaster ride of what-ifs. And with issues that mirror the toughest ones we face in our time, these books are as readable today as they were forty-five years ago.
Notes from the 1974 Edgar Awards:
Harlan Ellison won the award for Best Short Story for "The Whimper of Whipped Dogs." Other nominees included: Joyce Carol Oates for "Do with Me What You Will," Anthony Gilbert for "Fifty Years After," Chelsea Quinn Yabro for "The Ghosts at Iron River," and Joe Gores for "The O'Bannon Blarney File."
Deathwatch by Robb White won Best Juvenile Mystery Fiction.
Paul E. Erdman won Best First Novel for The Billion Dollar Sure Thing. The other noms were Clarence Jackson's Kicked to Death by a Camel, Michael Wolfe's Man on a String, Justin Scott's Many Happy Returns, and Charles Larson's Someone's Death.
Ross Macdonald (pseudonym for Kenneth Millar) served as the Grand Master.
* * *
Join us again next Friday when author Jeremy Finley discusses 1975's Best Novel, Peter's Pence by Jon Cleary. See you then!
---
A special thanks goes out to The Mysterious Bookshop for donating many of the review copies of the award-winning books. For the latest on all new releases, as well as classic books for your collections, make sure to sign up for their newsletter.