Who Knew Ordinary Life Could Be So Dangerous? 6 Domestic Noirs To Die For
Join Shalini Boland, author of the newest book The Secret Mother, as she recalls 6 killer domestic noir novels and her own experiences writing in the genre she loves.
As an author of Domestic Noirs, it's perhaps surprising that I had never even heard of the genre until after I'd written three of them. I thought I'd simply written psychological thrillers about seemingly ordinary people in extraordinary situations. But I kept hearing readers describe my novels as 'Domestic Noir' and although I guessed what that meant, I looked up the term and found that it was first applied to fiction in 2013 by the novelist Julia Crouch who defined the subgenre in her blog:
"In a nutshell, Domestic Noir takes place primarily in homes and workplaces, concerns itself largely (but not exclusively) with the female experience, is based around relationships and takes as its base a broadly feminist view that the domestic sphere is a challenging and sometimes dangerous prospect for its inhabitants."
So all this time I'd been reading and writing in this genre I love, and now I had a name for it. Below I've listed out six of my all-time favourite domestic noirs—absolute page-turners that will have you holding your breath in suspense, shuddering at the behaviour of the screwed-up characters and dropping your jaw at some seriously twisted endings.
Behind Closed Doors by B.A. Paris
Grace and Jack seem like the perfect couple. Beautiful, wealthy, popular, happy. But right from the start, the reader has an inkling that all is not what it seems. There's something very off. As the story progresses, the novel becomes darker and darker and the sense of terror and helplessness pervades each page. If you're looking for a thriller that will have you turning the pages while simultaneously wanting to hide the book in the freezer (Friends fan, anyone?) then I highly recommend this suspenseful novel.
Liar by K.L. Slater
When super-bitch Amber sets her sights on widower Ben and his family, you know it's not going to end well. Throw into the mix Judi, an over-protective, menopausal mother-in-law and you've got yourself a dark, anxiety-making, heart-pounder of a novel.  K.L. Slater truly is the queen of the domestic noir, and this book is no exception. She coaxes and teases you into this family's life until you're so invested that you absolutely cannot look away until the bitter, twisted, genius ending.
Silent Child by Sarah A. Denzil
The premise of this novel is so shocking and intriguing that you can't help but pick it up and start reading. Ten years ago, a little boy, Aiden, drowns in the flooded river near his school, his body swept away never to be recovered. His mother, Emma, is now married to a new man with a baby on the way. And then Aiden comes back. So many questions!! Is it him? Where has he been? What happened during those ten years? Why can't he speak about it? Denzil has a way of creating an incredible atmosphere in her novels—an evocative, yet claustrophobic tension that has the reader almost gasping for air. No wonder this was a number 1 bestseller for so many weeks.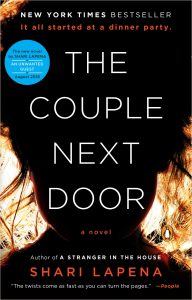 The Couple Next Door by Shari Lapena
While Anne and Marco Conti are having dinner with their next-door neighbours, their six-month-old baby is kidnapped. And here begins a whirlwind of a story filled with paranoia, dark secrets, and twists and turns. Everyone is a suspect and the tension ratchets up until the final explosively shocking chapters.
Valentina by S.E. Lynes
This deliciously dark and intriguing novel set in Scotland centers around the lives of Shona, Mikey and their new baby. Mikey travels with his work an awful lot, leaving Shona on her own in their remote Aberdeenshire house. Lonely and craving friendship, Shona is excited to meet free-spirited mother, Valentina. And this is where Shona's life begins to unravel. The characters were so well drawn, I imagined I knew them, and I was there with them every step of the way, my heart in my mouth, almost screaming at the pages. I had my suspicions as to what was going on, and yet I couldn't be absolutely sure… This isn't the first of Lynes' novels I've read, and it won't be the last.
The Last Mrs. Parrish by Liv Constantine
Amber Patterson is new in town. She has an agenda, and we soon discover just what that agenda is. Grace Parrish is the woman who has it all—wealth, looks, respect, a beautiful family—and yet she also has a sadness and vulnerability about her; perfect for Amber to exploit and use for her own ends. Boy, is this book entertaining. With a character you love to hate, a juicy plot and a breathtaking twist, this has to be one of the most fun and satisfying domestic noirs around.
---
About The Secret Mother:
Are you my mommy?
Tessa Markham returns home to find a child in her kitchen. He thinks she is his mother. But Tessa doesn't have any children.
Not anymore.
She doesn't know who the little boy is or how he got there. After contacting the police, Tessa is suspected of kidnapping the mystery child. Her whole life is turned upside down. And then her husband reveals a secret of his own…
Tessa isn't sure what to believe or whom to trust. Because someone is lying. To find out who, she must first confront her painful past. But is the truth more dangerous than Tessa realizes?
The Secret Mother is an intense psychological thriller with a twist that will make you wonder if you can ever trust anyone again.
The Secret Mother by Shalini Boland is published by Grand Central Publishing.