Westworld 2.08: "Kiksuya" Episode Review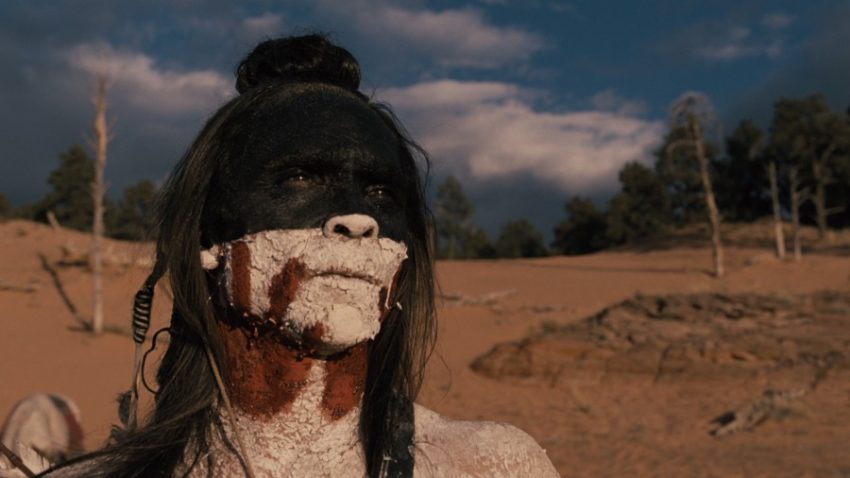 I have been a fan of Zahn McClarnon from the time I started watching the Longmire series, where the actor played Officer Mathias, chief law enforcement on the reservation and intermittent thwarter of lead character Sherriff Longmire's investigations. McClarnon was never given enough screentime to develop character depth or display the actor's range, and I had always suspected he was an underutilized talent on that show. Kudos to the Westworld casting and writing teams for giving McClarnon the opportunity to do just that, proving my presumption correct about the actor. It was all that—from tough to tender, worried to confident, contemptuous to contemplative—and I enjoyed every minute. So, while "Kiksuya" could be lumped in with the slower-paced episodes from this season, it's not in a flawed way, and it serves as the standout from the bunch.
Akecheta (McClarnon) brings the Man in Black (Ed Harris) to the encampment where, apparently, he'd also brought Maeve's daughter (Jasmyn Rae). He walks over to the petrified girl and begins a conversation, referring to past lives remembered and divulging the details of his previous life. We follow Akecheta's journey from a "pastoral existence" with his people to a new life of violent, pointless retribution.
The changeover began when the park was nearing its grand opening and the company found themselves shorthanded, so there wasn't enough time or resources to completely wipe the beta form's data. With old memories deep inside, Akecheta started to view his world differently, especially after he witnessed a town full of dead bodies lining the street and the enigmatic symbol of the maze on a countertop. Obsessed with this symbol that he doesn't understand, he wanders the lands farther and farther for answers, and in his travels, he happens across a nude and gibbering Logan Delos (Ben Barnes)—I had often wondered what became of him after William (Jimmi Simpson) had sent him off on that Godiva-inspired ride. Logan plants the idea in Akecheta that there is a door to another world.
When Akecheta is reprogrammed as a Ghost Nation warrior with brutal hostility, he finds himself back among his old tribe where the sight of his former love, Kohana (Julia Jones), reignites repressed memories. Thoughts begin to come together, and he realizes he needs to get out of this world. He goes to find Logan again, but of course, Logan is gone. Traveling even further, he finds a large complex built into the ground. He goes back for Kohana and carries her off one night so they can leave through this door he'd found, but no sooner than he finally gets her to recognize and trust him, she is discovered by the park's retrieval unit and taken back to the behavior lab. Akecheta returns once again to the old tribe, only to learn Kohana has been replaced by a new version.
By this point, I'm thinking he has been telling a rather long and complicated story to a 13-year-old girl, but then we find out why. At a dire moment on his desperate search for Kohana, Maeve's daughter had helped him, gave him water, to live another day and not forget his love. Though, it's for naught because Akecheta ends up realizing that he must die in order to go to the place where he believes Kohana has been taken. So, he gets himself killed in a recurring entanglement—the first time he'd ever died after a decade in the park—which raises red flags to the technicians who are uploading his updates. Still, they head off to lunch, and Akecheta wanders the halls of the repair ward and into the welcome center (and yet no one sees him). Then, he locates the cold storage unit where the masses of aberrant robots have been placed. He spots Kohana and, understanding that he cannot save her, is forced to leave her behind. In an unbearable anguish, he now knows what he is destined to do: he must disseminate the maze to others to help them out of this world of torment.
And that was what he was doing every time Maeve's daughter had seen him sneaking around their home. He was there to watch over, to protect, and to try to help them by presenting them with the maze—essentially the way out. Unfortunately, Akecheta wasn't the only one watching … so was the Man in Black, enter his turn into their mother-daughter narrative.
An intriguing piece of information comes when Akecheta meets with his maker, Robert Ford (Anthony Hopkins), one night while in the field working on a group of Ghost Nation robots, removing their skull caps to reveal the maze carved on the inside. Ford tells Akecheta that it was a "misbegotten symbol" meant to be thrown in the bin. Didn't expect that answer and will be looking forward to a more thorough explanation. And Ford's line of questioning leads one to believe that Akecheta may have possibly been on the wrong path.
A few well-placed, brief-but-important scenes were interspersed with Akecheta's story. Lee (Simon Quarterman) offers a heartfelt apology to Maeve (Thandie Newton) for her predicament, and Emily (Katja Herbers)—or is it Grace, still not sure what's up there—shows up at the Ghost Nation encampment to retrieve her father. It's the final scene, however, that brings the entire episode full circle. Here, Charlotte Hale (Tessa Thompson) finds out that Maeve is communicating with others remotely, and she wonders aloud: who is Maeve talking to? Well, we know who it is, Charlotte. As the show wraps up, Maeve and Akecheta are basically offering one another support in seeing that her daughter remains safe.